Posted by Alyssa on May 31, 2017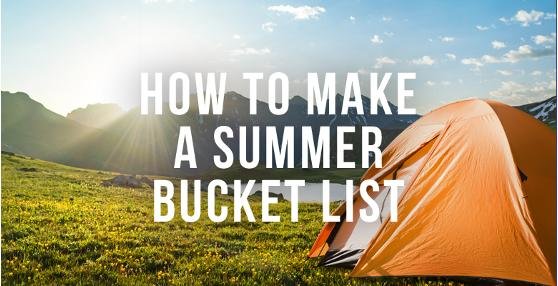 I'm a list person. I couldn't live without them! I find that if I write things down I am about a million times more productive than I am otherwise. Whether it's the things I need to get done in a day, the rooms in my house that need to be cleaned, restaurants I want to try, or places I want to travel to.... I am always making, tweaking, or checking off items on my lists.
Over the past several years, my husband and I have made a habit of compiling a summer bucket list. Now that my kids are getting old enough to have opinions and ideas of their own as far as summer adventures go, we love to get their input too!
We include the big things like our summer vacations or weekend getaways, and also the little things- like watching an outdoor movie and eating saltwater taffy. What I love most about making our list is that it pretty much ensures that we will never get bored or have to sit around wondering what we should do. If we ever have a free night or weekend, we simply look over our list and BAM! We've got all sorts of ideas waiting for us!
The best advice I can give on how to be successful at a actually DOING the things on your bucket list is this: KEEP YOUR LIST ON YOUR PHONE! I just write ours in the note section of my iPhone, and then it is with me, and waiting to be looked at in a moments' notice!
Here are a few questions to ask yourself when formulating your own bucket list:
1. What are some outdoor activities (camping, hiking, repelling, canooing, etc) that we've wanted to do?
2. What are some indoor places (museums, bowling alleys, etc) that we've wanted to visit?
3. What are some restaurants that we've always wanted to try?
4. What are the things we've done in past summer's that we've loved?
5. What are our family's favorite summer traditions?
6. What does our family love to eat in the summer?
7. What do we love to do in our yard in the summer?
8. What vacations do we want to go on?
9. What weekend getaways could we pull off?
What else do you put on your summer bucket lists??
Sort By Blog Topic:
Popular Posts
Subscribe to the The RC Willey Blog Blog
Subscribe to the The RC Willey Blog Blog
Unsubscribe from the The RC Willey Blog Blog