Posted by Alyssa on July 24, 2017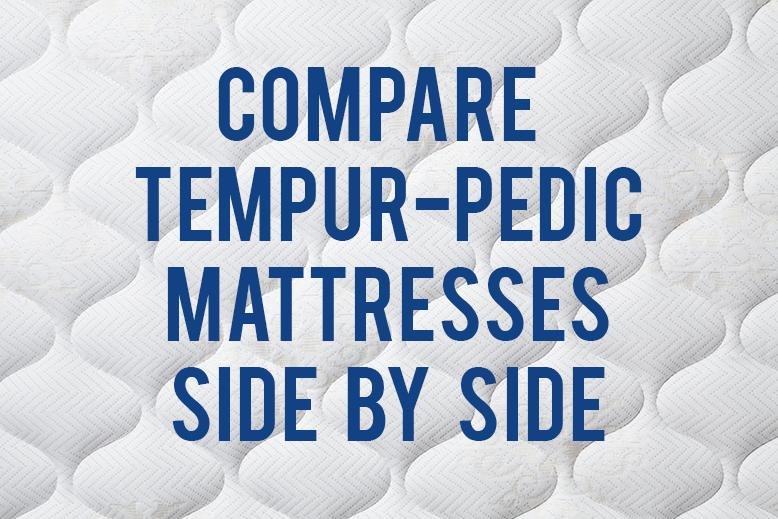 Specially designed materials used in Tempur-Pedic mattresses give support where you need it, relieve pressure while you sleep, and minimize any motion to give you the perfect night's sleep. With all the options available, we've come up with a list to compare Temper-Pedic mattresses so you can make an informed decision before you make your purchase.
Learn about different types of Tempur-Pedic mattresses, including the Cloud Supreme, to find the Tempur-Pedic mattress that best suits your sleeping needs.
Compare Tempur-Pedic Mattress Collections
TEMPUR-Flex
Memory foam mattresses have a very different feel from traditional spring mattresses, and people who are looking for the familiar "springy" feel with all the benefits of a Tempur-Pedic mattress will love the TEMPUR-Flex. Layered with coils under the TEMPUR material, the TEMPUR-Flex responds quickly to your movements and adapts to give you the support you need. This brand of mattress is middle of the road when it comes to firmness.
TEMPUR-Contour
The TEMPUR-Contour mattress is the classic memory foam mattress. Because it is a more firm mattress, this is a great option for people who sleep on their stomach or back. Side sleepers may have a hard time getting comfortable with the firmness of the mattress.
TEMPUR-Cloud
If you're looking for the softest Tempur-Pedic mattress, the TEMPUR-Cloud is what you are looking for. With extra plush layers to make the mattress as soft as possible, this is a good mattress for side sleepers. The TEMPUR-Cloud collection of mattresses are some of the more expensive Tempur-Pedic mattresses.
TEMPUR-Breeze
There have been complaints in the past about memory foam mattresses being too hot, which is why the TEMPUR-Breeze mattress collection was created. With a wide variety of firm and soft mattress options, TEMPUR-Breeze mattresses have been designed to be ultra-breathable. The cover of the mattress is made with cooling technology that will help pull heat and humidity away from your body.
Within Tempur-Pedic mattress collections, you can find different varieties of each mattress. There are differences between Elite, Supreme, Luxe, and Prima mattresses. For example, the Tempur-Pedic Cloud Supreme mattress has a thicker comfort material, making it softer than the Tempur-Pedic Cloud Prima.
You'll want to compare Tempur-Pedic mattress and test out each variety before you make your purchase. At RC Willey, you'll be able to test out as many Tempur-Pedic mattresses as you need to find your perfect fit!
Sort By Blog Topic:
Popular Posts
Subscribe to the The RC Willey Blog Blog
Subscribe to the The RC Willey Blog Blog
Unsubscribe from the The RC Willey Blog Blog