How To Enjoy Fresh Peaches All Year Round
Posted by Andie on August 12, 2018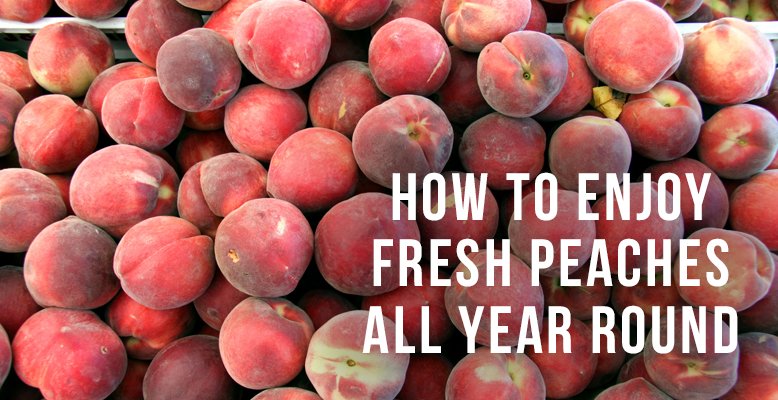 This time of year is heaven on earth for me. Sure, summer, and popsicles, and fireflies are awesome--- but the real stars in my book are fresh peaches! I get a little bit addicted every August and I eat them with everything. I'll never say no to a delicious peach by the slice, but I also love them in my oatmeal, over cereal, on a salad, on homemade pizza, in a smoothie, or over ice cream! I usually eat at least a couple of peaches a day! I live for them.
I'm not a huge fan of canned peaches. I mean, they are mushy, and how can you really compare them to the real thing? Once September ends I go into a small period of mourning, knowing it will be 10 months or so before I taste a really delicious, ripe peach again.
You guys, the other day my friend BLEW MY MIND when she told me she blanches peaches every summer and freezes them so that she can enjoy fresh tasting peaches all year round. WHATTTTT????? I about died. My life has been changed, and in the best way. Here's the simple steps you can take to enjoy fresh peaches not just in the summer months, but all year round...
1. Get yourself a big box of fresh peaches (locally grown are always a good bet), and let them ripen on your kitchen counter for a few days.
2. Once they are ripe, you can get started! Prepare a few large bowls of freezing cold ice water.
3. Boil a big pot of water and throw in some whole peaches (7-8 peaches per batch works well). Let them cook for 3 minutes, then remove from heat and immediately transfer the peaches to the bowls of ice water.
4. Let the peaches cool off for a couple minutes, and then peel the peaches. If the peaches were ripe, the skins should just basically slip off! (To make the skin peeling easier, you can make little x's in the peaches before you boil them). If the skins don't come off very easily, you can use a vegetable peeler to help get the job done.
5. After blanching, and peeling the skin off, slice and cube the peaches.
6. Next, sprinkle Fruit Fresh (powdered citric acid- this will stop the peaches from browning) all over the cubed peaches. Spread generously! If you want, add some brown sugar and cinnamon.
7. Freeze in 2 cup quantities, in ziploc bags.
8. ENJOY YEAR ROUND!! Whether you are adding them to a smoothie, or just eating them plain, they will taste delicious and fresh!
Sort By Blog Topic:
Popular Posts
Subscribe to the The RC Willey Blog Blog
Subscribe to the The RC Willey Blog Blog
Unsubscribe from the The RC Willey Blog Blog