Flooring Information
How It Works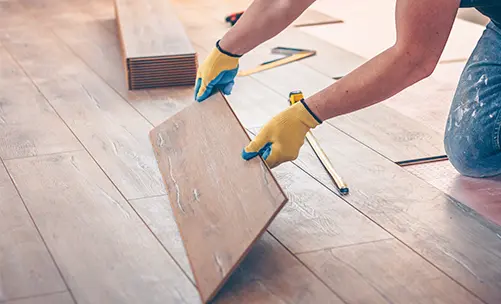 Find Your Flooring

Choose from a huge selection of carpet, luxury laminate, vinyl, and hardwood to fit your room, style, and budget.

Schedule your Pre-Measure

An RC Willey Associate will come to your home for a free in-home pre-measure and make plans for installation.

We'll Install It

Before we begin, we'll provide a final project quote and review financing options with you. Our local installers will take care of the rest.
---
Before Installation
Have your area "Room Ready" by removing all furniture and appliances before the installers arrive.
Your installers will confirm your flooring selection before starting.
During Installation
Keep room temperatures between 65° and 80° F for 48 hours prior to, during, and after installation.
After Installation
Review and approve your new flooring with the installers.
Light paint touch-ups on baseboards, walls, and cabinets may be needed.
We recommend replacing your air filters.
---
Flooring FAQ
---
Room Ready means that all furniture, appliances, and large electronics are removed from the room. All "breakables" such as lamps, mirrors, vases, etc. are secured or removed as well. Room temperature should be set to at least 65° F.
We offer a 2-year labor warranty on all flooring installs. Manufacturer warranties vary by manufacturer and product type.
Yes! Come visit us at RC Willey for your flooring samples.
Each flooring project is unique. Depending on the scope and material, your project time may vary. Almost all carpet jobs are done in 1 day. Hard surfaces may take 2-3 days from start to finish.
Unlike other places, you only pay for what you need at RC Willey. Your estimator will work with you to determine what is and isn't needed to finish your project.
---