Posted by Andie on April 24, 2018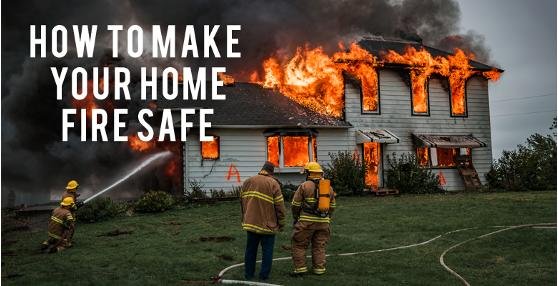 If your home caught on fire tonight, would you and your family be adequately prepared to escape safely? Today's blog post is a serious topic that has become very sensitive to me lately. A couple of months ago we woke up one night at 1:00 a.m. to the sound of several fire engines blaring their sirens and racing down our quiet street. We jumped out of bed, ran out onto our front porch, and in horror, saw that the home two houses down from us was completely engulfed in fire. It was one of the most horrifying and tragic things I've ever witnessed. It took fire fighters 45 minutes to contain the flames enough to the point where they could enter the home, and tragically, our elderly neighbor was killed. I won't get into the detials, but the saddest part about the whole situation for me was that it all could have been prevented.
Fire safety is a big deal. It's not enough to just own a couple of smoke detectors, and hope for the best. Educate yourself! It's not only a good idea, but it could end up saving your life, or the lives of the people you love someday. I encourage you to talk to your local fire fighters to find resources in your area that can help, but in the mean time here is a great list of things you can do now to help you make your home fire safe.....
Subscribe to the Room To Talk Blog
Unsubscribe from the Room To Talk Blog