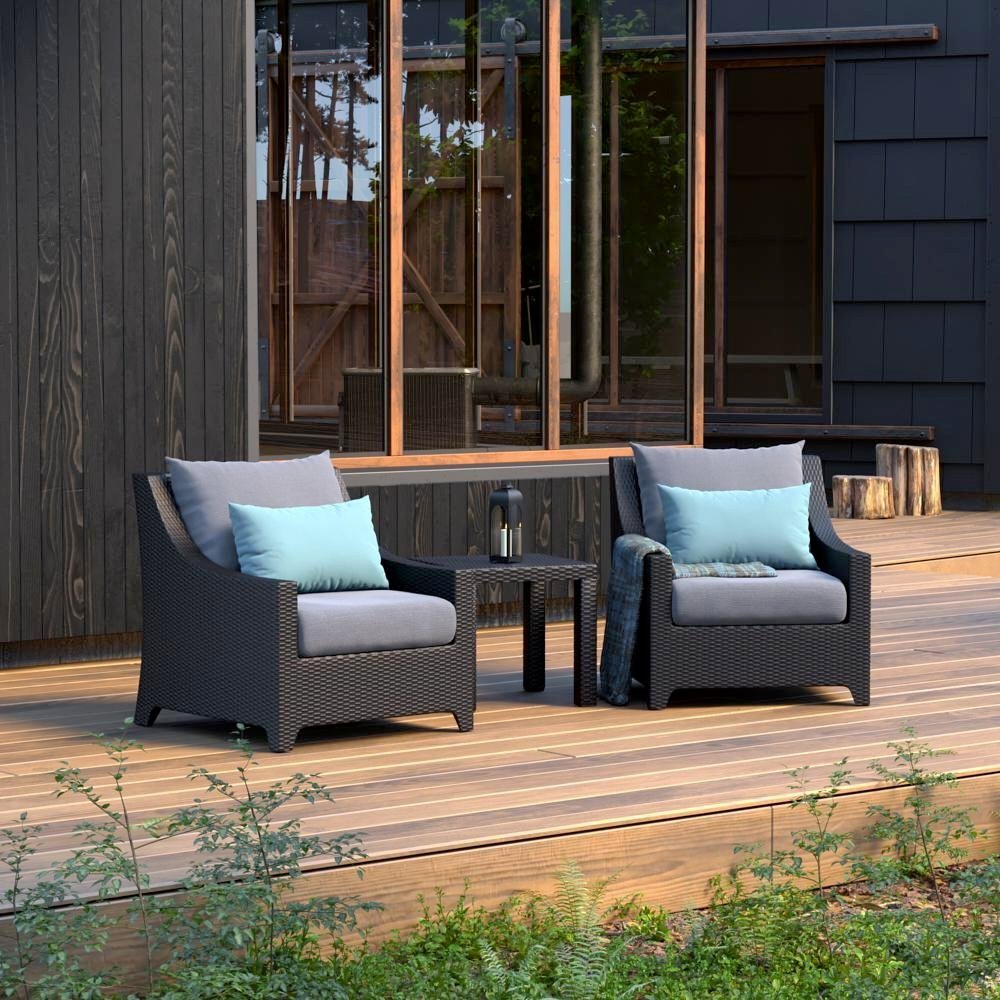 Even though your backyard may be on the smallish side, that doesn't mean it can't be transformed into an outdoor escape. No matter how small or large, there are several ways you can optimize your backyard space with strategically placed (and gorgeous) furnishings. Leave the rat race of your 9:00 to 5:00 job behind and take a seat in your newly decorated environment. Not even late spring showers will be able to dampen your spirits.
Bring Your Living Room Outside with New Chairs
An easy way to turn your outdoor space into an oasis to find attractive, affordable, and comfortable chairs. Outdoor seating options are a great way to craft areas meant for socializing and can add character to a small space. In yards with less room for movement, settle for two chairs and a table. Position the chairs at an angle and put the table in between the chairs to make the space feel larger than it is. Tuck the arrangement into a corner of the yard or against a house or fence line to make space for movement (and the occasional game of catch).
For a colorful touch, keep an eye out for decorative pillows designed for outdoor use. Crafted to sustain damp mornings and frost-bitten evenings, these pillows can typically handle a variety of weather conditions and are easy to wash if that pitcher of lemonade accidentally spills on one. Not only do pillows add some personality to your outdoor space, they also cultivate a level of comfort on par with indoor living rooms. Instead of watching TV, set up a star-gazing party and sink into the comfort of your new outdoor chairs.
Not sure which chair set will fit best into your backyard? The Deco Gray Club Chairs and Side Table Patio Set is a great place to start your search at your closest RC Willey location.
Build a Private Oasis with a Trellis
No backyard - regardless of its size - feels truly inviting without some sense of privacy. Adding a trellis, whether for practical or decorative reasons, provides some seclusion and can protect your backyard relaxation time from the prying eyes of neighbors.
A structural component with a beautiful silhouette, trellises can also section off spaces in your backyard for different purposes. Want a napping spot under a tree? Use your trellis to create a spot dedicated to chilling out that is separate from your garden work. For some great visuals (and smells!), try adding some climbing roses to your make-shift wall.
For a quick setup option, check out these Metal 49 Inch Garden Trellis products. Add some flowering plants and place these vertical structures around a comfy sun-bathing spot in your yard. Outdoor living doesn't get much better than this.
Create a Garden of Green
When you think of gardens, you may imagine acres of flowers, vegetable plants, and fruit trees spanning your line of sight. Even within a small backyard space, however, you can create a miniature version of this vista that provides nice fresh-grown produce for your household.
For small yards, opt for wall planters, raised garden beds, and folding plant stands. Do some research on the type of plant that works best for each growing option. Think outside the box and consider planting sweet-smelling herbs like lavender or mint. Both the flowering of these plants and their delicious smells can add to the ambiance of your outdoor greenhouse.
Perennials bloom every year on their own, which makes these flowers a great option for busy yard owners. Make sure to read the tags attached to these bulb or seed packets to determine whether they are perennial or biennial (meaning they grow for only two years). Regardless, options like this Spring Fling Orange Metal Folding Plant Stand can add some greenery in a space-saving way to your outdoor setup.
Plan for Some Family or Friend Time with a Fire Pit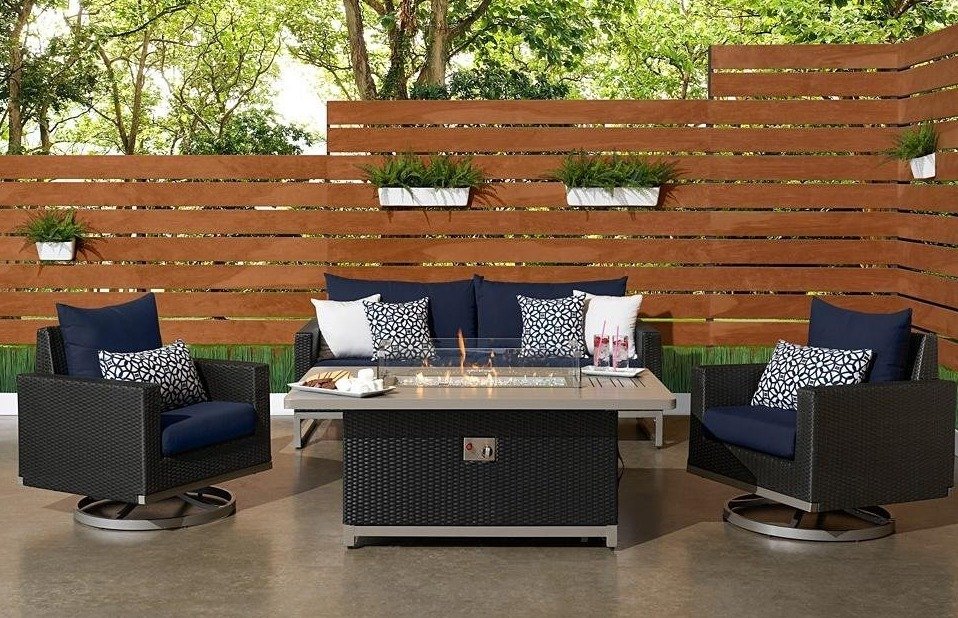 No matter how small or large your backyard space is, a fire pit is a great way to decorate with company in mind. Ideal for both relaxation with a few close friends or hosting the extended family barbecue, fire pits offer a bonding activity for outdoor roasting. Make some s'mores or hot dogs and save on cleanup time with a variety of fire pit sizes and designs.
To combine comfortable seating and a fire pit, look into products like the Milo Navy Espresso 4 Piece Loveseat with Fire Table Patio Set. Designed with worry-free stain-resistant fabric, this set will allow you to play host while still enjoying your social gathering. The semi-circle arrangement encourages conversation and will allow guests to forge both new relationships and strengthen old ones while staring into the flickering flames.
Time spent outdoors is important, and there's no reason why even the smallest yards shouldn't feel like havens away from the hustle and bustle of daily life. For more ideas on how to furnish your backyard, check out the outdoor section at your closest RC Willey today.
Popular Posts
Subscribe to the The RC Willey Blog Blog
Subscribe to the The RC Willey Blog Blog
Unsubscribe from the The RC Willey Blog Blog