Posted by Braden on October 25, 2022
The Ultimate TV Buying Guide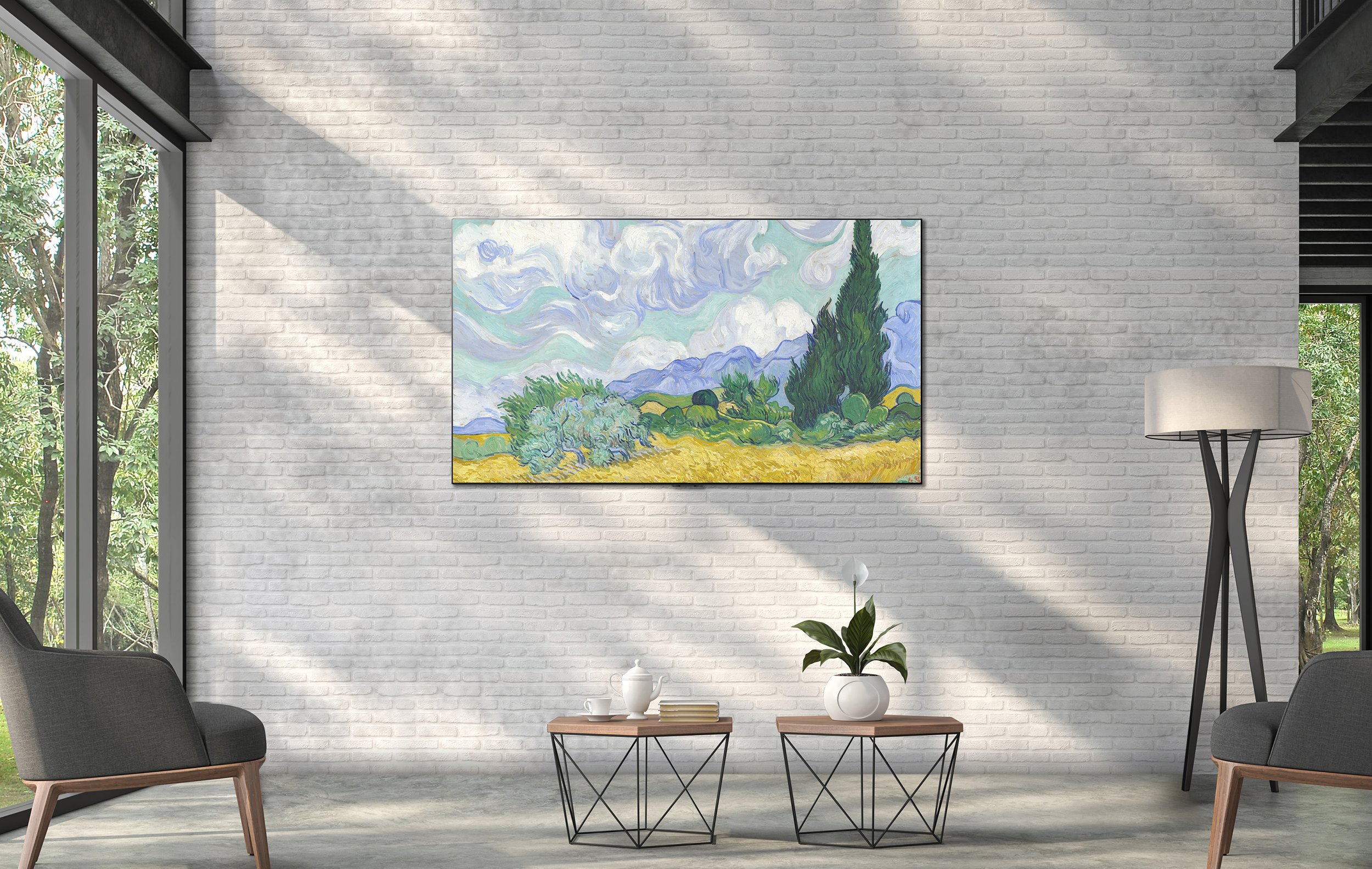 Are you in the market for a new TV, but have no idea how and where to start looking? With all the technical jargon that comes with them (does anyone really know the difference between HDTV and 4K Ultra HD?), it can get easy to feel overwhelmed when TV shopping.
Similarly, when you finally make that choice to part with your hard-earned dollars and buy a new TV, what do you do if you realize it doesn't fit your household's needs? Consult this handy-dandy guide beforehand, of course! Use this TV Buying Guide as a resource when making an educated television purchase. After all, buying a TV should be an exciting and enjoyable experience, not a stressful and defeating one.
Here are some of the key features to "watch" out for when shopping (see what we did there?):
TV Resolution
Choosing the perfect television for your home begins with understanding the different resolution technology options available. A TV's resolution is determined by the amount of vertical and horizontal pixels on its screen. With a higher resolution, images become sharper and clearer. This means that you'll be able to see the finer details in your favorite games, movies, and TV shows.
Traditionally one of the best resolution options available on the market, 1920 x 1080 (also known as full HD) has become increasingly rare. Instead, many TV manufacturers are shifting toward Ultra HD sets, which makes it difficult to find anything below a 4K resolution. Although much of the current content on TV was originally created for HDTVs, new sets automatically adapt older content for higher resolution screens. This "upscaling" process multiplies the number of pixels in the existing content until it matches the amount available on your TV.
Understanding How 4K Works
Nowadays, Ultra HD televisions have become the new standard of viewing. With four times the number of pixels as a full HD TV screen, the 4K Ultra HD contains 8.1 million total pixels. Think of it like this: four pixels on a 4K TV fit inside just one pixel on a full HD screen. These added pixels provide exceptional detail and sharper images, which makes owning a 4K Ultra HD TV a huge benefit for viewers wanting those crisper viewing experiences.
Large streaming services like Netflix, Hulu, Amazon, and YouTube regularly make 4K content available on their platforms. Similarly, major gaming systems also utilize 4K resolution on newly released games, most notably PlayStation and Xbox. Although you don't necessarily need a 4K TV to enjoy these watching and playing options, the amazing details that extra pixels provide will likely heighten your experience overall.
Are 8K TV Displays Worth It?
Boasting over 33 million pixels, 8K is the highest resolution available for Ultra HD TVs. 8K pixels are so tiny that they can't be distinguished from each other even up close. In theory, 8K TVs seem like the best option for viewers wanting a top-of-the-line experience. The biggest problem, however, is that content hasn't kept up with the demand for this technology.
Although 8K TVs are becoming increasingly more cost-effective, native 8K content is practically non-existent. Most of the available 8K content can be found on streaming services like YouTube. While you can use upscaling technology on 8K screens to play HDTV and 4K content, you still will be limited in the amount of 8K shows available for everyday viewing. If this is a concern, you may want to hold off on purchasing a 8K screen for now.
Shop TVs by Resolution
Display Technology
There are a few different options when it comes to TV display technology. In addition to the other acronyms to keep in mind when TV shopping, LED, QLED, and OLED are three more to know simply because they refer to display functionality.
LED Displays
LED stands for light-emitting diode. In other words, LED displays emit light when any sort of voltage is applied. This display technology uses a Liquid Crystal Display (LCD) panel with an LED backlight to control where light is distributed when an image is displayed on the screen.
A simple way to think of this technology is to compare it to window shutters. Imagine thousands of tiny window shutters being opened and closed at lightning speed. These movements either let light in or block it out. LED displays distribute and block out light in the same fashion, which makes them relatively affordable and available in a wide variety of sizes.
QLED Displays
QLED technology works in essentially the same way as its LED counterpart. The only real difference between the two options is quantum dots. Quantum dots are manufactured nanocrystals consisting of ultra-fine semiconductor materials. They produce different colors of light by varying the size of each particle.
Essentially, this process heightens the display's brightness and colors, which makes light areas lighter and dark areas darker. This, in turn, makes it easier to pick out finer details, a particular benefit if the show you're watching has a lot of dark scenes. Color-wise, QLED displays are the way to go, but keep in mind that the best position to watch them from is dead center. The further to each side you move as the viewer, the less crisp images will be. This consideration could be important if you plan to place the TV in a room with off-center seating.
OLED Displays
OLED displays offer an entirely different viewing experience when it comes to screen lighting. Instead of using a backlight like LEDs and QLEDs, an OLED screen is made up of tiny LED lights that emit color. Every pixel includes three separate OLED lights in red, green, and blue. Since OLEDs lack a backlight, they can be made thinner and lighter than other options on the market.
Also, unlike LED and QLED TVs that require viewers to dim the backlight for particularly dark scenes, OLED displays simply turn off specific pixels. When pixels are off, they don't emit any light or color, which means they offer a "true" black option and allow for better contrast control. Another benefit to OLED TVs is that their displays work well for viewers sitting at any angle to the set. No matter where you are in the room, you'll be able to see a clear image with little luminance degradation.
Shop TVs by Display Technology
Shop LED TVs | Shop QLED TVs | Shop OLED TVs
Screen Size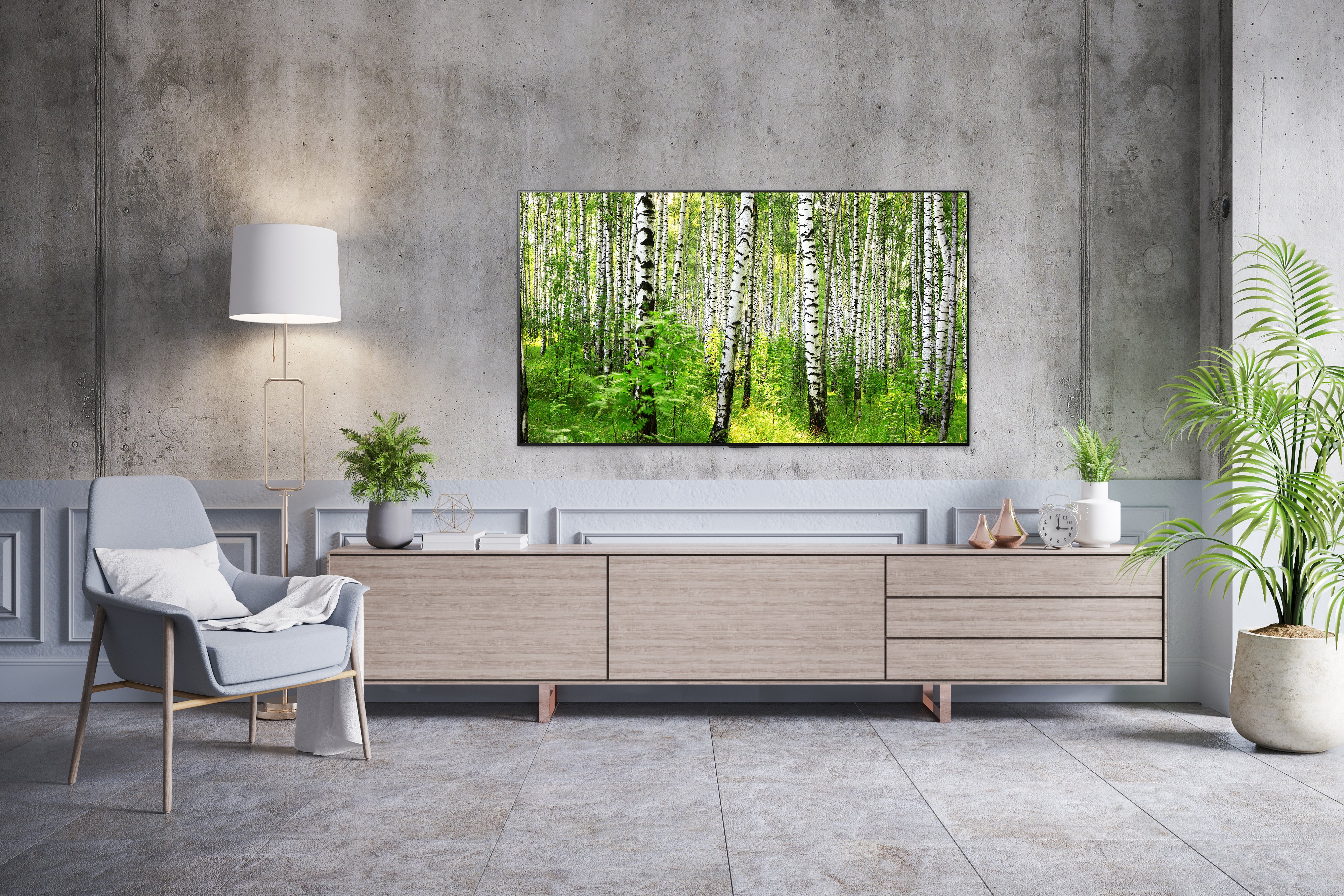 The first thing to do when determining the TV screen size you should purchase is to measure your available space. In order to get the most optimal TV viewing experience, bigger really is better. Thus, it makes a lot of sense to purchase the biggest TV display that you can fit since it ultimately offers the most bang for your buck.
TV screens are measured diagonally from corner to corner. This means that if the space you're planning to utilize for your screen is 60 inches when measured, you can comfortably fit both a 55" or a 65" screen in there. Another good thing to check is the distance between your seating options and the TV screen. If you can see the individual pixels on the screen, you're sitting too close. Ideally, you should sit at a distance roughly three times the height of the screen away for an HDTV and one and a half times the height for a 4K Ultra HD. Essentially, if you are in a cozier TV-watching space, getting a 4K is a better option since you won't sacrifice quality for the shorter distance.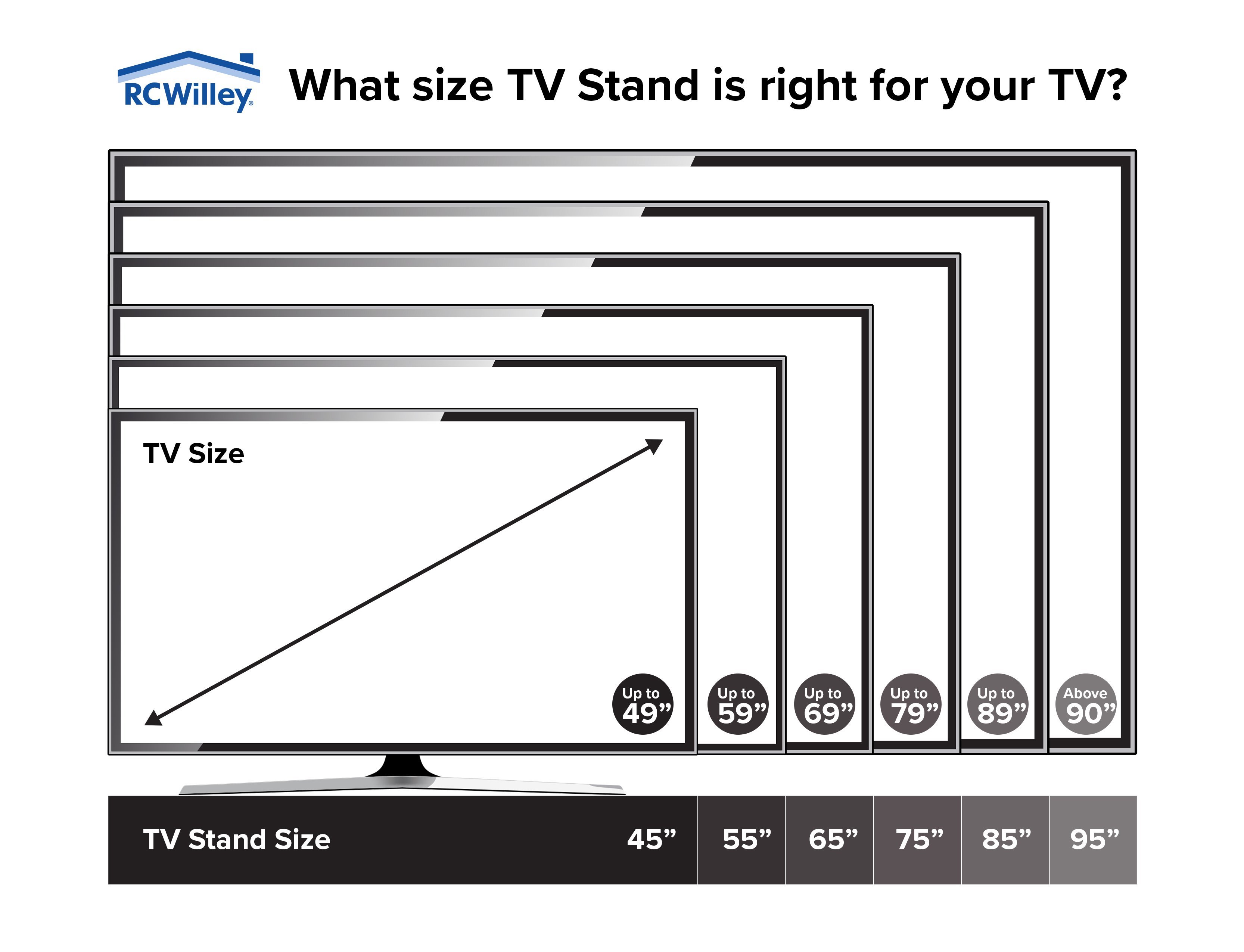 Explore TVs by Size
30"-39" TVs | 40"-49" TVs | 50"-59" TVs | 60"-69" TVs | 70"-79" TVs | 80"-90" TVs | Super Large TVs
Buying a Smart TV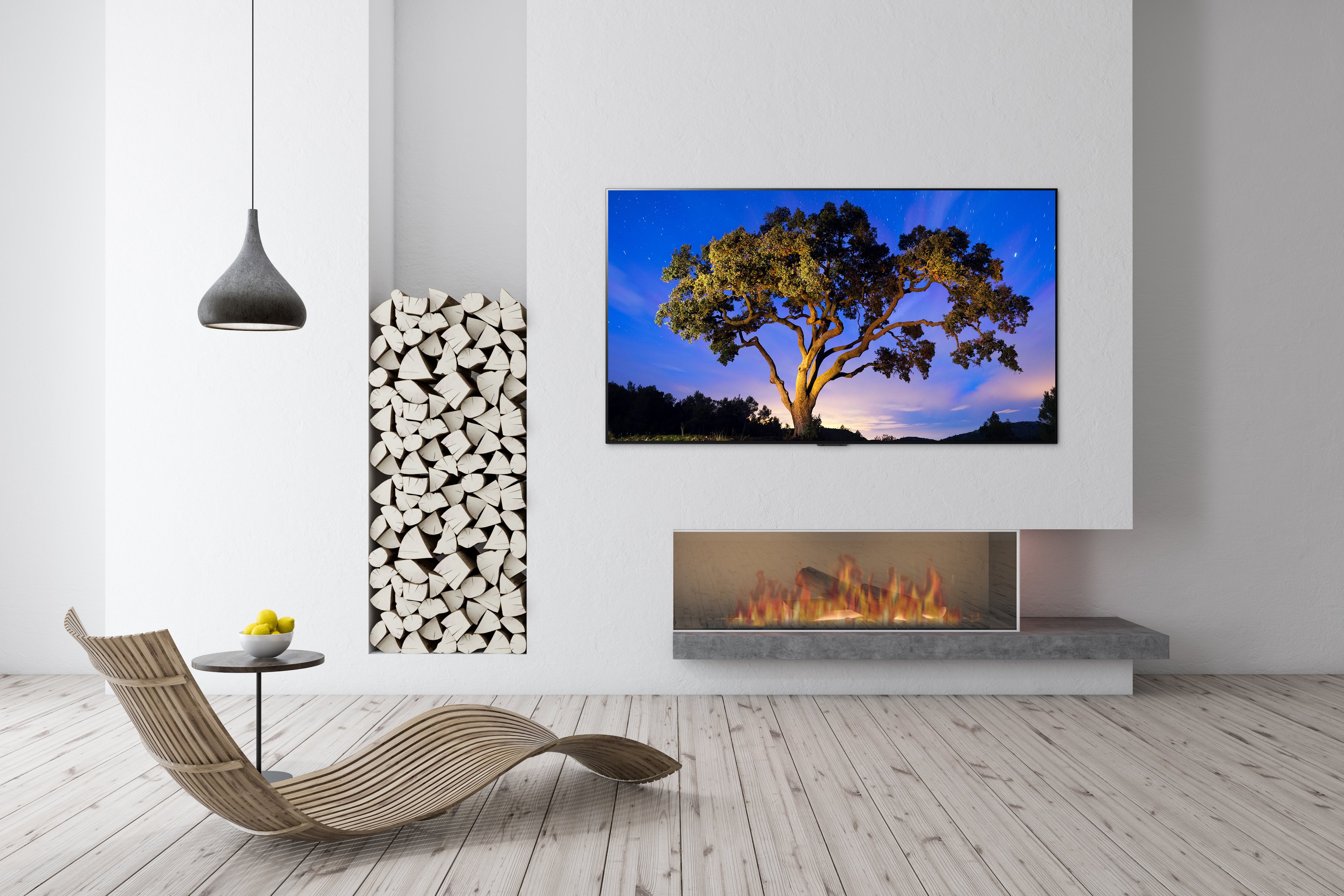 Just like smartphones, a Smart TV has internet connectivity capabilities, runs on an operating system, and comes with its own app service. Smart TV Apps connect you to your favorite streaming platforms and provide a variety of enjoyable content for you and your family.
A majority of televisions these days have smart capabilities and provide online streaming and catch-up services from the moment you purchase. Here are two things you'll need when considering a smart TV purchase:
Good Internet Connection
Smart TVs need a strong internet connection for apps to run smoothly. Plugging your TV directly into an ethernet cable will offer a stronger, more stable connection overall. Ethernet cables can limit placement options since TVs need to be located near cable outlets.
As an alternative, you can also hook your screen up to WiFi. For optimal connectivity, place your internet router nearby. Better WiFi connections help minimize buffering and low-quality streaming. Whether you opt for an ethernet or WiFi setup, smart TVs will guide you through the setup process.
Internet access also means that your smart TV can install automatic software updates from the manufacturer. Similar to a computer's operating system, updates typically add new features, fix errors, and improve security measures. If you do experience a software functionality issue on your smart TV, it's a good idea to check for any available updates in your settings.
The downside to smart TVs is that, like smartphones and computers hooked up to WiFi, there can be connectivity issues. For smart TVs towards the lower end of the cost and quality spectrum, this problem can be especially pronounced since smaller brands sometimes have less resources to make quick, problem-solving updates. Regardless, smart TVs are a great option for customers that like the ability to see all their streaming options on one screen.
Streaming Subscriptions
Smart TVs are a good choice for households on a budget, particularly if you already have subscriptions to multiple streaming services. If you don't go the smart TV route and want access to streaming on a big screen, separate media players like the Amazon Fire TV Stick, Apple TV, Google Chromecast, and Roku TV Stick are available. Some of these streaming boxes offer content specific to their brand platforms; a good example of this is iTunes, which is only available on Apple TVs.
Some smart TVs have voice-activated controls via Alexa, Siri, or Google Assistant. Older models include microphones built into the included remote controls while more updated versions have far-field mics installed within the TV itself. These built-in microphones make it so you can utter commands from anywhere in the room, which makes powering up, changing volume, and switching channels a lot easier.
Similarly, if you already own other smart home devices (think doorbells, lights, and security systems), you can likely sync your smart TV up with an app that controls them all from one interface. Talk about convenience!
Manufacturing Brands for TVs
When it comes to TVs, quality really is key. Each manufacturing brand comes with its own strengths and weaknesses, so it's important to do some research to know which options might work best for you. Luckily, we've already done that work for you! Read on for some insights into some of the most recognizable names in television (well, at least when it comes to buying televisions).
Samsung TVs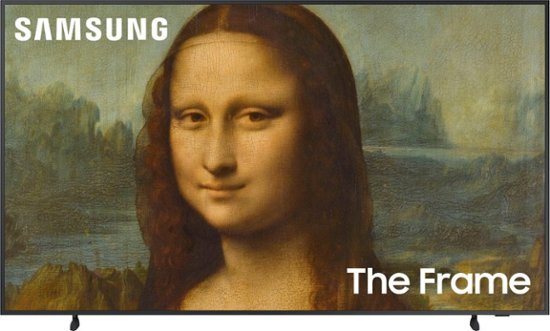 Samsung is a great brand choice if you want a reliable, high-quality TV that will last. Samsung TVs include some unique features that differentiate them from competitors. Launched in 2015, Samsung TV Plus is the company's free smart TV video service. You can watch live TV for free and gain access to sports, media, entertainment content, and more. For Samsung TV owners, this app can be accessed via the Smart Hub, which also includes the rest of your downloaded apps.
Samsung also offers built-in voice assistance on certain models. Before setting up, you can choose to configure Google Assistant, Amazon's Alexa, or Bixby. An intelligent assistant is a feature that responds to unique situations. For example, if it's late at night, you can set up an alert on your TV to notify you when it's bedtime.
You can also use the SmartThings app to easily connect a phone to your Samsung TV. This will mirror movies, games, and music playing on your phone to the big screen. For an easier option, you can tap your phone on the TV to initiate "Tap View," which also activates screen sharing.
The Samsung One Remote comes with everything you need to access your favorite content. With Netflix and Prime Video shortcut buttons, the remote also allows you to customize additional apps. When you connect a device like a Blu-ray player or gaming console, the TV immediately recognizes the kind of device it is. You can go from streaming to gaming without having to worry about switching between multiple remotes.
There are many different resolutions and sizes available for Samsung devices. You can choose from OLED, QLED, 4K UHD, and 8K QLED displays. You can even get a model called "the Frame" that transforms your TV into a beautiful work of art when it's turned off. With a surrounding picture frame, this model displays art pieces and photographs on a gorgeously rendered QLED screen.
LG TVs
As a brand, LG has some distinctive qualities. LG's AI TVs come with an artificial intelligence system that listens to voice commands. By pressing the microphone icon on the remote, you can play music, ask for food recipes, change channels, and even turn the TV into "cinema mode" for Friday movie night. The brightness booster lightens screens so that content looks better than before. Similarly, the Dolby Vision IQ adjusts brightness automatically according to the amount of light in the room.
Another cool feature is the AI Sound Pro. After detecting sound, this capability converts two-channel audio into surround-sound, which makes for a more cinematic viewing experience. It also automatically changes the audio settings based on the scene in question.
For gamers, LG boasts some of the highest-grade display technology available on the market. Its AMD Freesync Premium feature ensures that frame rates are in sync with the TV for more fluid playing. With a refresh rate of 120Hz and an input lag of less than 0.1 seconds, you'll definitely have an advantage when playing online multiplayer games.
Sony TVs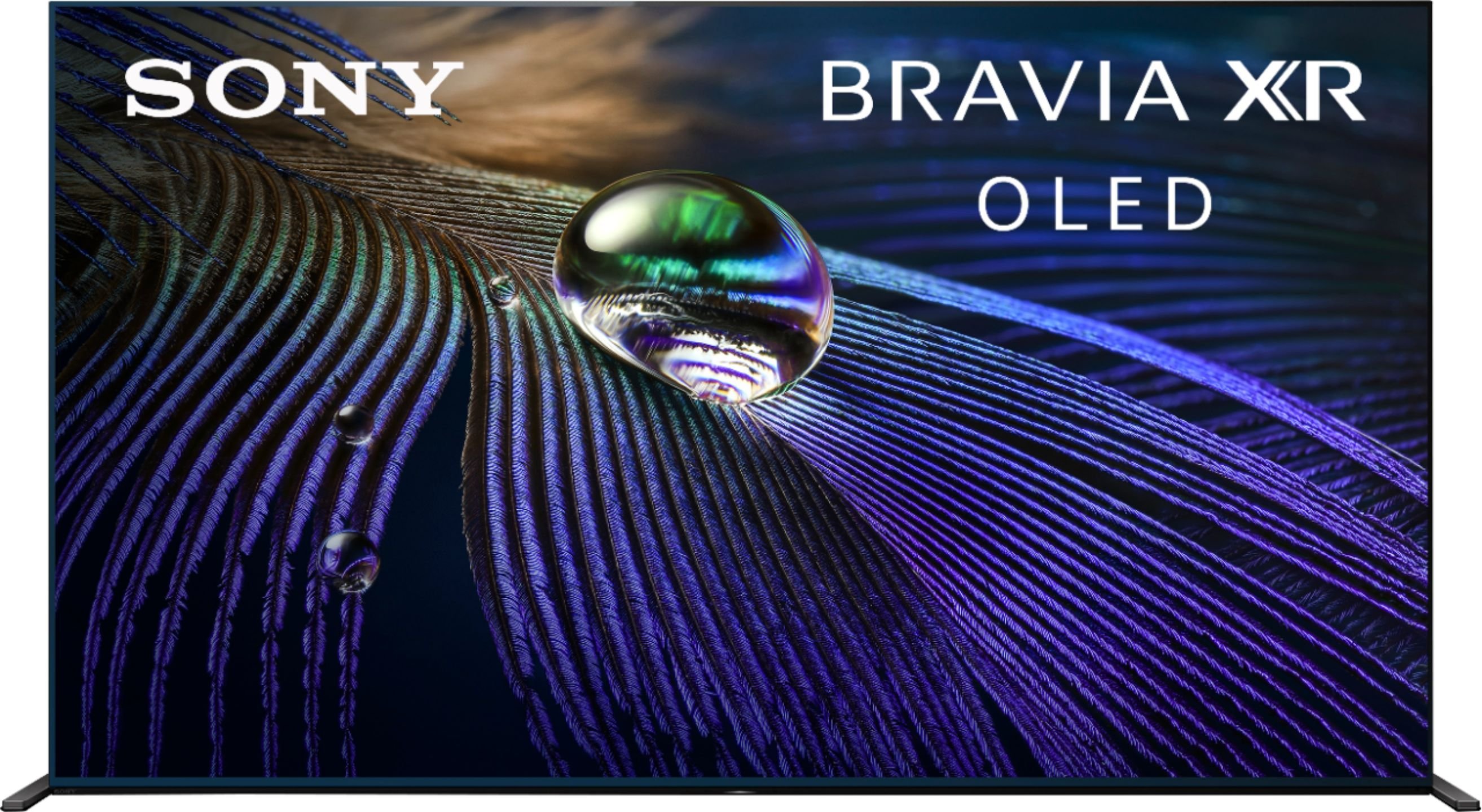 When it comes to quality and reliability, Sony is a brand that has historically always delivered. Sony TVs now automatically include a Google TV integration that provides access to over 700,000 movies and television episodes along with a live TV option. Google TV automatically suggests new shows and movies based on your provided interests and also allows for voice commands. In addition, the Google Play store boasts a selection of over 7,000 apps and games for download.
Sony TV remotes are compact and made of aluminum. They even come with a backlight to make them easy to use in the dark. With lowered buttons, these remotes have flush surfaces, which makes them easier to clean. A built-in "Finder" function helps you locate a lost remote via a verbal command. You can also activate the feature by pressing a special button on the side of your TV.
Why Buy at RC Willey?
Televisions are a pricey purchase for any shopper, but when you purchase at RC Willey, you can take advantage of some great payment plan options. You can also join the RC Willey Blue Rewards program and start earning rewards immediately. The savings really start to add up with membership perks, which include free deluxe delivery for a year, rebates twice yearly, additional extended warranties, and member exclusives.
To learn more about RC Willey Blue Rewards, Payment Plans, and more, visit your nearest RC Willey location today.
Popular Posts
Subscribe to the The RC Willey Blog Blog
Subscribe to the The RC Willey Blog Blog
Unsubscribe from the The RC Willey Blog Blog