Posted by Andie on September 14, 2019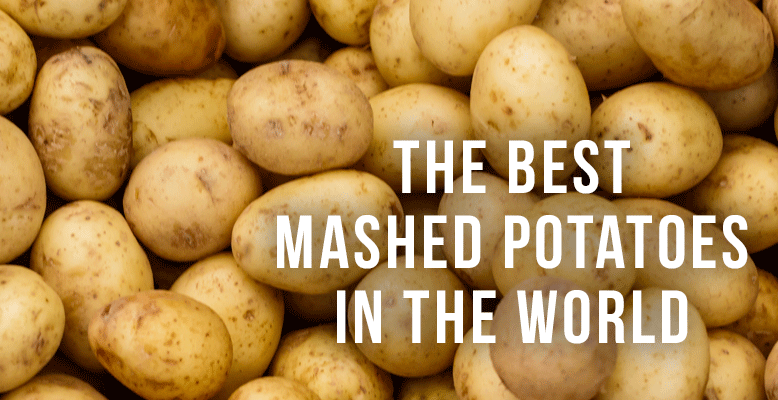 A recipe for mashed potatoes?? Aren't they pretty self-explatory? Boil potatoes, mash them up, add a little milk, butter, salt & pepper and you're good to go. Right? I don't blame you for thinking this post might be a waste of your time- the truth is that if you've never tasted these holiday baked mashed potatoes you just don't know what you're missing!
We are very pro- mashed potatoes at our house. My husband grew up in Idaho for heaven sake, so our children have it in their DNA to love potatoes. While I'd never turn down a plate of traditional mashed potatoes, I'd take these holiday baked mashed potatoes over the regular stuff ten times out of ten! Basically they are just a delicious (and even more unhealthy) spin on mashed potatoes. Who doesn't love a little more butter, sour cream & cream cheese? The great part about this recipe is that you can make them the night before thanksgiving, let them sit overnight and pop them in the oven just before it's time to eat. Less work for you on the big day!
Serioulsy though, try these and you'll never, ever go back to regular mashed potatoes.

Holiday Baked Mashed Potatoes
12 Medium potatoes, peeled and quartered
1 8 ounce package cream cheese, cubed
1/4 cup butter, softened
1/2 cup sour cream
1/2 cup milk
2 eggs
4 green onions, finely chopped
1 teaspoon salt
1/4 teaspoon pepper

Boil potatoes in salted water in large saucepan, cover and cook until tender. Drain and place in large mixing bowl. Beat until smooth. Add cream cheese and butter, beat until smooth and stir in sour cream.
In a small bowl, blend milk, eggs, onions and seasonings. Add to potato mixture and whip until light and fluffy.
Pour into a greased 9x13 glass baking dish; cover and refrigerate several hours or overnight.
Bake uncovered, 45-60 minutes at 350 degrees or until puffed and golden brown.
Sort By Blog Topic:
Popular Posts
Subscribe to the The RC Willey Blog Blog
Subscribe to the The RC Willey Blog Blog
Unsubscribe from the The RC Willey Blog Blog