Posted by
Alyssa
on June 19, 2018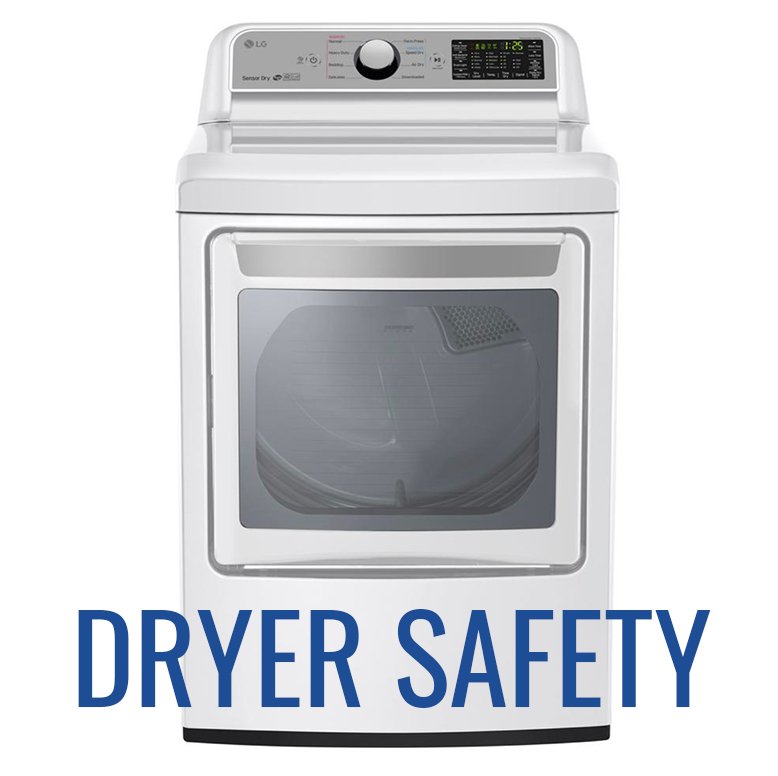 Did you know that according to the US Fire Administration 2,900 home clothes dryers are reported each year? Most dryer fires are caused by lint build up. Each time you dry clothes, lint is produced and collected in your dryer. Lint blocks the flow of air and causes heat build-up, so if there is too much lint in either your exhaust duct or lint screen, you've got a potential fire hazard on your hands. These fires can cause some serious damage and are a huge safety issue, so it's important to follow some basic dryer safety rules. By being informed and staying smart, you'll be able to keep your home and family safe.
Dryer Safety
Clean your lint filter after drying each load of clothes. If you're noticing your clothes are not drying in your dryer, it might be a clue that your filter needs to be cleaned out. Also, make sure you never use a dryer without a lint filter or that has a damaged lint filter.
You need to make sure you have exhaust air escaping out of the outside dryer vent while the dryer is going. If you are noticing there is less air or aren't sure if your dryer is venting efficiently, you'll want to clean out the dryer vent and exhaust pipe. Plan on cleaning this area every couple of months.
Keep the area around your dryer clean and lint free - especially behind the dryer where lint can easily build up.
Change out your plastic or foil accordion-type ducting for rigid or corrugated semi-rigid metal duct instead.
Turn off and stop running your dryer when you are away from home or while you are asleep. If something does go wrong, you want to make sure you're available to fix the problem quickly!
Make sure your electric dryer is pulled into an outlet designed for a dryer and that your gas-powered dryer has no leaks in its connection.
Avoid overloading your dryer, drying anything that has rubber or plastic, or anything that has come in contact with something flammable like gasoline.
By following these safety measures you'll keep your home safe and minimize any dryer fire hazard. Don't forget to check out RC Willey for all your laundry needs!
Sort By Blog Topic:
Popular Posts
Subscribe to the The RC Willey Blog Blog
Unsubscribe from the The RC Willey Blog Blog