Posted by Andie on February 1, 2018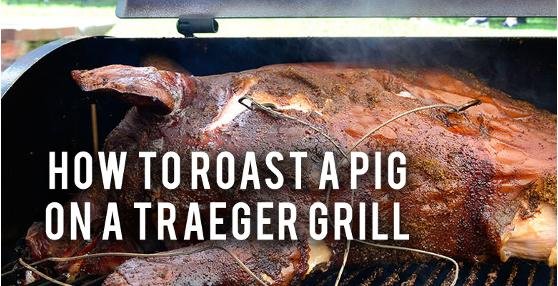 With the Super Bowl coming up this weekend, I thought I'd share the Ultimate BBQ idea. If you want to really impress your guests, try roasting a pig on your Traeger! This would for sure make your party something special and unique! Now, before I continue, if you're a vegeterian you should probably skip this post altogether. Fair warning!
My husband is a master griller/traegerer extroidanaire. That man could cook a shoe and it would taste delicious! His Traeger is like his fourth child. He and his buddies get together and geek out with their Traegers, and it's pretty hilarious. A few weeks ago they decided that they were going to roast a pig on the Traeger. I have to admit, I had my reservations. I'm by no means a vegetarian (I actually love meat!), but the thought of cooking a whole pig and seeing it's face while we did it felt a little cruel to me. Am I the only person out there that doesn't like to see a face with my meat?? Well, in the end, it wasn't as bad as I had imagined. I have to admit that the meat tasted OH MY WORD, AMAZING!!!! To die for, really.
If you want to mix things up and wow your guests this weekend, read on to learn the 5 easy steps to roasting a pig on your Traeger!!
1. Find a pig
You can get a pig one of two ways. A. Purchase a whole pig that is grill ready, directly from the butcher. This option is definitely the easiest route, but usually the most expensive as well. B. If you want to make it more of an experience from start to finish, you can go to a local live pig farm, and select your own pig. If you choose to do this, the pig will need to be delivered to the butcher one day prior to your pig roast. We purchased a 70lb. pig for $1.00 per pound from a local farmer, picked it up, and delivered it to our butcher, and he did the rest. (If you want a funny story, just ask my husband about the time he had to wrestle a pig to get it into the back of the truck! Ha! He still says it was worth it. Normally I don't think it's that complicated.)
2. Find a butcher
Whether you buy your pig directly from the butcher, or deliver it to him yourself--- find a butcher you trust. Ask your local farmers who they use, or find one in your area with good reviews.
3. Pick up the prepared pig the morning of your pig roast
Since the pork hasn't been injected with preservetives, you should never freeze it. Ideally it should be roasted the day of pick-up. To transport home, store it in a cooler with ice.
4. Prepare the pig with a rub and meat injector
Prepare your pig for the grill, by applying your favorite pork rub. You can buy them pre-made, or it's easy to concoct your own (brown sugar, mustard, paprika & salt are key to a delicious pork rub). Next, inject the meat with your favorite spices, broths, or brines. This will make your meat moist, flavorful, and tender. We used Dr. Pepper, Worchestershire sauce, brown sugar, and smoked paprika!

This Traeger meat injector will change your BBQ ing life!


5. Cook on the Traeger
Start the Traeger on Smoke with the lid open until a fire is established (4-5 minutes). Turn temperature to 250 degrees and preheat, lid closed, for 10 to 15 minutes. Place the pig on the grill (all hands on deck for this step!) and cook for 5 hours at 250 degrees. Increase temperature to 325 degrees to finish. Allow pig to cook for an additional 2 to 3 hours, or until probes in the pork shoulder and ham register an internal temperature of 205 degrees.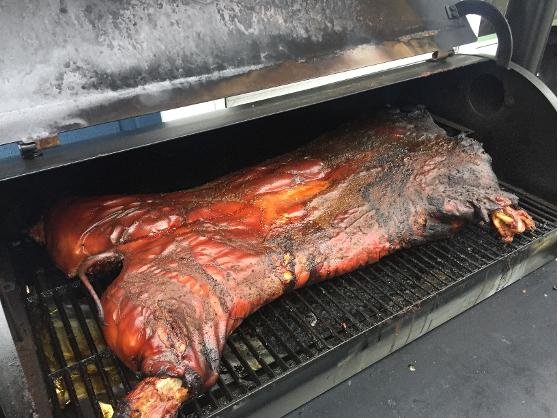 6. Enjoy!!
Once the pig is done cooking, carefully take it off the grill and let it sit for 30 minutes. Dig in!! We used the meat for sandwiches and tacos, and everything was absolutely delicious!
Sort By Blog Topic:
Popular Posts
Subscribe to the The RC Willey Blog Blog
Subscribe to the The RC Willey Blog Blog
Unsubscribe from the The RC Willey Blog Blog