Posted by Andie on May 7, 2018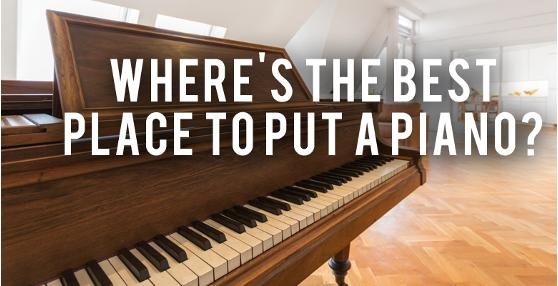 Piano's are a beautiful, timeless investment and addition to any home. Did you know that there are some stipulations you should consider when it comes to finding the right place to keep your paino, though? It turns out, you shouldn't just throw it in any old room, on any old wall! There are certain things you should do, and others you should avoid, that will help ensure that your piano continues to look and sound incredible for many years to come. Here are a few guidelines to follow....
- The curved side of the grand piano should face listeners. That way the sound will take center stage!
- Make sure you consider humidity and temperature! Windows or heating/cooling vents can effect piano sound and damage the interior workings of the piano. For this reason, placing the piano on an interior wall is highly recommended if possible. Also, avoid keeping your piano in a basement.
- Consider "live" and "dead" materials when designing a music room. "Live" = wood, and "Dead" = carpet. Wood will enhance the sound of the piano, and carpet will absorb it.
- Don't use your piano as a bookshelf! It's not meant to hold picture frames and other decorations.
- Try to keep it out of a high traffic area in your home. The chances of scratches, spills, and other accidents will lessen if it's away from the bustle of activity.
via pinterest
Sort By Blog Topic:
Popular Posts
Subscribe to the The RC Willey Blog Blog
Subscribe to the The RC Willey Blog Blog
Unsubscribe from the The RC Willey Blog Blog