Posted by Andie on May 22, 2018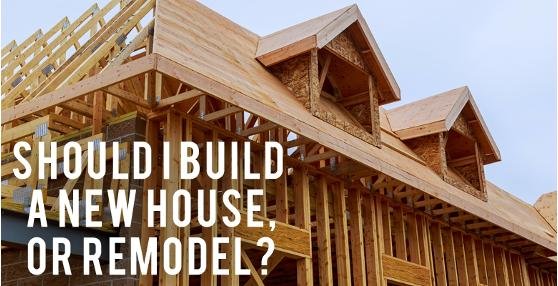 Raise your hand if you love watching HGTV as much as I do! Love it or List it, Fixer Upper, House Hunters....... I can't get enough. Those shows always make finding/making the perfect home so effortless, but in real life it feels so much harder! What does it take in real life to create your perfect home, anyway? If you're trying to decide whether you should sell your home and build a new one from scratch, or remodel your existing home to make it everything you want, here's an extensive list of pro's and cons to help you determine which choice is best for you and your family....
Building a new house: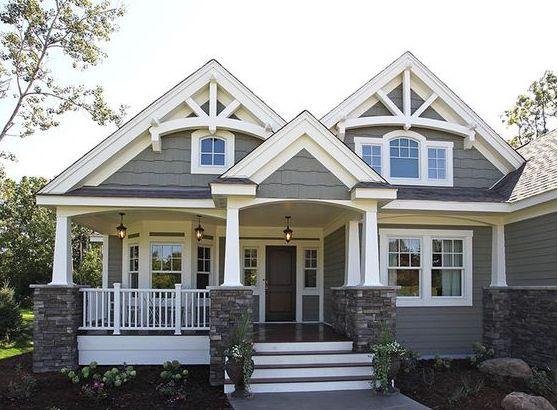 via pinterest
PRO'S:
- You get to pick the location of the home, and build exactly where you want to live!
- You get to design and build a unique space that has never been lived in by anybody else before!
- You can get EXACTLY what you want! Customization, customization, customization!
- New construction can easily incorporate the newest developments in building materials, technology, wiring, heating and cooling and communication systems, plumbing and other fixtures, and finish materials.
- New materials generally require less upkeep. Wisely chosen, they can be relatively maintenance free for years to come.
- You don't have to live in the mess during construction! You can stop by to check on things, and then go back to relax in a clean house afterwards.
CONS:
- Costs for new construction are almost always higher than the costs of buying existing structures. $$$$$$$
- Building a home usually (more like ALWAYS) takes much longer than anticipated. This is super frustrating, especially if you are on a tight schedule as far as timing goes with moving out of your current residence.
- Depending on where you live during construction, travel to and from the site can be time consuming.
- Overseeing the project (even with a general contractor) can take a lot of time and energy. The owner should be a part of the process to make sure the quality of the project is satisfactory.
Remodeling your current home: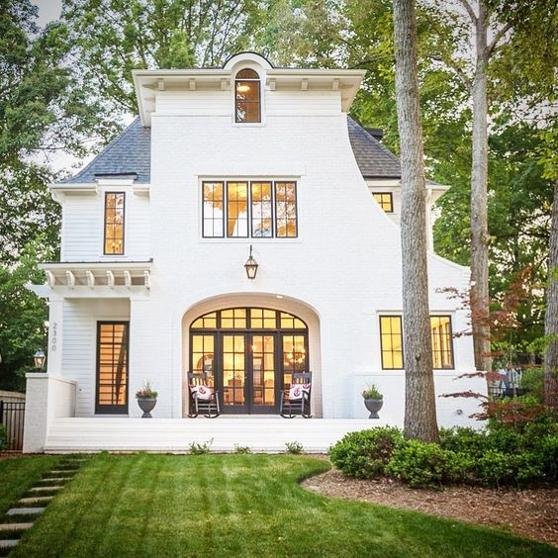 via pinterest
PRO'S:
- You don't have to uproot your entire life and relocate! This is a major reason why most people remodel. If you love your neighborhood, friends, schools, proximity to shopping & entertainment, etc. then why move?!
- Changes in an existing plan can take place one at a time, over a long time, with much less pressure to accomplish than new construction. There is time to live with the idea, plan it out carefully, execute it how you'd like to, and control the size or scale of the project.
- Remodels can be accomplished in stages or in parts of the structure and by various individuals or teams.
- The cost may be less than that of new construction (depending on the extent of the remodel, who does the work, and how it is accomplished).
- The area to be remodeled may not dramatically affect living or working in the space.
- You get to keep the features of your home that you love, while upgrading the things that you don't! This way, you can literally create your "perfect" home!
CONS:
- Living in the middle of a mess is pretty horrendous!! It would help things if you could move out during the remodel, but that takes a lot of time, money, and planning!
- Depending on what room is getting remodeled, you might not be able to use your kitchen for a while. Hello, takeout! Also, if bathrooms are getting remodeled, your whole family might have to share one bathroom for a period of time, which can get annoying.
- Having subcontractors and workers in and out of your living space leaves you essentially no privacy. Not to mention the loud noises!
- Removing walls sometimes brings big surprises! (For example: hidden fireplaces, rotted floorboards, etc-- these types of things can add a lot of additional costs to the project in order to fix properly.)
- Making decisions and being involved in the project takes a lot of time and energy, and can be stressful.
In the end, as long as you get the home you're aiming to create, you can't really go wrong. But, in your experience, which do you prefer? Building a new home, or remodeling your existing one?
Sort By Blog Topic:
Popular Posts
Subscribe to the The RC Willey Blog Blog
Subscribe to the The RC Willey Blog Blog
Unsubscribe from the The RC Willey Blog Blog