Posted by Andie on May 5, 2018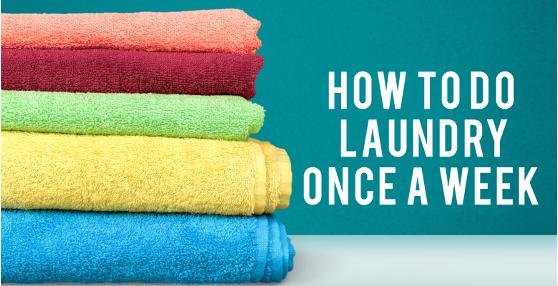 I have a love/hate relationship with doing the laundry. I really enjoy the smell of fresh, clean clothes hanging on the drying rack in my laundry room, and I love the sense of accomplishment I feel once I've finished folding what feels like 10,000 loads of laundry. Not to mention, I get time to sit down and watch tv without feeling guilty while I fold, which basically never happens!! On the flip side though, laundry is also the WORST. I have little kids who like to change their clothes 17 times a day! I feel like I have laundry coming out of my ears! It's completely overwhelming. It took washing the same load four times last week because I kept forgetting to switch it to the dryer before it started smelling bad, for me to realize that I am in major need of a laundry intervention!! If you feel like laundry is taking over your life too, this post is for you!
For me, I've found that I have a healthier, happier relationship with laundry is I do it ONCE a week. None of this one load a day, or a couple loads every other day business. I find that it works best for me to bang it all out in 24 hours so that I can be done with it for the next 6 days! I've gotten pretty lax about making my laundry day a priority over the past 6 months or so, and I've been paying for it mentally and emotionally! So, I'm taking my life back!
Here's how to do your laundry in ONE day.....
1. Have everyone gather up all of their dirty clothes hampers and bring them to the laundry room the night before laundry day. I like to get all of my laundry done on Monday, so for us gathering all of our dirty clothes Sunday night would be ideal.
2. Take time to sort your loads the night before. This is key. You will start you off in an organized manner, and keep everything running smoothly. I know some people like to do everyone's loads seperately, but for me it works better to combine everything. For my family of 5, this is what my loads usually look like:
- 1 load of whites in WARM
- 2 loads of colors in WARM
- 2 loads of darks (including jeans) in WARM
- 1 or 2 gentle cycle loads in COLD (mostly all of my clothes)
- 2 loads of towels in HOT
- 1 or 2 loads of sheets, depending on how much time I get
- I LOATHE hunting for missing socks, so recently I decided to implement a sock only load as well. Jury is still out on whether it will be effective or not.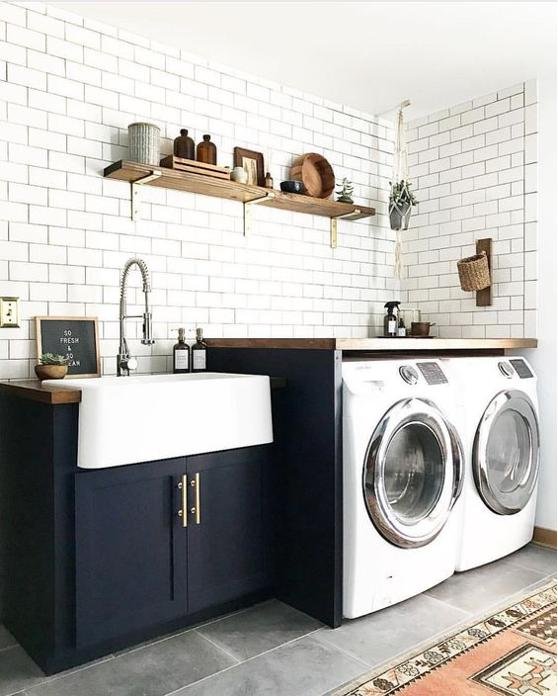 via @brepurposed on instagram


3. Start washing ASAP the morning of laundry day. Literally, first thing you do after rolling out of bed is go throw your first load in! I like to start with whites first, and continue in the order listed above.
4. Stay on top of it! As soon as you hear the washer finish a load, sprint to the laundry room and move it to the dryer! The faster you keep those loads moving, the faster you'll get done!
5. Fold immediately once clothes come out of the dryer. I'm always tempted to skip this step and wait until the very end to fold everything. But I always end up remembering that's a horrible idea once I'm staring at a huge mountain of laundry and I want to run far, far away and cry. If you fold right away, it feels a little more manageable.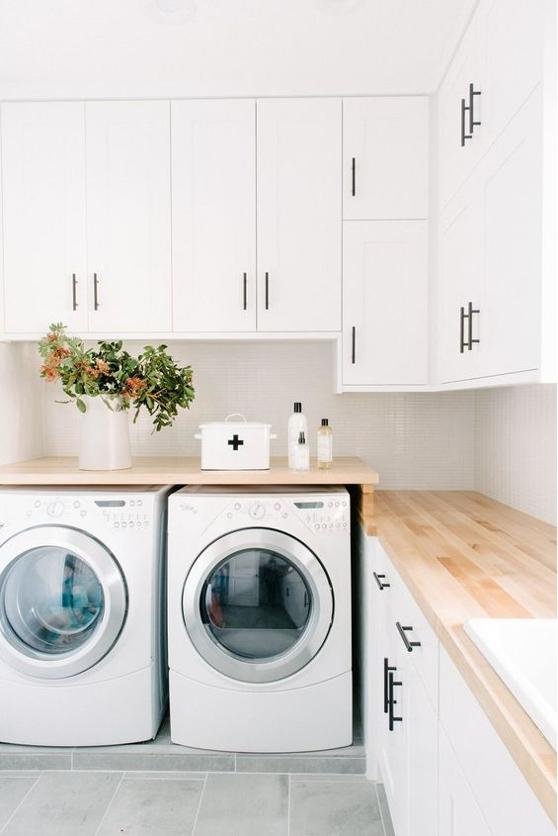 Studio McGee via pinterest
6. Have a separate laundry basket for each child, and put their clean clothes in their own basket. If your kids are little, put away their clothes as soon as loads are washed and folded, but if they are old enough to put their own laundry away, just keep adding to their basket throughout the day. My four and five year old have both been responsible for putting their clean laundry away for a while now, and it's the best thing ever.
7. Once all clothes are washed and folded, MAKE SURE EVERYTHING GETS PUT AWAY BY THAT NIGHT!! This step is crucial. I can't tell you how many weeks I have laundry baskets floating around with clean clothes on the bottom, and dirty clothes strewn over them because I was too lazy or tired to take ten minutes to put them away. Do it!
8. Forget about laundry for another week, and go live your best life! But really. If you get it all done in a day, I give you permission to not think about it again for another week!

What other tips do you have for a successful one laundry day a week?
P.S. If you need a new washer or dryer, check out our amazing appliances at RC Willey!
Popular Posts
Subscribe to the The RC Willey Blog Blog
Subscribe to the The RC Willey Blog Blog
Unsubscribe from the The RC Willey Blog Blog