Posted by Alyssa on July 18, 2018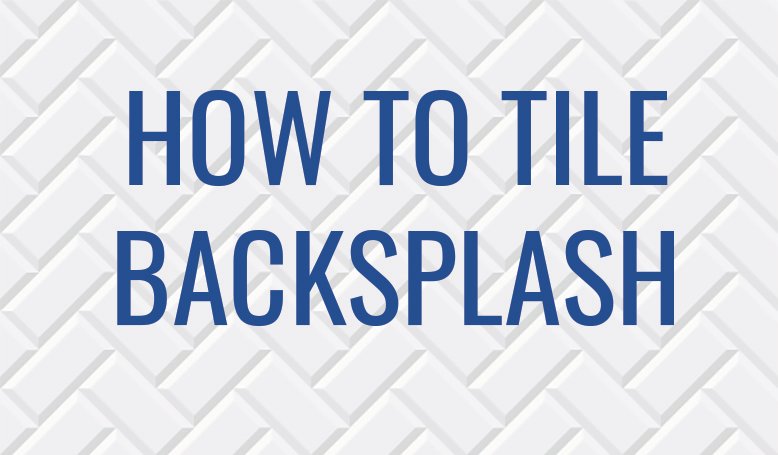 If you're curious about how to tile a backsplash, look no further. Adding a tile backsplash, whether it is glass, ceramic, or natural stone, to your kitchen or bathroom will immediately make the room feel more complete and finished. It may seem daunting to think about doing the tiling yourself, but don't get scared! You'll be able to save yourself a lot of money if you install the backsplash yourself. If you're interested in knowing how to tile a backsplash or are wanting to see if it's something you'd be able to do, check out this video below.
How to Tile a Backsplash: Pro-Tips
Prepare surface by filling or sanding if necessary
Make sure you use a level and follow that line because your counter/cabinets may not be level
Start tiling from the bottom and put your cut tiles at the top - they won't be seen as much up top
Use your field tile as an edger - it's cheaper than buying tile specifically made for edging
Don't force tile through tile saw - you will chip it or break it
Mesh-backed tile makes it easy to cut around obstacles such as electrical outlets
Back-butter your tile in hard to reach spaces - this means to put the adhesive on the tile - not the wall
Choose a sanded grout or un-sanded grout based on your tile choice
Ask your tile retailer if you need sealant
Remember the peanut butter rule - adhesive and grout should be the consistency of peanut butter
Grout all seams except for the bottom seam of the tile - that seam will be caulked
You might need longer screws for your wallplates on your electrical outlets due to the new depth of the wall
Have you ever tiled something? Let us know how it went!
Popular Posts
Subscribe to the The RC Willey Blog Blog
Subscribe to the The RC Willey Blog Blog
Unsubscribe from the The RC Willey Blog Blog