Posted by Andie on August 20, 2018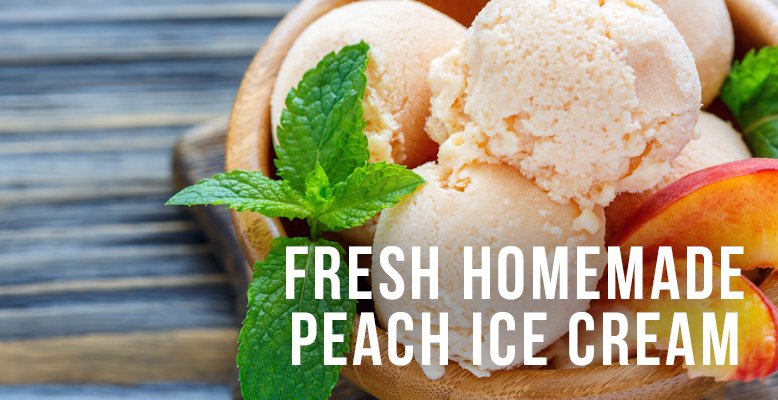 My kids go back to school in two weeks, and I'm in denial! We just got back from a month long cross country trip, and now I'm trying to squeeze in all of the fun I can before summer is officially over! Nothing says summer to me like homemade ice cream! Read on for the most incredible & easy to make fresh peach ice cream that will most likely change your life.....
Here's the thing- I LOVE homemade ice cream, but I've always used the old fashioned ice cream maker with the ice and salt. You know what I'm talking about? Sure, it's charming and fun, but it always turns into a watery salty mess and a ton of work! While I was visiting my sister a few weeks ago, she introduced me to this ice cream maker- boy is it a game changer! We whipped up a batch of delicious peach ice cream in no time, and I'm still dreaming about it. You've got to try it!
Ingredients: Yield: 1 Quart
1 cup peaches, peeled
2/3 cup sugar
1/2 cup water
1 cup heavy cream
1 tsp. vanilla extract

Directions:
1. Peel and chop the peaches. Set aside in medium mixing bowl.
2. Combine sugar and water in a saucepan, and cook over medium heat until all sugar has dissolved.
3. Add reserved peaches to the sugar syrup, and continue to cook for 5 minutes. Remove from heat and chill in refrigerator for 30 minutes. Once chilled, puree the mixture in a food processor until very smooth. Strain through a mesh strainer if desired.
4. Combine all ingredients in the food processor, and puree unttil very smooth. Chill in refrigerator for 2-4 hours, or overnight.
5. Once chilled, add to ice cream maker and follow manufacturer's instructions for freezing.

Recipe via The Everything Ice Cream, Gelato, & Frozen Desserts Cookbook


Popular Posts
Subscribe to the The RC Willey Blog Blog
Subscribe to the The RC Willey Blog Blog
Unsubscribe from the The RC Willey Blog Blog