Posted by Andie on August 31, 2018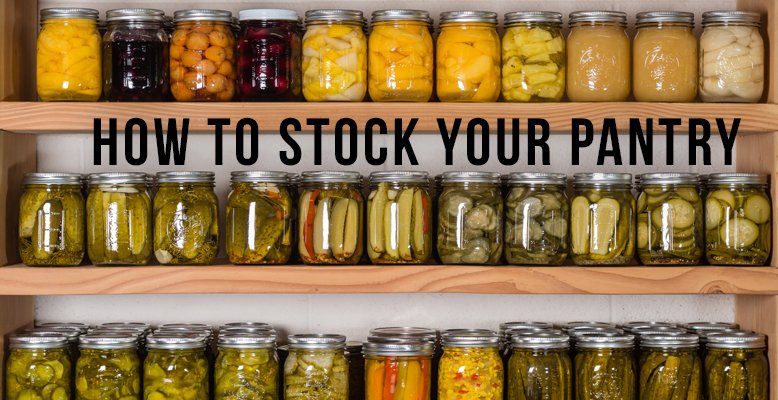 You know that feeling. You're in a time crunch throwing together dinner and you're positive you have everything on hand...only to find at the last minute that you are short 1 or 2 essential ingredients and have to make a dreaded trip to the grocery store. Isn't that the worst? It's basically the story of my life. In an effort to live a simpler, less frazzled life, I'm on a mission to create a well stocked pantry. I found an awesome guide made by Eating Well that gives you a run down of some of the best items to keep in your pantry so that you're ready for anything! If that means no last minute trips to the store with three babies, I'm in! Check it out...
Eating Well's Healthy Pantry List
Oils, Vinegars & Condiments
Extra-virgin olive oil for cooking and salad dressings
Canola oil for cooking and baking
Flavorful nut and seed oils for salad dressings and stir-fry seasonings: toasted sesame oil, walnut oil
Butter, preferably unsalted. Store in the freezer if you use infrequently.
Reduced-fat mayonnaise
Vinegars: balsamic, red-wine, white-wine, rice (or rice-wine), apple cider
Asian condiments and flavorings: reduced-sodium soy sauce, fish sauce, hoisin sauce, mirin, oyster sauce, chile-garlic sauce, curry paste
Kalamata olives, green olives
Dijon mustard
Capers
Ketchup
Barbecue sauce
Worcestershire sauce
Seasonings
Kosher salt, coarse sea salt, fine salt
Black peppercorns
Onions
Fresh garlic
Fresh ginger
Anchovies or anchovy paste for flavoring pasta sauces and salad dressings
Dried herbs: bay leaves, dill, crumbled dried sage, dried thyme leaves, oregano, tarragon, Italian seasoning blend
Spices: allspice (whole berries or ground), caraway seeds, chili powder, cinnamon sticks, ground cinnamon,coriander seeds, cumin seeds, ground cumin, curry powder, ground ginger, dry mustard, nutmeg, paprika, cayenne pepper, crushed red pepper, turmeric
Lemons, limes, oranges. The zest is as valuable as the juice. Organic fruit is recommended when you use a lot of zest.
Granulated sugar
Brown sugar
Honey
Pure maple syrup
Unsweetened cocoa powder, natural and/or Dutch-processed
Bittersweet chocolate, semisweet chocolate chips
Canned Goods & Bottled Items
Canned tomatoes, tomato paste
Reduced-sodium chicken broth, beef broth and/or vegetable broth
Clam juice
"Lite" coconut milk for Asian curries and soups
Canned beans: cannellini beans, great northern beans, chickpeas, black beans, red kidney beans
Canned lentils
Chunk light tuna and salmon
Grains & Legumes
Whole-wheat flour and whole-wheat pastry flour (Store opened packages in the refrigerator or freezer.)
All-purpose flour
Assorted whole-wheat pastas
Brown rice and instant brown rice
Pearl barley, quick-cooking barley
Rolled oats
Whole-wheat couscous
Bulgur
Dried lentils
Yellow cornmeal
Plain dry breadcrumbs
Nuts, Seeds & Fruits
Walnuts
Pecans
Almonds
Hazelnuts
Dry-roasted unsalted peanuts
Pine nuts
Sesame seeds
Natural peanut butter
Tahini
Assorted dried fruits, such as apricots, prunes, cherries, cranberries, dates, figs, raisins (Store opened packages of nuts and seeds in the refrigerator or freezer.)
How does your pantry look? My plan is to make one big trip to the grocery store to get a bunch of it bought, and then to get into the habit of buying an extra can of everything I buy at the store for food storage. How do you do it??
Popular Posts
Subscribe to the The RC Willey Blog Blog
Subscribe to the The RC Willey Blog Blog
Unsubscribe from the The RC Willey Blog Blog