Grill Buying Guide
Posted by Alyssa on April 5, 2018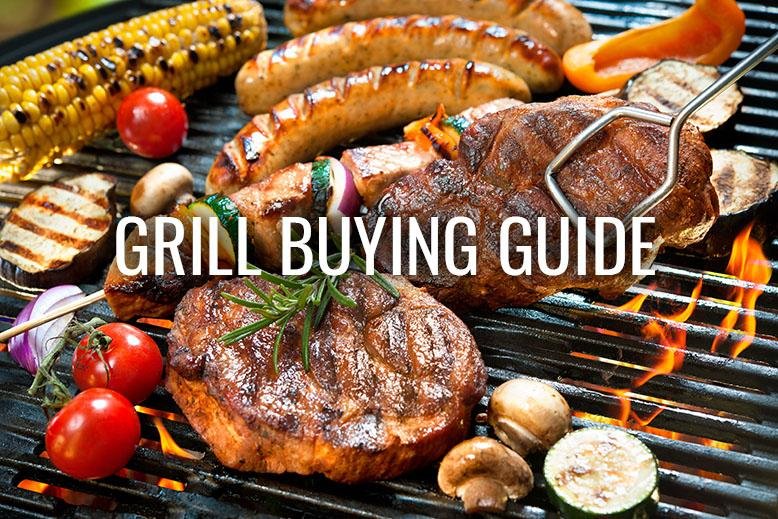 There is nothing like a summer barbeque! Summer isn't summer until you've cooked something out on the grill, so make sure you have a reliable grill ready this year. It may be difficult deciding what type of grill you should buy and everyone has their own opinions on which kind is best, so we've put together this buying guide to help you figure out what will be the best grill for you. Whether you're wanting to replace your existing grill or are looking for a new one, RC Willey has you covered!
Grill Buying Guide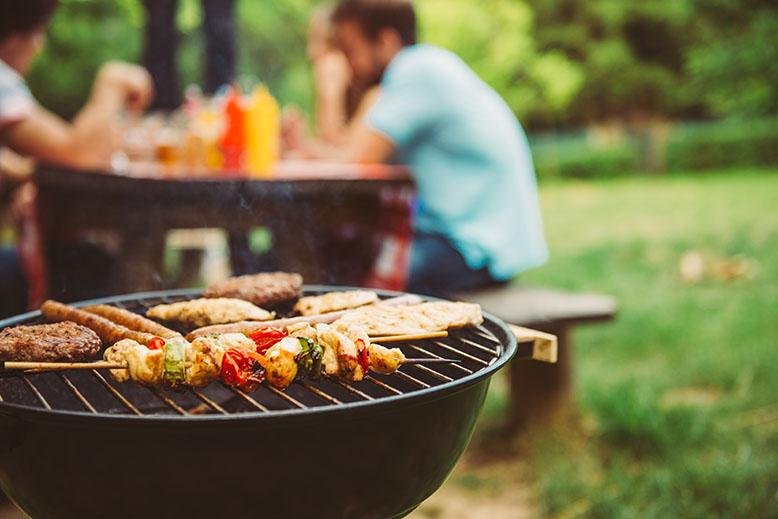 BEFORE YOU BUY
SIZE
There are a few things to consider before you pick out a new grill. Be sure to measure the space you will be storing your grill so you know what size limitations you have. You will also want to think about how many people you generally cook for to make sure the cooking grate is large enough for everything you will make.
The cooking area of a grill is measured in square inches. Primary square inches refers to the main grate you will be using to cook. Secondary square inches refers to the workspace, including the side burners and warming rack, of the grill.
FUEL
Some grills need a gas hookup or an electrical outlet as a power source, so be sure you know what you have access to and what your preference is before you make your purchase. If you don't have a gas hook up or an electrical outlet near your grilling area, many grills use portable propane tanks, charcoal, or wood pellets for fuel.
COST
The cost of your grill should be looked at in two ways. First, the upfront cost of the grill when you buy it. Grills come in a variety of price ranges which make them accessible to most budgets. Second, the cost of the fuel to use your grill. Natural gas or propane grills may cost more initially, but the fuel for these grills is cheaper than a charcoal or wood pellet grill in the long run.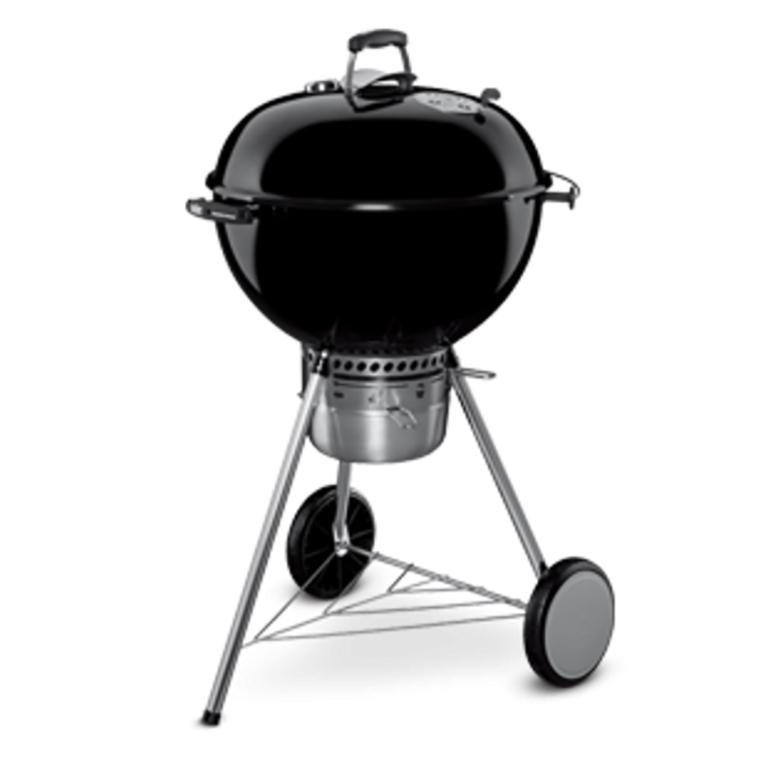 CHARCOAL GRILL
This classic grill option is easy to use and the charcoal gives a unique flavor to whatever food you're cooking. These grills are simple to use, but lighting the charcoal and cleaning up the ashes afterward can make setup and cleanup a longer process. It's more difficult to control the temperature of a charcoal grill, but some people love the smoky flavor the charcoals provide.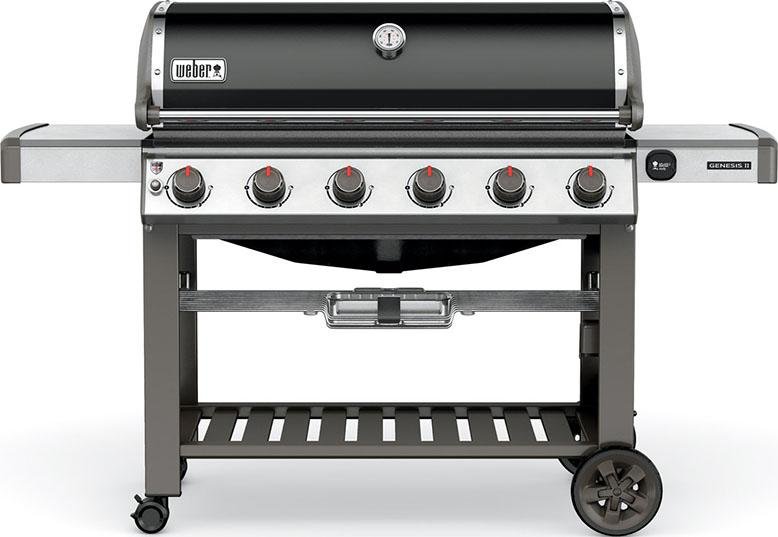 NATURAL GAS GRILL
If you want a natural gas grill and don't already have a dedicated gas line available, you will need to install one before you make your purchase. It is more expensive to install a natural gas grill, but the cost of fuel is so low that it often balances out the initial cost. These grills require little to prep and clean up, fire up quickly, and efficiently cook food. If you are looking for a quick way to grill outside, this is a good option.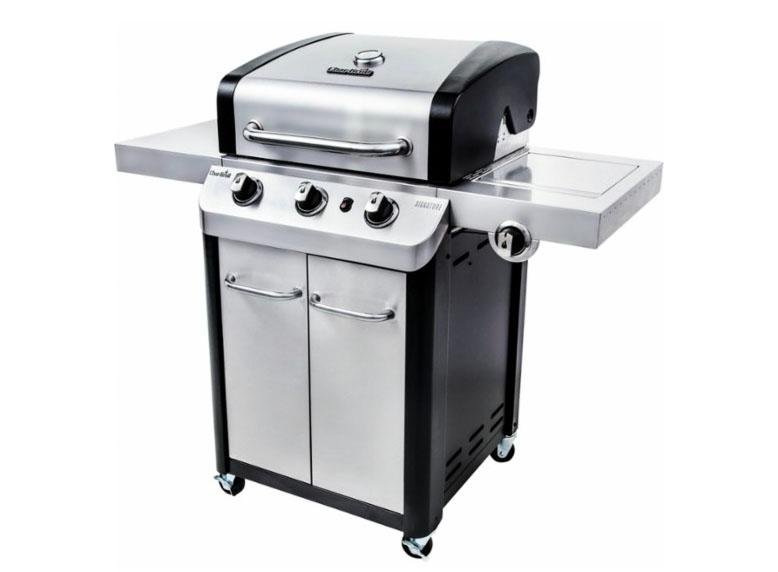 PROPANE GRILL
Propane grills are the most popular grill right now. They are easy to use and include lots of features that give you many different ways to cook your food. With a propane grill, you will need to find a place to refill your propane tanks, and there is always the chance you will run out of fuel while grilling. It's best to always keep an extra tank on hand when using a propane grill.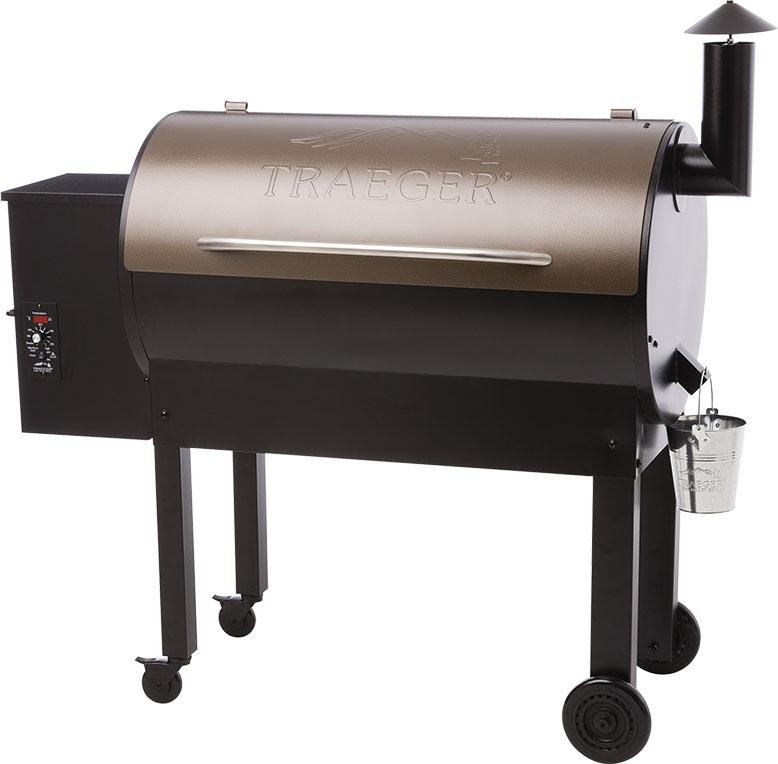 WOOD PELLET GRILL
For a real barbecuing experience, a smoker grill may be what you're looking for. Smokers give food a rich, unique flavor and cook the meat long and slow at low temperatures. It can take hours to cook your meal, which means you may have to plan ahead and keep that in mind before starting dinner, but once you've started the process, the smoker will do the rest. There are different types of wood pellets you can purchase to fuel the grill which will change the flavor of the food you are grilling. These grills are dependent on electricity, so you will need to make sure there is an outlet available when you are ready to start cooking.
Grates
Grates are what your food sits on to be cooked. Baked on porcelain or stainless steel grates are the best at resisting rust and transferring heat.
Warming Racks
Warming racks attach to the inside of your grill and allow you to remove your food from heat but keep items warm in the grill.
Rotisseries
Rotisseries allow you to turn and evenly cook your food. They are attachments that can be added to most gas grills. Look for a sturdy rotisserie that will firmly hold the food you are cooking.
Side Burner
Powered by the same fuel as your grill, side burners allow you to easily cook sauces and side dishes outside while grilling. They are also a useful way to keep food warm before serving.
Electronic Ignition
Electronic ignition ignites the grill quickly and safely by just pushing a button.
Temperature Control
Using temperature control will help you accurately and quickly adjust the temperature of the grill so you can easily cook a variety of food.
Fuel Gauge
This will alert you of when you are low on fuel so you can always be prepared to grill.
Probe
Probes are meat thermometers built into your grill.
What type of grill are you going to get this summer?
Popular Posts
Subscribe to the The RC Willey Blog Blog
Subscribe to the The RC Willey Blog Blog
Unsubscribe from the The RC Willey Blog Blog