Posted by Andie on April 24, 2018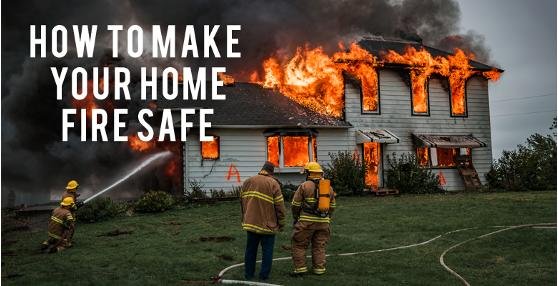 If your home caught on fire tonight, would you and your family be adequately prepared to escape safely? Today's blog post is a serious topic that has become very sensitive to me lately. A couple of months ago we woke up one night at 1:00 a.m. to the sound of several fire engines blaring their sirens and racing down our quiet street. We jumped out of bed, ran out onto our front porch, and in horror, saw that the home two houses down from us was completely engulfed in fire. It was one of the most horrifying and tragic things I've ever witnessed. It took fire fighters 45 minutes to contain the flames enough to the point where they could enter the home, and tragically, our elderly neighbor was killed. I won't get into the detials, but the saddest part about the whole situation for me was that it all could have been prevented.
Fire safety is a big deal. It's not enough to just own a couple of smoke detectors, and hope for the best. Educate yourself! It's not only a good idea, but it could end up saving your life, or the lives of the people you love someday. I encourage you to talk to your local fire fighters to find resources in your area that can help, but in the mean time here is a great list of things you can do now to help you make your home fire safe.....
SMOKE DETECTORS
-Install smoke alarms on every level of your home and outside every sleeping area. Also, install a carbon monoxide alarm in a central location outside each separate sleeping area.
- Test batteries on smoke detectors monthly, and switch out batteries annually.
- Clean your smoke detectors of any dust and cobwebs every month to ensure they are working properly.
IN THE KITCHEN
- Use a pan or skillet lid to smother grease fires. Never use water! It will just ignite the flames.
- Teach children not to play around the stove, and never them unattended while things are cooking.
- Keep a fire blanket within easy reach of the stove in case of oil fires.
- Don't overload electrical outlets or power boards with multiple appliances.
- Keep a working fire extinguisher in the kitchen.


CREATE AN ESCAPE PLAN & HOLD FIRE DRILLS
- Plan at least two fire escape routes from every room in the home.
- Teach children what smoke alarms sound like, and what to do when they hear one.
- Teach children to crawl low and keep their mouths covered, and to STOP, DROP & ROLL if their clothing catches on fire.
- Teach children to feel closed doors with the back of their hand. If not hot, slowly open the door and check for smoke and fire. If hot, use another exit.
- Get several rope or chain ladders that can be used from second-story windows in the event that stairways are inaccessible.
- Teach children how to open windows and climb to safety.
- Teach children never to return to a burning building.
- Establish an outside meeting place, where family members can meet, and call for help.
- Practice your family fire drill at least twice a year. Get it down so that everyone can safely exit the house in two minutes or less.


ELECTRICITY
- Replace cords that are cracked or frayed.
- Use safety plugs in electrical outlets, especially if you have small children.
- Avoid overloading outlets and running cords under carpets and furniture.


PORTABLE HEATERS

- When possible, avoid the use of portable heaters!
- Keep heaters at least three feet from anything flammable.
- Always turn off heaters when leaving the house or going to sleep.
- Plug heaters directly into wall outlets.


IF YOU SMOKE...
- No smoking inside the house is a wise decision!
- Never smoke in bed, or when drowsy or medicated.
- Use deep ash trays and be very cautious if you do choose to smoke inside.



MISCELLANEOUS
- Keep matches and lighters up high, away from children.
- Never leave a burning candle unattended.
- Clean out the dryer vent duct regularly.
- Clean out the gutters and make sure your roof is free of debris.
- Trim around the outside of your house, and remove shrubs around the air conditioning unit.
- Make sure your house number is easily readable from the street, even at night.
What am I missing? Anything else??
Popular Posts
Subscribe to the The RC Willey Blog Blog
Subscribe to the The RC Willey Blog Blog
Unsubscribe from the The RC Willey Blog Blog