Posted by Andie on September 6, 2018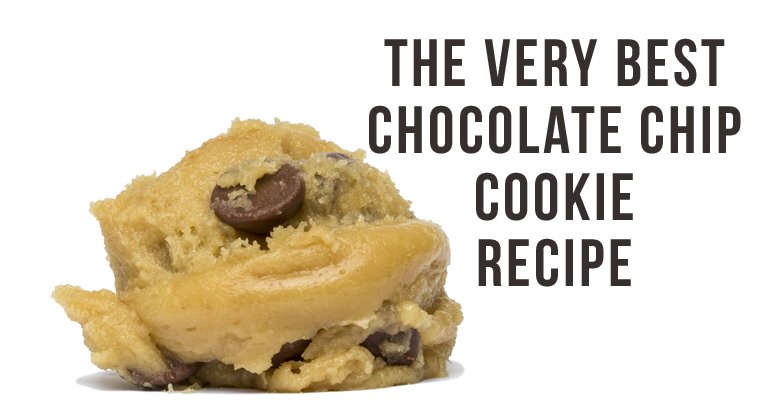 Baking cookies is kind of my thing. In fact, some might call me a cookie snob. I prefer the term connoissuer instead. For years, I was convinced that I had the very best chocolate chip cookie recipe in all the land----- and then I tried these cookies I'm about to share with you. HOLY COW THEY BLEW MY MIND!!!
I first tasted these babies over Thanksgiving break last year. We were in Kentucky visiting family, and my aunt's younger brother happened to be there. He is also a cookie guy- he even made this dough and transported it all the way to Kentucky in a cooler. It's that good, you guys! I think originally he started making the New York Times Chocolate Chip Cookie recipe, but I believe it's kind of evolved and he's made a few changes to it over the years.
There are three important things you need to know about these cookies:

1. You need a food scale. I know, I know, kind of annoying- but I swear that my getting the measurements exact it makes a huge difference!
2. You need a LOT of chocolate chips. You probably won't have them all on hand. 3 entire bags! Cacoa chocolate (at least 60% cacoa content), semi-sweet chocolate, and milk chocolate- all blended together to make the perfect trifecta of chocolate goodness. Using three different kinds of chocolate is a total game changer!
3. You need to have a LOT of patience. This is definitely the hardest part. The recipe calls to refrigerate the dough before baking for 24 (yes, TWENTY FOUR) hours!! This is not the recipe to make if you have a sudden chocolate chip cookie craving that you've got to give in to. Nope. These cookies require planning ahead. And just so you know, I've tested it out and I was shocked at how much more delicious these cookies were after the dough was refrigerated properly. I'm not sure how, but it really does make a huge difference!
And now, for the recipe you've all been waiting for....


New York Times Chocolate Chip Cookies
(adapted by Matt Call)
INGREDIENTS:
36 oz. of all-purpose flour
2 1/2 tsp. baking soda
1 Tbsp. baking powder
1 Tbsp. course salt
5 sticks (2.5 cups) unsalted butter
2 1/2 cups (10 oz) light brown sugar
2 1/4 cups granulated sugar
4 large eggs
4 tsp. natural vanilla extract
2 1/2 lbs bittersweet chocolate discs, at least 60 percent cacao content (I like to use 1 bag Scharffenberger semi-sweet chunks, 1 bag Ghiradelli semi-sweet chips and 1 bag Ghiradelli milk chocolate chips)
Course sea salt

INSTRUCTIONS:
1. Sift flours, baking soda, baking powder and salt in a bowl. Set aside.
2. Using a mixer fitted with paddle attachment, cream butter and sugars together until very light, about 5 minutes. Add eggs, one at a time, mixing well after each addition. Stir in the vanilla. Reduce speed to low, add dry ingredients and mix until just combined, 5 to 10 seconds. Drop chocolate pieces in and incorporate them without breaking them. Press plastic wrap against dough and refrigerate for 24 to 36 hours. Dough may be used in batches, and can be refrigerated for up to 72 hours.
3. When ready to bake, preheat oven to 350 degrees. Line a baking sheet wiht parchment paper or a nonstick baking mat. Set aside.
4. Scoop 6, 3.5 oz mounds of dough (the size of generous golf balls) onto baking sheet, making sure to turn horizontally any chocolate pieces that are poking up; it will make for a more attractive cookie. Bake until golden brown but still soft, about 11 minutes (depends on your oven). Remove from oven and immediately sprinkle lightly with sea salt. Transfer sheet to a wire rack for 10 minutes, then slip cookies onto another rack to cool for a bit more. Repeat with remaining dough, or reserve dough, refrigerated, for baking remaining batches the next day. Eat warm, with a big napkin.
ENJOY!!!!!
Sort By Blog Topic:
Popular Posts
Subscribe to the The RC Willey Blog Blog
Subscribe to the The RC Willey Blog Blog
Unsubscribe from the The RC Willey Blog Blog