Posted by Andie on September 16, 2018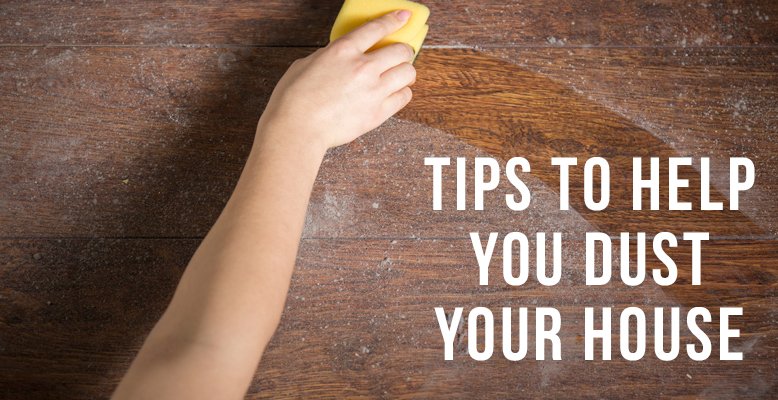 Beautiful, quality furniture is a great investment that can often times be handed down from generation to generation. When you spend a good amount of money on, or are given valuable furniture pieces, you want to make sure that you are taking care of them properly, so that they last for years to come. How are you doing when it comes to caring for your furniture?
Today, we are tackling the topic of dusting. Not only do you want to dust your furniture on the regular to keep it in great shape, but it's actually also good for your health! Studies have shown that it can even reduce allergies! As most of you know, keeping your house dust free is easier said than done sometimes. Here are some tips to help you get the most bang for your buck when it comes to dusting your home.....
1. Start at the top, and move to the bottom
In order to actually get rid of the dust in a room, you've got to start at the top. First, dust ceiling fans, crown molding, etc, and work your way down to dusting the furniture. The dust you're removing will settle in the lower areas of the room as you clean. Make sure to vacuum very last so that you get everything!
2. Use a good furniture cleaner, and a microfiber cloth
Using the right kind of cloth will make all the difference. While it might be more convenient to use an old towel, pick yourself up a microfiber electrostatic cloth. They are so much more effective than other towels because they pick up dust particles and actually remove them from most surfaces instead of simply spreading the dust around. Spray the cleaner onto the furniture, and rub in circular motions with a clean, slightly damp microfiber cloth. You can then wipe down with a dry cloth afterwards.
3. Use an ostrich feather duster
For difficult to reach places like ceilings and high corners, chandeliers, high window sills, etc. use an ostrich feather duster. They develop a static charge and hold onto dust rather than spreading it around like traditional feather dusters.
4. Wipe Things Down
Take the time to wipe down walls, paintings, blinds, light fixtures and other frequently used items. They aren't always the obvious culprit when it comes to collecting dust, but wiping them down regularly will make a big difference in the overall dust situation in your home.
5. Wash your bedding and pillow cases
I am a firm believer in washing all of the bedding in my home WEEKLY in HOT water on the sanitation cycle (this kills dust mites) with a good, heavy detergent. Not only does it feel nice to sleep in clean sheets, but it also keeps your bed relatively dust-free.
6. Clean your air ducts and change your furnace and air filters regularly
Dust and debris collect in a home's air system, and then they are blown right back back into your house when you turn on the air conditioning or heat. Cleaning your air ducts every year or so will help! Also, don't forget about those furnace and air filters! I can actually tell a huge difference when my air filters are changed out regularly (preferably every few months)- it's amazing how much better I can breathe! Pick one that has a high MERV (Minimum Efficiency Reporting Value) rating.
7. Try to Keep a Clean House-
This is pretty self-explanatory, but the more 'stuff' you have lying around, the more dust you'll accumulate! Make sure everything has a place, and try to keep items put away in their homes as much as possible.
Popular Posts
Subscribe to the The RC Willey Blog Blog
Subscribe to the The RC Willey Blog Blog
Unsubscribe from the The RC Willey Blog Blog