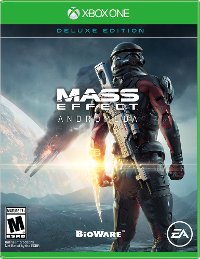 Mass Effect: Andromeda Deluxe Edition - XBOX One - 29

99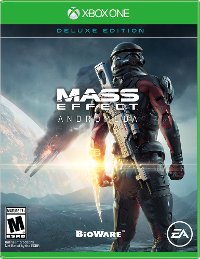 Mass Effect: Andromeda Deluxe Edition - XBOX One
Description
Mass Effect: Andromeda Deluxe Edition for Xbox One pits you and your crew against the dangers of a strange new galaxy. You're 2.5 million light-years away from Earth, and you're going to need all the help you can get. Snag the Mass Effect: Andromeda Deluxe Edition from RC Willey and be prepared for whatever comes your way with multiple additional armor and outfit sets, an elite weapons set, and a new vehicle skin for the Nomad. Plus, receive Multiplayer Booster and Deluxe Launch Packs, Mass Effect: Andromeda's digital soundtrack and even a pet space-monkey to hang out with on your ship.

Trailer

Features
Deep Space Explorer Armor
A unique armor set to help you explore the farthest reaches of the Andromeda Galaxy
3 Nomad Skins
A unique skin for the Nomad vehicle as you explore new worlds
Multiplayer Booster Pack
Jump-start your multiplayer co-op experience with a booster pack. Includes 5x of 50% XP Boosters (Receive instantly, limit 1 per match).
2 Pathfinder Casual Outfits
Look your best while aboard the Tempest and when docked at friendly locations.
Scavenger Armor
A unique look for the Pathfinder while exploring new worlds.
Pathfinder Elite Weapon Set (4)
Battle the dangers of Andromeda with this unique set of weapons.
Pet Pyjak
Everyone's favorite space monkey is back and ready to join you aboard the Tempest.
Digital Soundtrack
Listen to Mass Effect's iconic music anywhere you go with a file download.
Deluxe Edition Includes
Pathfinder Casual Outfit, Scavenger Armor, Pathfinder Elite Weapon Set (4), Pet Pyjak (Monkey), Digital Soundtrack, Multiplayer Deluxe Launch Pack. Total value of $20 in additional content. Distributed via code in box.
Specifications
| | |
| --- | --- |
| Dimensions | 5.35"W x 0.52"D x 6.73"H |
| Shipping Weight | 0.21 lbs. |