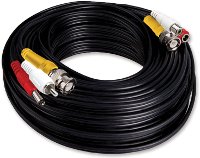 Night Owl 100 ft. In-Wall Rated Video/Power/Audio Extension Cable - 24

99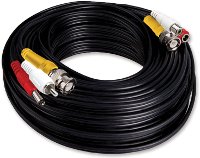 Night Owl 100 ft. In-Wall Rated Video/Power/Audio Extension Cable
Description
Now at RC Willey, the Night Owl 100 ft. In-Wall Rated Video/Power/Audio extension cable with extension adapter is required for all Night Owl cameras exceeding 1080p resolution. Compatible with all Night Owl DVRs, it can be used in conjunction with any DVR system and makes communication between it and the camera smoother and less susceptible to video degradation. It will extend the range of any Nigh Owl BNC wired camera and comes equipped with a BNC-to-BNC adapter to connect your existing cables!
Features
For use with audio enabled cameras
Class 2 in-wall rated cable
Weatherproof which allows for indoor or outdoor use
100 ft. BNC Video/Power/Audio Cable
Compatible with all Night Owl DVR systems
Audio - This camera extension cable provides Video, Power and Audio, all in one cable. Easily use it to connect an audio enabled camera or a microphone to your system. To begin detecting audio, simply ensure the audio input port on your DVR matches the video input port for the camera in question.
Maximum Run Length of Cable - This cable is not intended for runs exceeding 240 ft. When you install a cable further than 60 ft. from your DVR, it is recommended that you power that camera with its own camera powder adapter. When the camera switches to night vision mode, it requires an additional power draw. For cameras installed at extended distances, this additional power draw can cause night vision issues if those cameras are not powered with their own adapter.
24/7 Technical Support, Available 365 Day a Year - At Nigh Owl, their goal is to provide an incomparable experience for any technical support required. They provide more assistance than any other home monitoring brand by offering tri-lingual (English, Spanish, French) 24/7 phone support, 365 days a year.
Specifications
| | |
| --- | --- |
| Shipping Weight | 2.75 lbs. |
| Finish | Black |
| Cable Length | 100 ft. |
| UL Listed | Yes |
| Classification | Class 2 In-Wall Related |
| Video Cable Connection | BNC: Male-to-Male |
| Power Cable Connection | DC: Male-to-Female |
| Audio Cable Connection | Yes |
| Video Signal Inner Conductor | 7 x 4.72 mil Twisted Copper Wires |
| Video Signal Metallic Shield | 42 x 4.72 mil Tinned Copper Winding Magnalium Wires |
| Cable Impedence | 75 Ohm |
| Power Cable Resistance | 5.2 Ohm |
| Recommended Maximum Resolution | Up to 5MP |
| Recommended Maximum Cable Run | 240 ft. |
Night Owl Home Monitoring Reviews