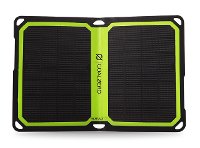 Goal Zero Nomad 7 Plus Solar Panel - 99

99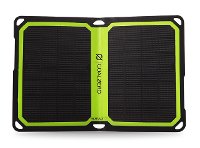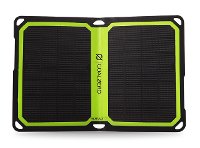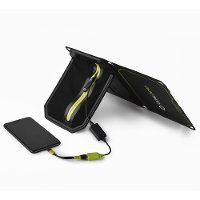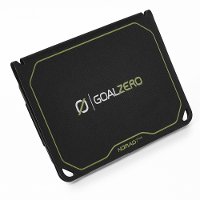 Goal Zero Nomad 7 Plus Solar Panel
NOMAD 7 PLUS SOLAR PANEL
SKU: 111282829
Price includes any available discounts
Description
Re-engineered to be lighter and smarter, the Nomad 7 Plus Solar Panel from RC Willey has the innovative technology to charge USB devices directly from the sun.
It features an auto restart that's smarter than anything else on the market. With the ability to track power flow history, the Nomad 7 Plus knows the difference between a device that has reached a fully charged state and one that disconnects due to environmental causes, i.e. lack of sunlight, shadow, solar eclipse, etc. When the latter is detected, it automatically reconnects the charging device, no extra work on your part is needed.

Detachable kickstand provides optimum angle placement, natural shade for charging devices and a vented pocket for temperature regulation. Weatherproof layering easily sloughs rain and snow.

Several key components work together to ensure you have the best solar charging experience, including the Solar Intensity Indicator. These 4 LED lights are indicative of current solar conditions and give you an idea of how well your gear will charge.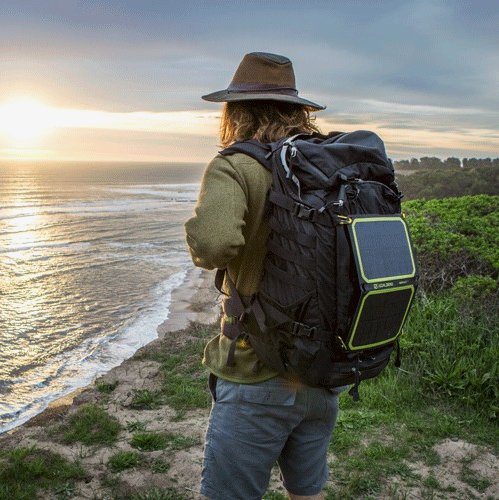 Nomad 7 Plus Highlights
Smart Charging for Phones
Rugged and Modular
Junction Box + Solar Intensity Indicator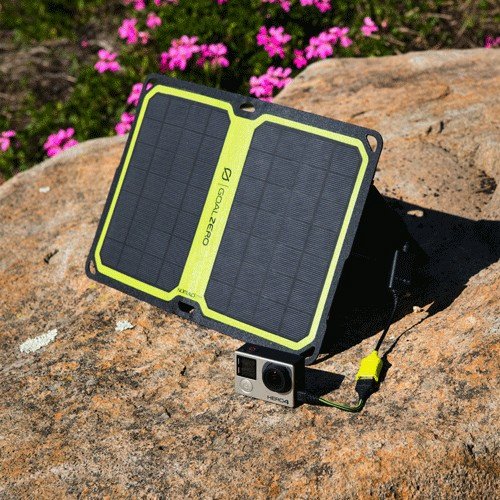 What can the Nomad 7 Plus Charge?
The solar panel does not hold a charge it produces power when it is exposed to sunlight. You can plug your phone directly into the panel or use it to recharge a portable recharger for later use. The Nomad 7 Plus is great for recharging things like:
Headlamps
Phones
Other smaller USB devices
Goal Zero Power Banks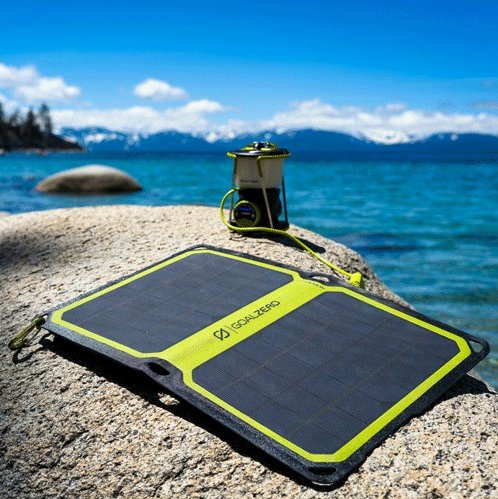 What Goal Zero Products Work Best with the Nomad 7 Plus?
Nomad 7 Plus panel works best with all of our smaller rechargers.
Switch 10 Core 4-6 Hours
Flip 10 Power Bank 2.5-5 Hours
Flip 20 Power Bank 5-10 Hours
Guide 10 Plus Power Bank 3-6 Hours
Rock Out Portable Speaker 2-4 Hours
Lighthouse Micro Lantern 3.5 Hours
Lighthouse Mini Lantern 4-6 Hours
Lighthouse 400 Lantern 7-14 Hours
Features
Charge phones & USB devices directly from the sun
Easy to read LED indicator displays strength of solar conditions
Detachable kickstand provides optimum angle placement
Weatherproof layering resists rain and snow
In The Box

Nomad 7 Plus Solar Panel
Removable Kickstand/Zippered Pouch
Specifications
Shipping Weight
1.37 lbs.
Charge Times
Switch 10 Charge Time
4-6 Hours
Flip 10 Charge Time
2.5 - 5 Hours
Guide 10 Charge Time
3-6 Hours
Flip 20 Charge Time
5-10 Hours
Venture 30 Charge Time
8-16 Hours
Ports
USB Port
5V, up to 1.4A (1400 mA) (7W max)
2.5mm (super, guide 10 charge port)
8-9V, up to 0.8A (800mA) (7W max)
General
Weight with Kickstand
16.2 oz (459 g)
Weight without Kickstand
12.6 oz (357 g)
Dimensions (unfolded)
13"W x 0.5"D x 8.75"H (33 x 22.23 x 1.27 cm)
Dimensions (folded)
6.5"W x 0.75"D x 8.75"H (16.5 x 22.23 x 1.9 cm)
Max Leg Angle
90 degrees
Solar
Rated Power
7W
Open Circuit Voltage Voc
8-9V
Cell Type
Monocrystalline
Goal Zero Emergency Preparedness Reviews