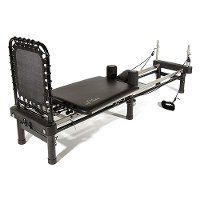 AeroPilates Premier Studio - 499

00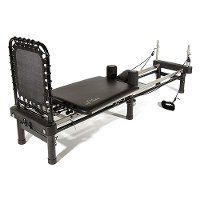 AeroPilates Premier Studio
Description
AeroPilates® Premier Studio with Stand, Cardio Rebounder, Neck Pillow & DVDs
Stamina's® AeroPilates® Premier Studio gives you all the benefits of a studio Pilates workout at home, and adds a cardiovascular workout, too.
You'll see a strong, streamlined, flexible body that only Pilates can achieve. The patented Free-Form Cardio Rebounder gives you a cardiovascular workout that is as effective as a treadmill workout to burn calories and fat. But unlike the treadmill, the AeroPilates Free-Form Rebounder is low impact (gentle on your joints) and since you are lying on your back there is no concussion on your legs, hips, or spine.
Available for Online Purchase Only. Assembly required. Not eligible for 5 Star Express Delivery.
Features
Larger, trapezoidal carriage and cushion for added support (tapers from 23" down to 21", 29" long)
Curved, wider footbar (24" wide)
Metallic gold, heavy steel frame construction
Adjustable ropes, straps and hand grips to fit any user
Heights up to 6'4"
Use to improve strength, flexibility, cardiovascular fitness,and range-of-motion. Folds and rolls for easy storage.
Padded carriage, headrest. Soft hand/foot straps
Strengthens entire body, improves flexibility, relaxes the mind and rejuvenates the body, improves cardiovascular fitness which aids in weight loss.
Includes: Stamina AeroPilates Premier Studio w/Stand, Cardio Rebounder, Neck Pillow & DVDs, stand, curved footbar, neck/head pillow, 2 workout DVDs, wall chart, owner's manual
3 years frame/90 days parts Warranty Information
Oversized patented Free-Form Cardio Rebounder (2" taller than standard rebounder)
Head and Neck Support Pillow can be attached to the headrest for additional neck support
Includes two workout DVDs: AeroPilates Level 1 Workout and AeroPilates Cardio Workout featuring Pilates expert Marjolein Brugman
Four heavy-duty, elastic cords provide 4 levels of workout resistance
Included stand elevates the AeroPilates Premier about 10 inches to allow for more advanced exercises
Quiet, ultra-smooth carriage rollers and gliders
Performs Pilates exercises to tone, shape, and stretch the entire body
3 position adjustable headrest along with oversized high density foam shoulder pads,offer additional support and comfort
Specifications
| | |
| --- | --- |
| Dimensions | 23"W x 85"D x 27"H |
| Finish | Black/Gold |
| Weight | 107 lbs. |
| Weight Capacity | 300 lbs |
Stamina Products Home Gym Reviews
AeroPilates Premier Studio
is rated out of
5
by
36
.
Rated

5
 by out of
AeroPilates machine with stand
love this machine...easy to use & minimum stress on joints !
May 3, 2015
Rated

5
 by out of
Stability
This is not my first Pilates reformer.The changes that have been made to stabalize the footbar, and the rebounder are great. Pilates itself is for everyone. I was a professional ballet dancer who aquired connective tissue problems and without my Pilates, I would not be able to keep my body in condition. I am very thankful for this product.
April 20, 2015
Rated

5
 by out of
Amazing!!!!
Just bough this and I am so excited! I used to love Pilates, but had to stop going because it got to expensive. I recently discovered the Stamina Reformer and I am in LOVE and back in action! Thank you for making it affordable!!!!
April 13, 2015
Rated

5
 by out of
Amazing
I bought this on 1 Apr 2015 and already feel the positive effects on my body. I was suffering from a groin injury and it is almost healed after 7 sessions on the AeroPilates Reformer!!!
April 10, 2015
Rated

5
 by out of
Best purchase I've made in years!
My Pilates Reformer has given me new life! I love love love it and for the first time in years have found an exercise program that I'm eager to do every day and miss when I can't do it. I've been exercising with it for six weeks and already notice a big difference (for the better) in how my clothes fit, how strong I feel and how tall and lean I feel. The customer support staff also deserves a 5 star rating - or 10 if it were available. I had two small issues when my reformer first arrived and they were immediately taken care of, no questions asked (was sent new DVDs and a new cord which arrived within a few days of my phone call.
March 9, 2015
Rated

5
 by out of
Love it!
Really happy to have reformer Pilates at home. No excuses. This is my favorite workout! Thanks!
December 14, 2014
Rated

5
 by out of
The Best Exercise Equitment EVER
I have had this for a few years now. I must admit there were times I did not use it for a long stretch but when I did the results happened. I have gone from 275 to 155 pounds. I was diagnosed with Diabetes in 2012 and with the good diet and AeroPilates I have my blood sugar numbers under control and no longer need to take medication. I had both hips replaced last year I took the AeroPilates chart to my orthopedic surgeon he looked at the exercises and determined which ones to use a therapy thus avoiding Physical Therapist. I am now able to rebound again and look forward to getting the last 15 pounds the doctor wants gone off. My husband also uses our AeroPilates, he saw my results and started using it he is down 45 pounds. I love this machine so much I bought one for my Mom and one for my sister. If you want a comfortable effective way to exercise this is the machine for you.
October 2, 2014