Posted by Alyssa on March 5, 2018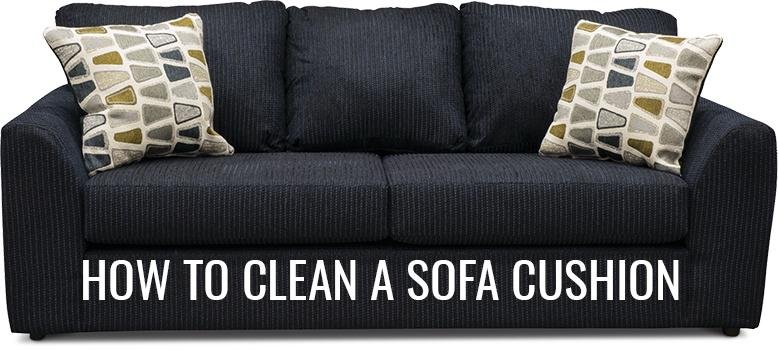 With some sofa cushions, you can take the cover off, pop it into the washing machine, and call it good. But what do you do with a sofa cushion that is either attached to the sofa or not machine washable? There are some easy ways to keep your sofa cushions looking clean and new that we've listed below!
How to Clean a Sofa Cushion?
Before you start cleaning your sofa cushion, make sure you look at the manufacturer's cleaning instructions. You may end up ruining your couch if you skip this step! Often the tag on your couch (you might have to hunt for it) will give cleaning instructions. Make sure you read that thoroughly before you begin.
Usually, your tag will use different letters to give the cleaning instructions -
W - You CAN use water to clean this material

S - You CANNOT use water to clean this material. You'll need to use a solvent-based cleaner instead

WS - You can use water or solvent-based cleaner on this material

X - Vacuum only
Be sure you are following these instructions! Once you know for sure what your sofa needs for cleaning, you can get started.
Removing Stains From Your Sofa Cushions:
Vacuum the cushion to make sure you aren't rubbing dirt into your cushion

Get a rag damp with your cleaning solution (water-based or solvent-based cleaner)

Blot at the spot you are trying to remove. Scrubbing may spread the stain or damage the fabric fibers.

Get a clean rag damp and blot at the stain to remove any cleaner.

Blot at the wet spot with a dry rag to remove as much liquid as possible

Aim a fan on the area to help it dry
You can also use a steamer to remove stains if your sofa tag is marked W or WS. Make sure you test a small sample before you have at it, and then follow the instructions on the steamer to get your cushion clean. Remember that you will need to completely dry the cushion after you are done.
How have you cleaned your sofa cushions? Any other techniques for us to try?
Popular Posts
Subscribe to the The RC Willey Blog Blog
Subscribe to the The RC Willey Blog Blog
Unsubscribe from the The RC Willey Blog Blog