Posted by Alyssa on March 20, 2018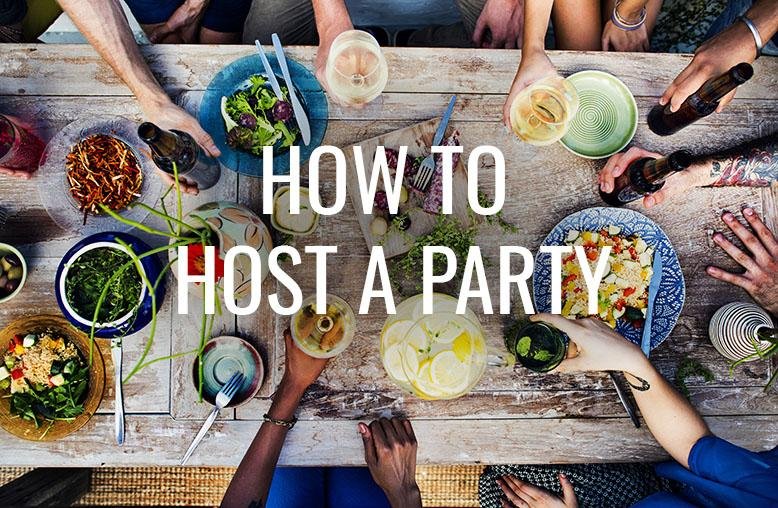 Nothing breaks up this last stretch of winter before we can spend evenings outside like having people over for a casual get together, sit down dinner, or game night. Don't let fear stop you from sending out those invitations! We've compiled a list of tips on how to host a party below.
How to Host a Party
Think through your guest list. If you have a room full of complete strangers, you may find it difficult for people to relax and enjoy themselves. Bringing in new people is great, maybe just not all at once.
Whether or not you feel like you need to make your home spotless before your guests arrive, you should always do a quick pick up of your bathroom. Dirty clothes on the floor or an empty toilet paper roll will definitely leave an impression - just not the one you were hoping for!
Turn down the heat and maybe even open a window or two (or vice versa depending on the weather). Just because you're a comfortable temperature doesn't mean you'll stay that way when your home is suddenly full of people.
Try to get everything ready as much ahead of time as possible. That way you'll feel relaxed and ready to entertain the moment your guests enter your door.
If you're serving food, don't try making something you've never made before! Stick to something you're comfortable making or serving and don't be ashamed to order something in. The purpose of your party is to spend time with your guests, not to feel stressed over feeding everyone.
Turn on music! Conversations have a natural rhythm and silence is often part of it. With no noise, these lulls in conversation can be awkward or uncomfortable, but with a good playlist and sound system, no one will even notice.
When the party's over, don't feel like you need to get everything deep cleaned and put away immediately. Just focus on the things that will be harder to clean or gross tomorrow - food-encrusted plates or spilled drinks, for example.
Most importantly, just relax and have a good time. That's what parties are all about! The people you've invited will be understanding of any issues that come up (if they even notice!) and if they aren't, make sure you remember not to invite them back next time.
What tips do you have for hosting the perfect party?
Sort By Blog Topic:
Popular Posts
Subscribe to the The RC Willey Blog Blog
Subscribe to the The RC Willey Blog Blog
Unsubscribe from the The RC Willey Blog Blog