Posted by Andie on March 16, 2018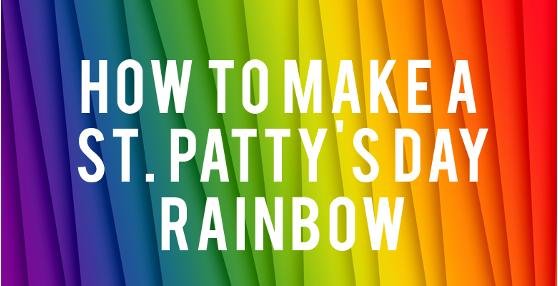 I've always looked forward to holidays, but having kids took my holiday love to a whole new, sometimes downright crazy level. I LIVE for holidays, and try to make every holiday really special, creative, and exciting at our house. It obviously doesn't always work out like that (sometimes we have major flops), but we sure have fun trying! St. Patrick's day is tomorrow, and it's one of those holidays that can be easily overlooked. A few years ago we started playing 'tricks' around the house for the kids to find (hiding our kitchen table, coloring all toilet water green, green milk in the fridge, balloons and green crepe paper everywhere in the kids' rooms, etc) and last year on a whim we whipped up this rainbow scene at approximately 10pm on March 16th. It was totally easy, and a HUGE hit with my kids. I think we might have to do it every year from here on out now. Here's how to make your own.....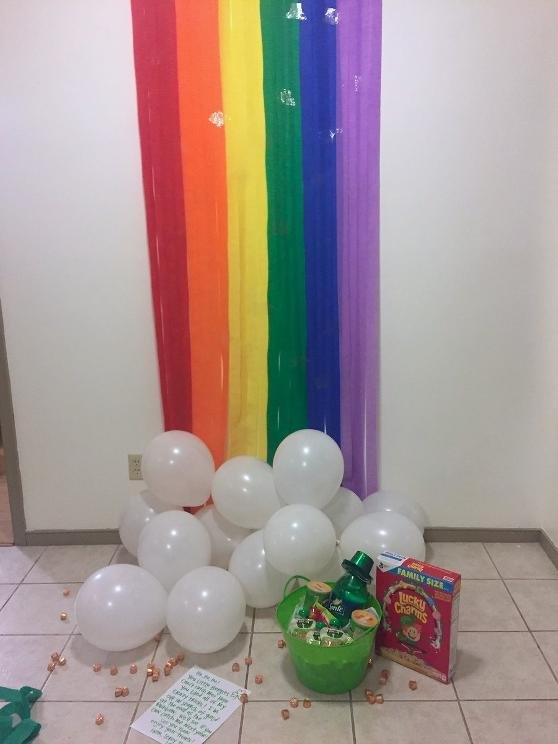 1. Find an empty wall in your home- preferably with lots of space!
2. Gather a variety of colors of crepe paper to make your rainbow- red, orange, yellow, green, blue & purple- plus you can add in different shades if you have more!
3. Measure 5 or 6 long strips of crepe paper (floor to ceiling) per color.
4. Carefully tape the strips next to each other in straight lines on the wall. We found it worked best to have one of us on a little ladder taping up high, while the other was securing the bottom portion on the ground. This is trickier than it sounds. The paper is extremely delicate and can tear easily, so be gentle! Once all of the strips of paper are up on the wall, you might need to adjust a little to try to get rid of any spaces you can see the wall through.
5. Blow up 1-2 dozen white balloons, and secure them to the bottom of your rainbow. My husband threaded them all together with a needle and string to give them a floating effect, and then we taped the back part to the bottom of the wall.
6. Grab a green bucket, and fill it up with green food & candy, and a box of Lucky Charms! Throw around some gold coins or rolos, and leave a funny little note from your family's leprechaun!
Happy St. Patrick's Day! Hope your day is filled with luck!
Popular Posts
Subscribe to the The RC Willey Blog Blog
Subscribe to the The RC Willey Blog Blog
Unsubscribe from the The RC Willey Blog Blog