Posted by Andie on March 8, 2018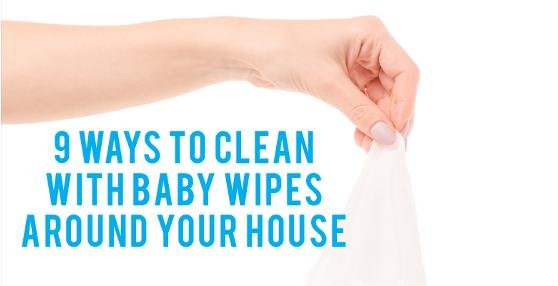 When I got my wedding dress, I was absolutely baffled by the one piece of advice the owner of the boutique gave me: "Make sure you have a pack of baby wipes handy on your wedding day." What? Baby wipes?? It turns out, she was right! Baby wipes are magic! After walking around taking pictures in the mud and snow, all it took was a little dabbing at the bottom of my lace dress with a few baby wipes, and BAM- my very muddy dress was perfect and crisp and new again. Ever since then, baby wipes have literally been my secret weapon. Have a problem? Just grab a baby wipe! Here are nine ways to clean with baby wipes around your house that will change your life......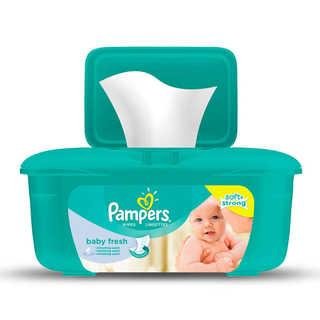 1. Remove Pen, Pencil, Crayon, and Paint
Baby wipes are a dream when it comes to cleaning up art supplies! Whether you have paint on your wall, crayon on your floor, or pen all over your toddler- all you really need is a baby wipe.
2. Clean Your Upholstered Furniture
Baby wipes are amazing at lifting spills and stains from almost any surface! I make it a weekly habit to clean off my upholstered sofa with a few baby wipes, and it keeps it nice and clean. Crackers, milk stains, etc all go away in an instant once rubbed gently with a baby wipe.
3. Shine Your Leather
Whether it's your leather sofa, leather jacket, or leather shoes--- swipe a baby wipe across any leather surface in your home, and it will pick up dust, and also give your leather a nice, clean shine!
4. Wipe Down Your Kitchen and Bathroom
Don't have time to clean for last minute house guests? Simply grab a wipe, and run it along your small appliances and kitchen and bathroom countertops, and they'll look shiny and clean!
5. Wipe dust off of house plants
Eliminating dust on my house plants without damaging them has always been tricky for me- simply rub the leaves softly with a baby wipe and your plants look brand new and happy again.
6. Wipe Any and All Hard Surfaces Around Your Home
Seriously, baby wipes are a game changer. They are great when it comes to cleaning grubby light switches, a sticky remote control, smudges on your walls, dusty blinds, and hairspray residue off of wood surfaces, just to name a few!
7. Wipe Down Shoes
I like wearing shoes in my house, so I make a habit of cleaning the bottom soles of my shoes with baby wipes regulary. They are also great for sprucing up sneakers that need a little facelift, too!

8. Remove makeup, food, deoderant marks, and other stains from clothes
I have three small children, and so I swear by this point! I literally use a baby wipe, or two or three or four, every single day to keep my clothes looking nice and smudge free.
9. Clean The Inside Surface of your Car
Dusty windshield? Mildew filled cup holder? Grimey steering wheel? No problem! Simply wipe everything down with a baby wipe and it will feel brand new again.


Now, go get yourself some baby wipes!
Popular Posts
Subscribe to the The RC Willey Blog Blog
Subscribe to the The RC Willey Blog Blog
Unsubscribe from the The RC Willey Blog Blog