Posted by Andie on August 31, 2017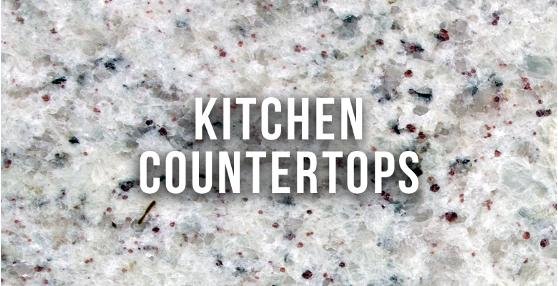 Whether you are in the market to buy a new home, you're making plans to renovate your existing kitchen, or you just like to watch HGTV at night like me when your kids go to bed..... it's never a bad idea to know your options when it comes to kitchen countertops! Here's a little guide I put together with pro's and cons of nine of the most used kitchen countertop materials....
Granite
Granite has been very popular in the countertop world for some time now. And for good reason! It's beautiful, very durable (it will literally last a lifetime), holds up to heat, and comes in a range of almost 3,000 different colors. Granite can be a bit expensive, but it's getting cheaper and cheaper since it is becoming so widespread. It does take a bit of upkeep- it should be re-sealed at least yearly. Also, spills should be wiped up quickly, as some stones can absorb stains.


Wood Butcher Block
Wood Butcher block is warm and welcoming, and looks great when mixed with other materials in the kitchen. Hardwoods such as oak and maple are best, and there are a wide range of colors and finishes available to suit your tastes. Bbelieve it or not, when sealed properly, butcher block is ideal for food prep. Even chopping meat! It's also highly resistant to heat, so you don't have to worry about putting hot pans directly on the surface. The only things you need to be careful about are trying to avoid scratches (although it can be re-sanded as needed), and wiping up water and other spills quickly, as this can damage the wood over time. Luckily it's easy to clean, and looks great with a variety of styles.


Quartz
Quartz is the new kid on the block. Unlike natural stone slabs, quartz is engineered in a factory. It's made from 94% quartz stone, combined with polyester resins to bind it and pigments to give it color. Little amounts of recycled glass or metallic flecks are also added in to some designs. It's extremely durable and strong. The resins make it non-porous, which make it stain, acid, heat, and scratch free! We are talking ZERO maintenance here. It's also available in a huge variety of colors and patterns!


Quartzite
It sounds awfully similar to quartz, but actually it's a completey different material. This stuff is really growing in popularity! While Quartz is engineered stone, quartzite is a metamorphic rock that originated as sandstone. It is extracted from a quarry and cut into finished slabs for countertops, etc. It's similar to granite in durability and function, but it has more of the gorgeous look of marble. It's pretty amazing. The two cons are that it has to be re-sealed yearly to protect against stains, and it's very expensive.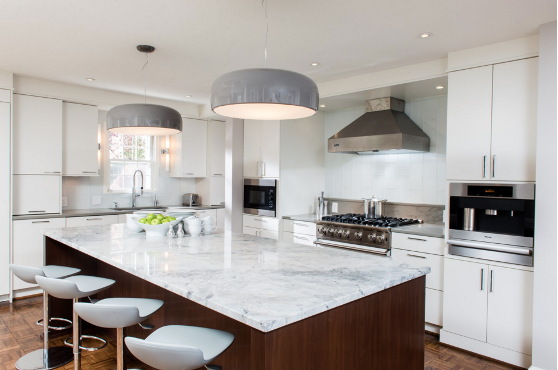 via houzz

Stainless Steel
If you're looking for a material that has a modern, industrial look, stainless steel is it! It's constructed to your specifications, so you can have a beautiful, seamless countertop. As far as cleanliness goes, stainless steel is a game changer. It's literally the most hygenic countertop on the market becaus of its ability to inhibit bacterial buildup. It's easy to clean too! The only downsides are that it can look cold or clinical, you can't cut on it and it might dent, and it's pricey.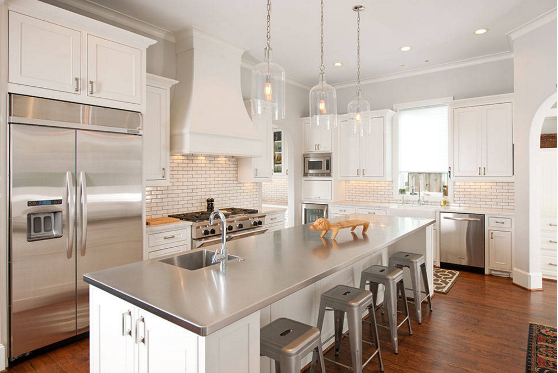 via houzz
Soapstone
Soapstone is one of the most beautiful materials out there for your kitchen, in my opinion. It comes in a variety of colors, but generally it's darkish gray or black. It's a smooth feeling, non-porous, natural stone, making it highly stain and bacterial resistant, and easy to take care of! It's found in many old historic homes, but it's also very popular in modern homes. It doesn't require yearly sealing, but regular applications of mineral oil will help to disguise any surface scratches. The only downside is that it may crack and darken over time. Also, it's pretty expensive.



Marble
I mean, I think it's impossible to not be struck by the beauty of marble. It's breathtaking! It's definitely the most glamorous, high-end looking material out there, and it's definitely the most high maintenance too! Marble is VERY porous. You have to be super careful and diligent about wiping up spills IMMEDIATELY, or else they can, and will stain. Also, it's VERY expensive! While it's heat proof and water proof, it can scratches very easily.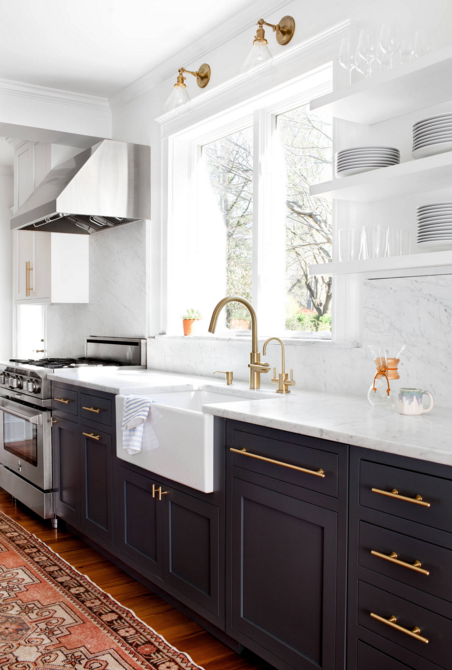 via houzz
Concrete
Concrete is such a cool material for countertops. It's modern and sleek, and also very energy efficient. When the temperature in your home rises, concrete captures the heat and releases it once the temperature has cooled down. One of the best parts about it is that it's highly customizalbe. You can choose any stain or color or texture.


Laminate
Laminate has come a long way from the blush pink 1980's countertops of my youth. Believe it or not, laminate is making a bit of a resurgence due to cool new patterns that resemble natural stone or wood. One of it's biggest draws is that it's so much cheaper than any other material. It's also very easy to maintain, and requires very little upkeep. There is no getting around the fact that the seams do show, and unfortunately scratches and chips are almost impossible to repair.
So there you have it! What kind of countertops do you have in your kitchen?
And what would you choose if money weren't a factor??
Popular Posts
Subscribe to the The RC Willey Blog Blog
Subscribe to the The RC Willey Blog Blog
Unsubscribe from the The RC Willey Blog Blog