Posted by
Andie
on January 11, 2018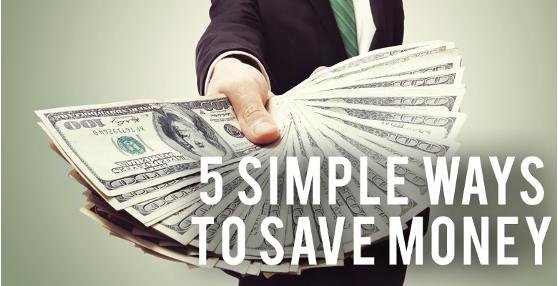 By the time January rolls around, most of us are sick of spending money. It's physically and emotionally exhausting! If spending less and saving a whole lot more sounds like a nice way to live, read on! Here are 5 simple ways you can help yourself and save money this year...
1. Shop With a List
If it's not on the list, DON'T BUY IT! How many times do you go to the grocery store for milk and eggs, and then you end up spending $80 and leave with a cart full of groceries you didn't even need! Make yourself stick to your list (ordering groceries online helps!), and you won't spend more than you plan on.
2. Think Before You Buy!

Questions to ask yourself:
- Who can I borrow this from or share this with?
- What do I already have that is like this item?
- Where will I store it?
- Why do I need this item?
- When will I have time to use it and maintain it?
- Will I love it in a year from now?
3. Reward With Experiences Instead of Things
This might take a little creativity, but it's totally do-able! Instead of rewarding yourself or your children for good behavior with money or toys, choose experiences instead. A picnic at the park, a visit to the beach, or a trip to your local art museum! Focus on making memories with the people you love instead of buying things.
4. Use Cash
Stop using credit cards! I've never actually done this, but many people who do a cash only system swear by it. You won't spend more than you have, and you'll most likely be a lot more discerning about where you spend your hard earned cash!
5. Set up a budget, and stick to it!
It can be intimidating at first, but sit down and go over your monthly expenses and needs, and set a rough budget that will work for you and your family. Do it for a month or so to see how it works, and make changes as needed. If you're like me and have a hard time being consistent with a budget, there is help out there! It's incredible how many apps there are out there that help you set, and achieve your financial goals! Whether you are aiming to save more for retirement, cut back on eating out, or just lower your electric bill, you'll find it!


"We don't need to increase our goods nearly as much as we need to scale down our wants. Not wanting something is as good as possessing it."
- Donald Horban
Sort By Blog Topic:
Popular Posts
Subscribe to the The RC Willey Blog Blog
Unsubscribe from the The RC Willey Blog Blog