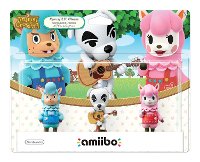 Amiibo: Animal Crossing Series 3-Pack - 39

99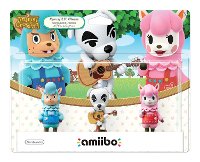 Amiibo: Animal Crossing Series 3-Pack
Description
With the Amiibo: Animal Crossing Series 3-Pack from RC Willey, simply tap amiibo figures to the Wii U GamePad controller and watch your favorite characters come to life in surprising ways in different games. Each compatible game offers different ways to interact with your amiibo figure - no portal needed! Depending on the game, they can grow and learn as they compete alongside you, give you access to specials items, or let you customize your characters and your gameplay.
Features
Cyrus
Cyrus is a blue alpaca and husband to Reese, and together they run the Re-Tail recycling center and shop in Animal Crossing: New Leaf. Bring him furniture you'd like to customize and he'll give you several options - change the color, make a music box, shrink fossils... just don't go making goo-goo eyes at Reese while you wait for him to finish his handiwork.
K.K.
K.K. Slider is a wandering musician - who occasionally moonlights as DJ K.K. - from the Animal Crossing series. In Animal Crossing: New Leaf, you can request your favorite hit during his live concerts held every Saturday, and he'll give you a recording of the song to take home as a memento. The mayor's secretary, Isabelle, apparently has a big crush on him. Who could blame her?
Reese
Reese is a pink alpaca who runs the Re-Tail recycling shop along with her husband Cyrus in Animal Crossing: New Leaf. She sells all kinds of secondhand goods, so go to her if you want to get a good deal for last season's furniture or the prized beetles you caught on the island.