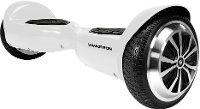 White Swagtron T5 Hoverboard - 179

97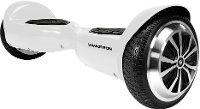 White Swagtron T5 Hoverboard
Description
Now at RC Willey, this white Swagtron T5 Hoverboard is the best entry level self-balancing, personal transporter, or hoverboard. Cruising along at 7 miles per hour for up to 7 miles! Also known as a self balancing scooter. Not ready for the bigger, fancier hoverboards? T5 is just for you. Just like the heavy hitting T3 and industry standard T1, the new T5 deploys the same dramatic, gyroscopic technology that totally revolutionizes the way you travel. Steering and stopping are controlled by your balance. It's called Dynamic Equilibrium and it's all based on the shifting of your body weight. It's simple to operate, easy to control, and looks incredibly cool! Like all Swagtron models, the T5 is environmentally friendly, producing zero emissions. Solidly constructed, the Swagtron T5 employs only the highest quality components and industry-leading safety features. Ready to roll for the first time? Get the T5 Swagtron, the best beginner hoverboard.
Dual 200 Watt Motors
Max speed of 7MPH, range of 7 miles, supports 187lbs.
Gyroscopic Technology
Using dynamic equilibrium the hoverboard or self balancing scooter is steered by using your body weight to move forward, backward and in reverse.
New Features
The T5 has been updated to include; battery indicators and a learning mode for new riders.
UL 2272 Certified