Rated

5

out of

5
 by
jamorris
great appearance
Love the table. well built and love the appearance
May 23, 2016
Rated

5

out of

5
 by
Breezy93
This product is very well made.
This table set is the best purchase. The wood has a lot of depth and different color variations
December 14, 2015
Rated

5

out of

5
 by
bwbw
Dining Room Tahoe table, chairs and sideboard
We are very pleased with our dining room set. Our friends think it looks great in our dining room. We feel we made a great choice with our Tahoe dining room set. Thank you for having it for us to buy!
June 18, 2015
Rated

5

out of

5
 by
Amy43
table is beautiful
We saw this table in the showroom it was exactly what we wanted. The sales lady explained about the wood and what we needed to do to take care of it. All our friends love it.
March 15, 2015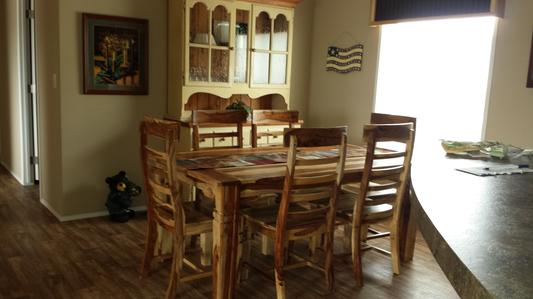 Rated

5

out of

5
 by
cdahili
I love it!
I have been looking for the perfect table and chairs for about two years this is more than what I have hoped for. It's a sold set did I say that I love it!!
September 29, 2014
Rated

5

out of

5
 by
Dmac47
Very Sturdy
This is a very sturdy and high quality bench. I'm a pretty big guy so I worry about how well things will hold up and this bench will last.
July 1, 2014
Rated

1

out of

5
 by
adamsms
Cracking and splitting
We bought the table and chairs for a condo in Moab. They have hardly been used at all. After one month there the table has considerable cracking and shrinkage on the top. There is a large split at the seam where the wood grain runs in opposite directions. Also, the tongue and groove to hold the end pieces on the table ends is protruding over 1/4 inch to the outside of the table on both ends. I don't think the wood was properly cured for our dry climate. RC Willey is sending out a new table(haven't received it yet) but we are concerned that the same thing will happen. Very disappointed in this table. The chairs, so far are holding up fine.
August 17, 2012
Rated

5

out of

5
 by
Nana23
Great table
We have bought the Table, 4 chairs and bench. We knew they would be rustic, which they are. We loved them so much, we purchased 4 barstools, which took almost a year to get. But they look beautiful in our kitchen, with the tile floor and granite countertops.
June 23, 2012
Rated

5

out of

5
 by
Californiamama
Sturdy, family friendly.
Nice solid table. Stands up to 3 small children playing cars on it, drawing, crafts, and eating times. Easy to clean. Beautiful finish. I LOVE my table, and always get nice compliments from everyone. Big enough for making table "tents/forts. And for the Hubby to have 5 guys over on laptops to play games. Great table!!!
March 14, 2012
Rated

5

out of

5
 by
Billie
Rustic Beauty
We really love our Jaipur dining set. It has minor imperfections which adds to the rustic beauty of the set. Since it is in a cedar log home, it is perfect for the setting. The chairs are surprisingly comfortable and we love the high back. The price is exceptional for the look and quality.
November 21, 2011
Rated

3

out of

5
 by
Vince
Good Looking Table
This is a very good looking table in our country style home. However, it is manufactured in India where the air is more humid and the wood is knotty. The knots tend to crack the wood and since it is a knotty type wood there is a lot of putty that fills these holes on the table and chairs. We are happy with the table and gotten many compliments from friends and family. After rejecting three chairs because of damage, we are still waiting (over a month now) for replacements.
June 8, 2011
Rated

2

out of

5
 by
China
I love the natural wood of the product.
The craftsmen ship is not good, and the wood is not finished properly. The bench in the store was much superior then when picked up, had putty filler and cracks in the wood.
April 4, 2011