Posted by Alyssa on March 3, 2017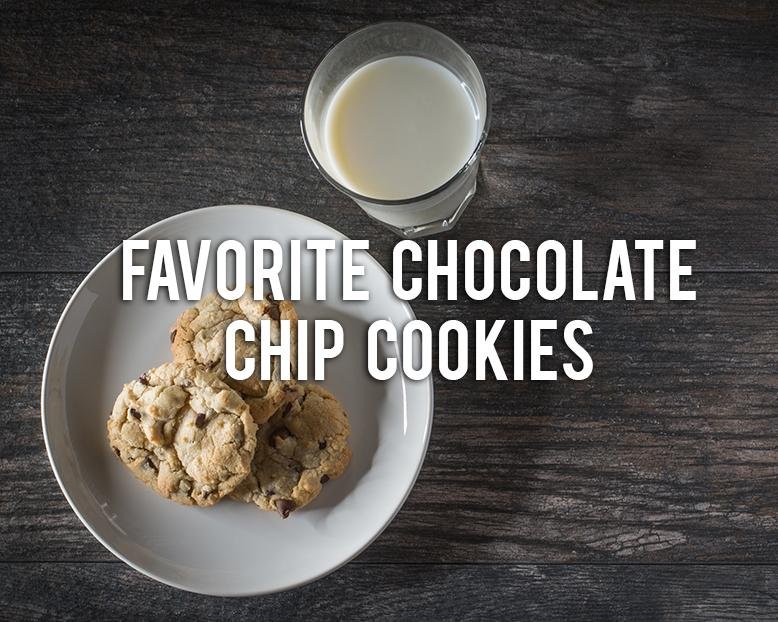 There is nothing like a good chocolate chip cookie. Seriously, they're delicious. Maybe the reason I love them is because growing up my family and I would make them on Sunday afternoons together. Or maybe I love them because they're sugary and chocolatey and if it's a good one, gooey. Either way below is my favorite recipe for chocolate chip cookies!
Tried and True Chocolate Chip Cookies from A Bountiful Kitchen
Ingredients:
1 cup (2 sticks) unsalted butter, softened
¾ cup granulated sugar
¾ cup packed light brown sugar
1 tablespoon vanilla extract
2 large eggs
2 ¾ cups all-purpose flour (plus a tablespoon or two if needed)
1 teaspoon baking soda
1 teaspoon salt
2 cups chocolate chips
Instructions:
Preheat oven to 375° F. If using convection, preheat to 375° as well.

For regular oven, place rack in middle of oven. When using a convection oven, you should be able to bake on all racks at one time.

Cut butter into pieces (about 2 tablespoons each) and place in mixing bowl.

After a few seconds, add granulated sugar, brown sugar, and vanilla extract. Mix on low speed until creamy (this takes just a few seconds).

Add eggs, beating just until incorporated and smooth. Never turn the beaters on high.

Using a spatula, scrape down the sides of the bowl and bottom of the bowl to insure all ingredients are incorporated.

Dump 2 cups of the flour, soda, salt, and chocolate chips all together into bowl with butter mixture. Add the remaining ¾ cup of flour to the top of this mixture. Slowly mix the dry ingredients and the chocolate chips together. Do not over mix. Turn the dough with a rubber spatula so the bottom of the dough is mixed into the top of the dough.

If the dough is sticky, add an additional 2-3 tablespoons of flour to the dough. Remove the bowl from the stand if using a stand mixer, and fold in the flour. This is only necessary if the dough is sticky.

Using a cookie scoop, drop onto ungreased baking sheets, or baking sheets lined with parchment paper. Place 6 scoops of dough on each baking sheet.

Flatten slightly with the palm of your hand.

If using convection, bake 7-10 minutes until golden brown. If using regular (non-convection) oven, bake at 376 for 10-12 minutes.
Cookies should be slightly golden and cookie should not be wet on top. Cool on baking sheets completely.
From my own experience, I don't bake these more than 10 minutes. I love a gooey chocolate chip cookie! Try this recipe out and let me know what you think!
Sort By Blog Topic:
Popular Posts
Subscribe to the The RC Willey Blog Blog
Subscribe to the The RC Willey Blog Blog
Unsubscribe from the The RC Willey Blog Blog