Posted by Alyssa on March 26, 2017
To buy organic, or non-organic.
This is a constant question I am asking myself at the grocery store.
I understand that there are real health benefits associated with eating organic fruits and vegetables, grains, meat and dairy.... but do they make the steep additional costs worth it? Or is it just a ploy to get more of my money? If I choose to eat a piece of non-organic fruit over a muffin, in my mind that is a win because it's still healthier than processed food! Right? But then I read something or watch Netflix documentaries about all of the growth hormones, pesticides, and crap in the food we eat and it scares me to think I'm feeding my babies these things! Clearly I'm all over the board.
If you're like me, and find yourself smack dab in the middle of the organic lovers and the organic haters (we all know people in both camps), read on!
Every year since 2004, The Environmental Working Group has put out a Shopper's Guide to Pesticides in Produce. The guide ranks pesticide contamination of 48 popular fruits and vegetables, based on more than 35,200 samples of produce tested by the U.S. Department of Agriculture and Food and Drug Administration. The best part is they lay it out so simply for the average consumer and come up with two basic lists. The Dirty Dozen features the top 12 fruits and vegetables with the highest loads of detectible pesticides, while The Clean Fifteen highlights those produce items with the very least amount of pesticides.
When it comes to making the best choices for your family at the grocery store, this guide is gold! If you want to make your money count the very most, make sure you are investing in organic fruits and vegetables from the dirty dozen list. There is actually a major difference here between organic and non-organic here, you guys! The Clean Fifteen? Not so much.
So here it is, the newly announced 2017 lists: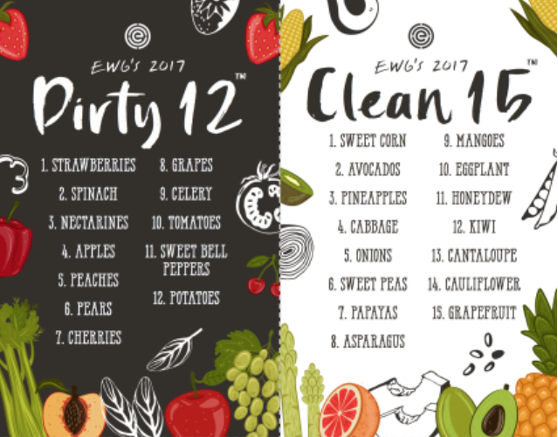 Happy Shopping!
Happy Shopping!!
Sort By Blog Topic:
Popular Posts
Subscribe to the The RC Willey Blog Blog
Subscribe to the The RC Willey Blog Blog
Unsubscribe from the The RC Willey Blog Blog