7 Ways to Create a Better Playroom
Posted by Alyssa on June 8, 2017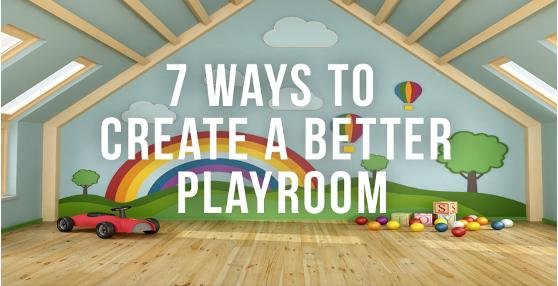 My son has one more week of preschool, and then he's out for summer vacation! While I'm excited to have slower, less rushed mornings and more time with him at home, I realized the other day that I'm going to have my work cut out for me. What in the world are we going to do to fill all that time? I'm all about planning fun adventures and educational field trips and activities with my kids, but some days you just have to stay home to scrub your toilets, do your laundry, and cook dinner. As a parent you can't be entertaining your kids 100% of the time, right? What then??
That, my friends, is when you want to have an awesome playroom!
Whether you have your first baby and only a closet to spare for baby toys, you have five kids and already have a pretty great playroom setup, or you are a grandparent looking to make your house more 'kid-friendly'--- check out these 7 ways to create a better playroom. There's something for everyone! Just think, if you make your playroom super awesome this summer, your kids just might even forget you have a tv....
1. Use baskets, bins and tupperware to store and organize toys.
Organization is key when it comes to a stellar playroom. Some people like to use clear bins to store toys, legos, blocks, etc, but personally I'm all about the pretty baskets. That way, if toys get put away in the wrong container (which they always do), it won't bother you one bit because you don't know about it! Plus, it looks nice and clean.



studio mcgee via pinterest


2. Display children's artwork on the walls, and whatever else they are currently excited about!
My favorite part about our playroom is all of the paintings hung on the wall that my children have made. They aren't anything spectacular, but they bring a fresh, genuine, creative spirit into the room. If your kids are excited about the solar system, hang up posters of space! If they're into dinosaurs, by all means get a t-rex up on your wall. If they are surrounded by things that make them happy, they will want to spend lots of time there!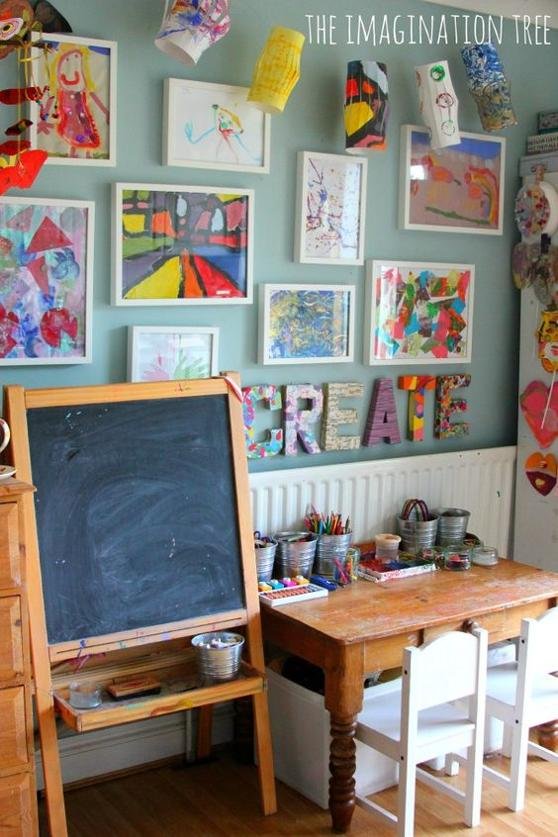 the imagination tree via pinterest


3. Store puzzle pieces and small toys in zippered pouches.
This is a new idea to me, and I think it's a genius space saver! I can't wait to get rid of all those big, bulky puzzle boxes. Also, your kids might not misplace as many legos as normal if they are kept in a safe zippered pouch!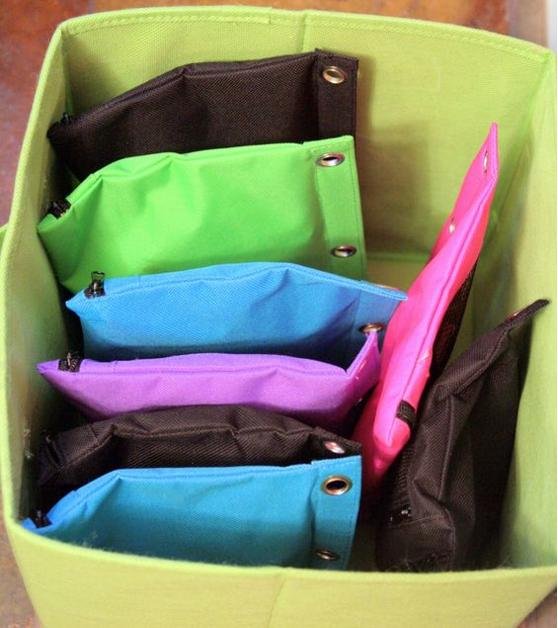 via pinterest


4. Carve out a place where kids can create.
This is huge! Having their own table space with lots of art supplies handy and available will foster and encourage creativity...... and it will free up your kitchen table! Don't buy a brand new table and chairs for a playroom space; rather, put something a little more loved in there, so that when your kids accidentally spill paint or glue all over the surface you aren't totally bugged and can shrug it off.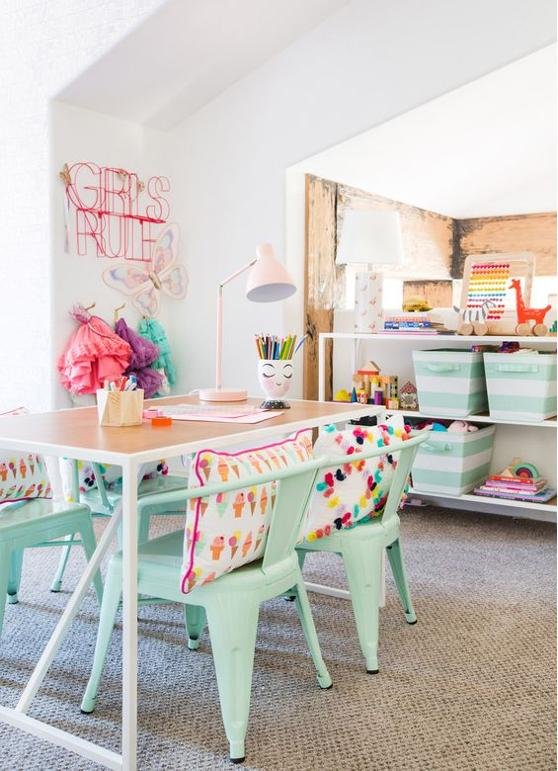 emily henderson via pinterest



5. Designate a marker wall (or a chalkboard wall if you're feeling a little less brave).
Domino Mag recently featured this little girl's room whose parents gave her total free reign on one wall. She could draw whatever she wanted with markers! At first I thought it was a little crazy, but then I thought-- what if you let your kids go wild all summer, and then at the end of the summer you re-painted the wall and they could start over? Kind of a fun idea.


6. Limit the amount of toys.
Let's face it. The majority of us have too many toys in our homes. We all know that kids don't need toys to be happy, so why do we keep buying them? Make it a common practice to declutter, and go through your toys. Keep the classics like legos, blocks, doll houses, and the toys your kids really love and actually play with. Donate the rest to a charity! If you still have too many toys after that, consider rotating toys out every week, month or season so that your kids aren't overwhelmed with too many choices. Less is more here, folks.


7. Get a colorful area rug.
This might seem like a small thing, but guys, it's not! A cute, colorful area rug will go a long way in anchoring and making the room happy and fun! Don't you want to stay a while and sit on this cute pink striped rug?? My point exactly!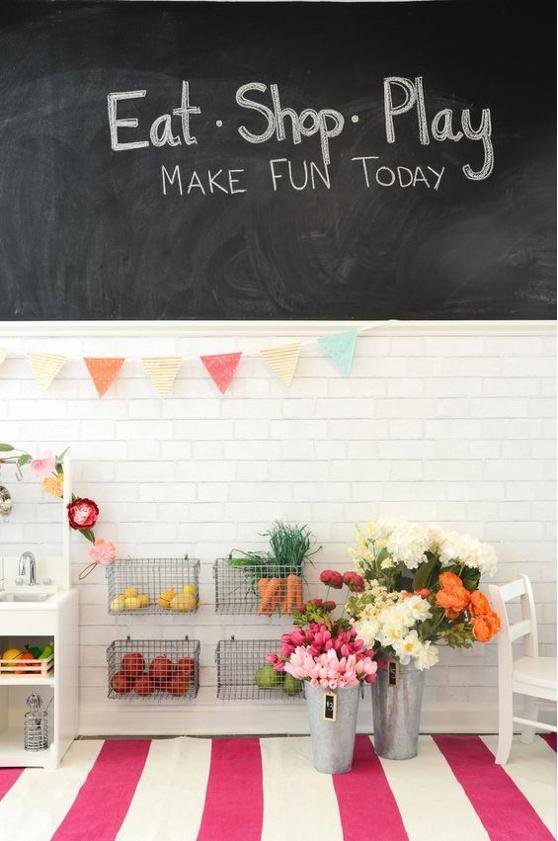 iron & twine via pinterest
What other tips do you have to create a great playroom?
Sort By Blog Topic:
Popular Posts
Subscribe to the The RC Willey Blog Blog
Subscribe to the The RC Willey Blog Blog
Unsubscribe from the The RC Willey Blog Blog