Posted by Andie on March 3, 2015
Throwing a party soon and need a cute table centerpiece? Or maybe you just want to add some sparkle to your mantel! This simple (and extremely easy) project is the perfect way to transform a boring old vase into something worth talking about......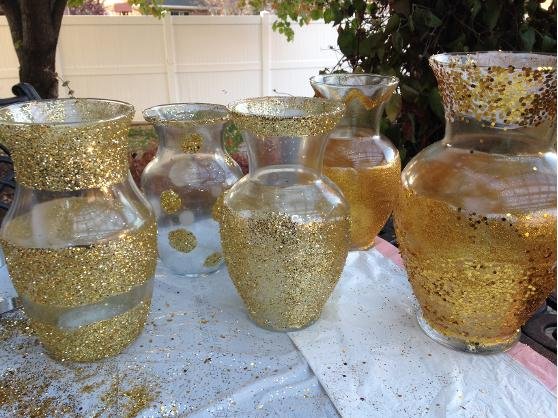 Aren't they cute?!
Here's what you'll need to bedazzle your own:
- Any type of vase
- Mod Podge glue
- A good spongy paint brush
-GLITTER! (we used 3 different sizes of gold, but you can do any size or color!)
- hairspray
Directions: This project is definitely easiest with two people. Have one person hold the vase and paint patterns on the vase (we did stripes, polka dots, chevron stripes, etc) with the mod podge while the other person shakes the glitter on & distributes it evenly around the vase before the glue dries. Once you've blown off the excess glitter and the vase looks finished, give it a good spray with hairspray to help everything stay put! Make sure you have paper lining your table because things are probably going to get messy. The great part about mod podge is that it doesn't have to be permananet--- you can leave it on forever or scrub it off no problem. Have fun!
Sort By Blog Topic:
Popular Posts
Subscribe to the The RC Willey Blog Blog
Subscribe to the The RC Willey Blog Blog
Unsubscribe from the The RC Willey Blog Blog