Posted by Alyssa on September 1, 2017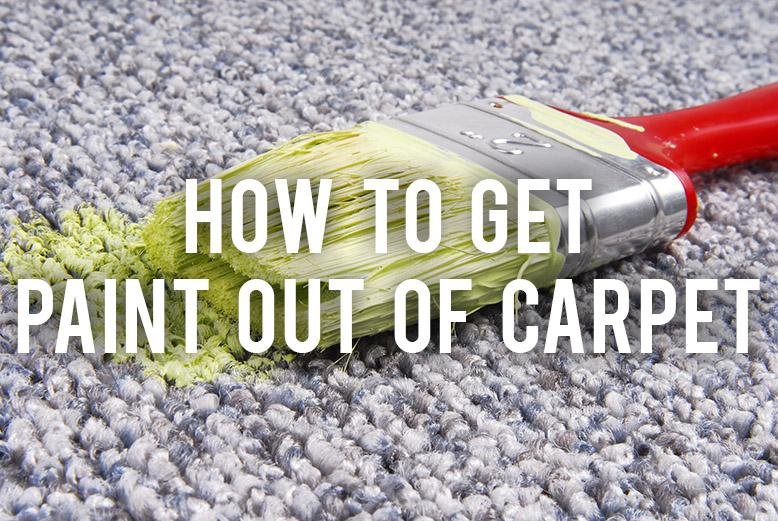 Despite taping off, laying tarps, and being as careful as possible when painting a room, accidents happen. If you've unintentionally spilled a little (or a lot!) of paint while trying to give your room an update, it's time to learn how to get paint out of carpet.
Getting Paint Out of Carpet
There are a couple of things that apply to all paint stains, regardless of whether it is a water based, latex, or oil based paint.
ALWAYS BLOT and never scrub. When you scrub the paint, you push it farther down into the fibers of the carpet which makes the stain harder to get out.

USE WHITE TOWELS when blotting and removing the paint. The last thing you want to do is transfer the color of your towel onto the carpet. Using white towels or paper towels will keep your carpets from getting even dirtier.

DON'T OVER USE WATER or let it soak into the carpet. If you let water sit on the carpet for too long, it can soak the carpet pad and end up mildewing.

BE GENTLE when you're working with the carpet. You don't want to damage your carpet further by pulling apart the carpet fibers while you are removing the paint.
Now for actually removing the paint.
For Water Based Paints
If the paint is still wet, use a wet cloth or paper towel to blot up the paint. Keep blotting until the color is gone.
If the paint is dry, mix together hot water and dish soap to soak the stain until it is soft. Then, use a knife or a pin to scrape at the paint stain. Keep adding the soap water solution as you are scraping and be sure to blot up the paint and water as you go. You may have to use a steamer while you scrape to help you soften and remove the paint.
For Latex Paint
If it's wet, blot up as much paint as possible to start. Mix 1 cup lukewarm water with 1 teaspoon of dish soap and use the solution to soften and blot up the paint. Work from the outside of the stain in soaking, blotting and picking at the paint until the stain is gone.

For Oil Based Paint
Again, if it's wet blot up as much paint as possible. If the paint is dry, use a steamer to soften it and pick at it with a needle or pin to slowly remove the paint. Keep going until the stain is gone.
If all else fails and your carpet is damaged or stained beyond repair, RC Willey is the place to find a huge selection of carpet that will work perfectly in your home.
What tips do you have for removing paint from carpet?
Popular Posts
Subscribe to the The RC Willey Blog Blog
Subscribe to the The RC Willey Blog Blog
Unsubscribe from the The RC Willey Blog Blog