Posted by Andie on September 2, 2017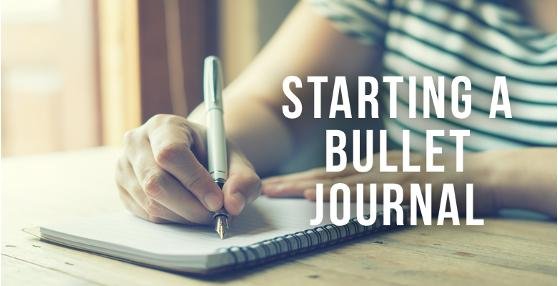 I recently wrote a post detailing ways to get rid of the physical clutter in your home, but making sense of the mental clutter in your head should be even more of a priority. I am the kind of person that has a calendar, plus about 10 different post-it notes full of weekly to-do's, daily to-do's, ideas, recipes, shopping lists, and goals floating around all the time. It's hard to keep track of it all! Especially in one place! I love feeling organized, and have tried dozens of planners over the years, but not one has been able to keep track of it all for me. Not one!
Am I the last person on planet earth to be introduced to the concept of bullet journaling?? After doing quite a bit of research, I'm convinced it's the best system in place to help you keep track of EVERYTHING. Essentially it's your own journal/planner/organizer that you create and customize to work for your life. Not only does it hold your schedule and to-do lists, but it also allows you to keep track of the important stuff, such as goals, ideas, impressions, etc. Basically the sky is the limit. And it's all in one book! Ryder Carroll, the man who developed the system, is a genius. He said the idea behind bullet journaling is to reduce complexity and provide clarity. I can't be certain yet, but I think it will do just that!
Want to try it out? There are very few rules. You aren't confined to spaces and lines like regular dayplanners. Instead, you start with blank pages, and go from there, figuring out what works best for you.
Here's a video that explains how it works better than I can...
The great thing about bullet journaling, is that you can be as creative or simple as you'd like! I'm feeling a little intimidated to start, but think after a little (or a lot) initial effort, it's going to be awesome. Check out BulletJournal.com to get the whole scoop on how to begin and maintain your own bullet journal, and #bulletjournal on instagram to see some amazing examples!
Sort By Blog Topic:
Popular Posts
Subscribe to the The RC Willey Blog Blog
Subscribe to the The RC Willey Blog Blog
Unsubscribe from the The RC Willey Blog Blog