Posted by Alyssa on September 9, 2017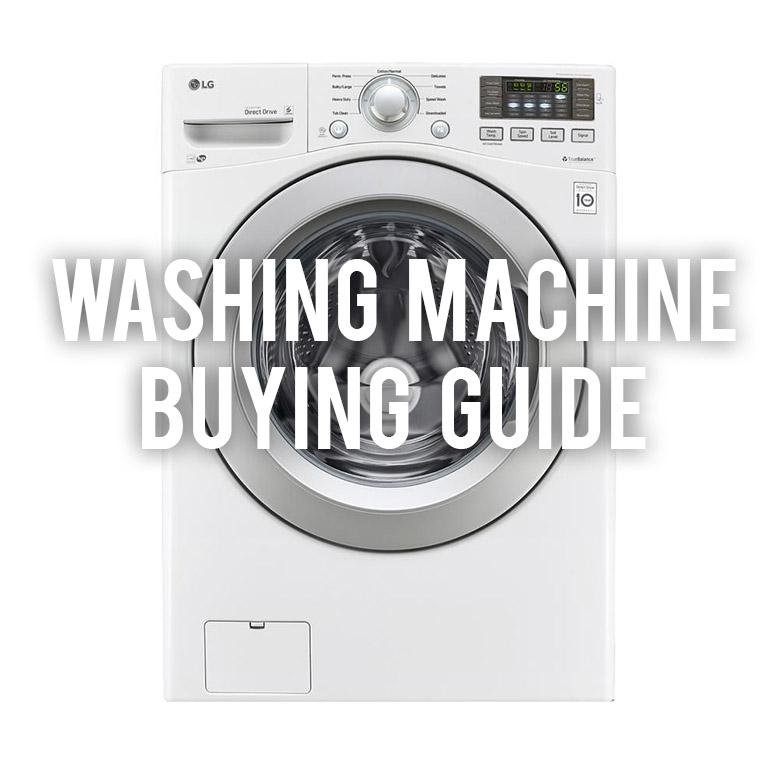 Have you ever wondered what the best washing machine for you is? As one of the most used appliances in your home, you're going to want to make sure your new washing machine suits your needs. We want to help you make an informed decision on a new washer and find the best option for your lifestyle!
Washing Machine Buying Guide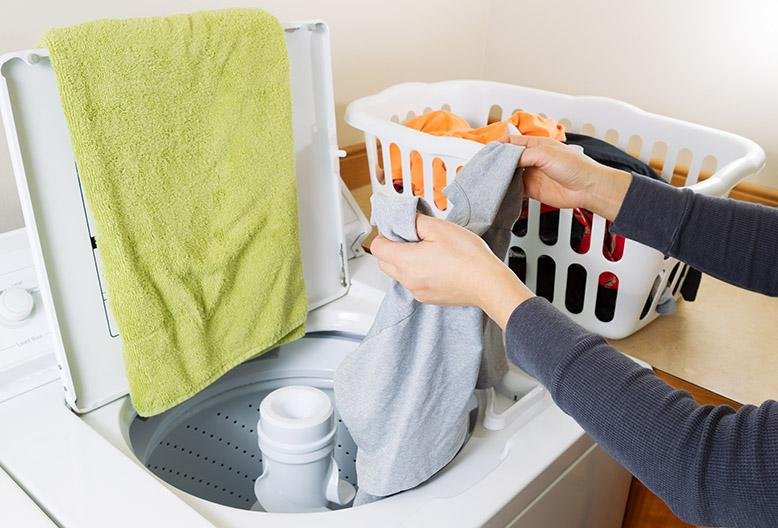 BEFORE YOU BUY
Measure Your Space
Make sure you measure your available space carefully before purchasing a washing machine. You will need at least 6" of space behind the machine for the water hook up and at least 1" of space on either side, including the space between the washer and the dryer. If you're thinking of purchasing a top load washer, you will need about 20" of room above the machine for lid clearance.
With a front load washer, you will need to consider the swing of the door to make sure you will have room and it won't bang into walls or cabinets. If you are limited on space or only have a small corner for laundry, a front load washer/dryer stack may be your best washing machine option.
Consider Tub Capacity
The size of the inside of the wash tub is measured in cubic feet. This is referred to as the tub capacity. The larger the tub capacity, the more laundry and bulky items the washing machine will hold. Front load or top load washers without an agitator have the largest tub capacity.
Depending on the number of people in your home and the amount of laundry produced, you will need to know what size of tub capacity you will need. If it is too small, you will be doing more loads of laundry a week than necessary. If it is too large, you will be wasting water and energy each wash cycle. For a starting point in deciding the tub capacity you need, 4 cubic feet can wash 12-16 pounds of laundry. A child's outfit may weigh 1-3 pounds and an adults outfit is generally 3-5. Ultimately it's better to lean towards the larger side than the smaller.
TYPES OF WASHING MACHINES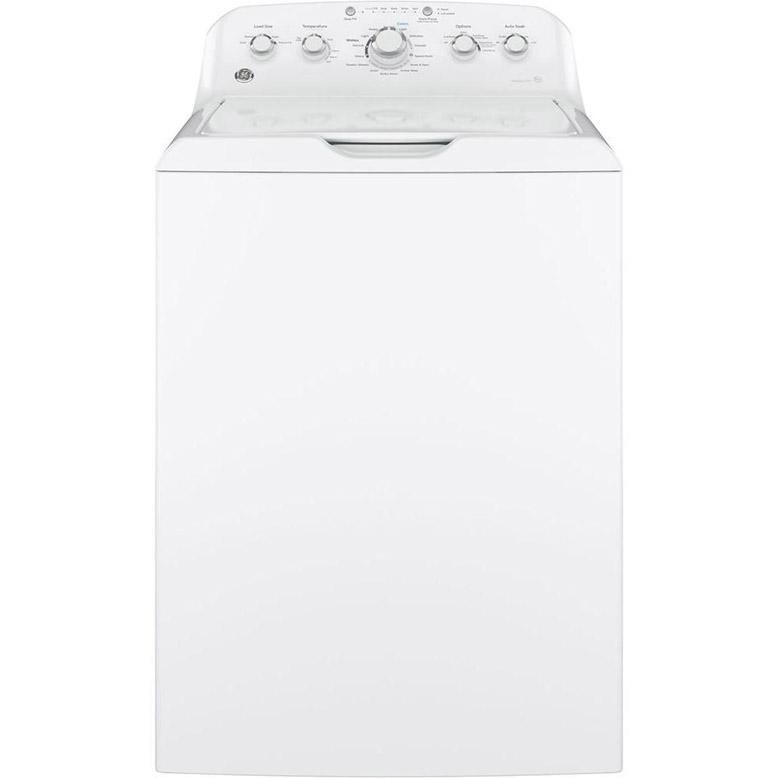 As its name would suggest, a top load washing machine is loaded and unloaded by lifting the lid on the top of the machine. Many traditional top load washing machines have an agitator in the middle of the drum that shakes, rotates, and rubs clothes together to get them clean. These models are usually the cheapest washing machine option, though there have been some complaints that the agitator causes more wear and tear on your clothing.
There are high-efficiency (HE) top load washing machine options that do not include the agitator. These machines are more gentle on clothing than machines with agitators, use less water, and have more room in the drum for bulkier items that might be difficult to fit in a traditional machine. The cost is higher upfront for a high-efficiency top load over a traditional top load, but will save money on electric bills in the long run.
Top load machines with and without agitators both have shorter wash cycles than other washing machine styles. With a top load washing machine, it is also much easier to add clothing after the cycle has already started. Before purchasing a top load washing machine, notice how deep the drum is and remember that you'll have to reach all the way to the bottom to get your clothes out.
Front load washing machines are opened and closed by a door on the front of the machine. These machines clean better, are gentler on clothes, use less water, and are more energy efficient than top load washing machines. They are also more expensive than both the top load with an agitator and a high-efficiency top load. Because the front door locks and seals to prevent leaks, it can be more difficult to add clothing in the middle of a wash cycle. There have also been some complaints of the rubber seal around the door collecting water and smelling moldy.
Front load washing machines have longer wash cycles than other machines but are able to spin much faster to get the most water out of the clothes. The high-speed spinning cuts down drying time, but also can cause some machines to vibrate more than other washing machine options.
Before buying a front load washing machine, remember that because the door is near the ground you will need to bend or stoop to get your clothes in and out of the washer. For an extra cost, there are pedestals available that will raise a front load washing machine to a more accessible height, making them great options for people with physical limitations who may struggle to bend over and reach into the drum of a top load machine. Some front load machines have the ability to be stacked with a dryer, allowing both machines to fit in tight spaces.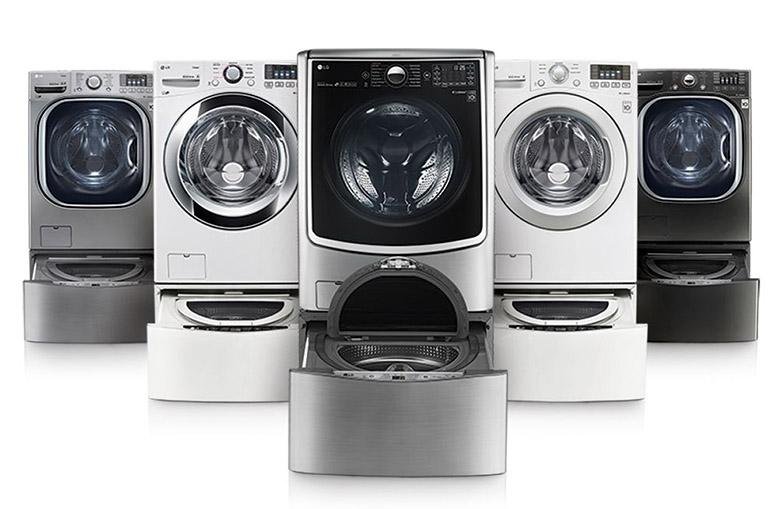 Acting as a pedestal to raise a front load washer, a twin wash is a small drawer-like washing machine designed for small loads of laundry. You can run both the large and small washing machines at the same time but with different settings, which makes it easy to separate bulky items from delicates. This machine can also be run independently of the larger washing machine if you have a small load that needs to be washed before you have enough laundry built up for a larger load.
FEATURES
There are so many new features in newer washing machines that it's important to know what is available before you start shopping. In order to get the best washing machine for you and your family, decide on what you can't live without and make it a priority when looking for a washing machine.
Built-in Sink
Rather than soaking your clothes in a sink and creating a mess when you transfer them to the washer, you can purchase a washing machine with a sink built in. Many of them have water jets and scrubbing boards included as well.
Automatic Soap Dispenser
Some washing machines come with automatic soap dispensers. These dispensers allow you to fill a cartridge full of soap, insert it back into the machine, and then wash a specific number of loads without having to worry about adding soap. The control panel will alert you of when it is time to refill the dispenser.
Automatic Temperature Control
Because water temperatures vary depending on location or season, having an automatic temperature control will adjust the hot and cold water to match the temperature setting. Without this feature, the washing machine will just mix the hot and cold water available, which does not create a constant or reliable temperature
Extra Rinse Cycle
This will rinse your clothes with clean water twice, which completely rids your clothes of detergent residue. This feature is beneficial to those who have sensitive skin.
Auto-Load Sensing
Your washing machine will sense the size of the load and will only use the amount of water necessary for that size.
Stainless Steel Tub
Stainless steel tubs are the best option for a washing machine. The stainless steel stands up to high-speed spin cycles and is stronger than a plastic counterpart. Because there are fewer pores in stainless steel than in plastic or porcelain, these tubs resist odors and stains. It is also the smoothest surface of tub options, which makes it the most gentle option on clothing.
End-of-Cycle Signal
Many machines come with the option for a signal to sound when your washing cycle is completed.
Steam Setting
The steam setting on a washing machine uses hot water vapor to achieve a deeper clean, sanitize clothing and reduce allergens, and minimize wrinkles.
Delay Starts
You will be able to set a timer for you machine to start with a delayed start, allowing you to get your washing done exactly when you want.
Automatic Water Level/Auto Sensing
With this feature, your washing machine will automatically sense the size of your load of laundry and will adjust the water accordingly, limiting water waste.
Make sure you do your research and you'll end up with the best washing machine for your needs! If you have any questions or are interested in looking at a large variety of models, RC Willey is the store for you.
Sort By Blog Topic:
Popular Posts
Subscribe to the The RC Willey Blog Blog
Subscribe to the The RC Willey Blog Blog
Unsubscribe from the The RC Willey Blog Blog