Posted by Alyssa on September 25, 2017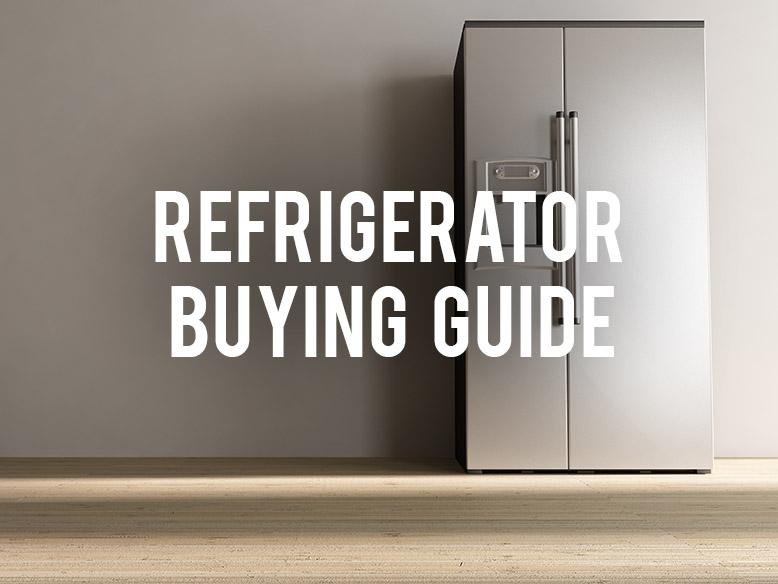 Seeing as refrigerators can last up to 13 years, it's important to know exactly what you are looking for when you buy a new one. Knowing what you need and want will help you sort through the countless options available and end up with the best refrigerator for you and your family.
Refrigerator Buying Guide
BEFORE YOU BUY
Determine Your Needs
Assess your current situation and ask yourself some questions. Do you eat out a lot and have little fresh food to store at home? Do you make most of your meals at home with fresh food? Do you eat a lot of frozen foods? The answers to these questions will impact what refrigerator style you will want, so it is important to know your needs before you buy.
Determine Size
Refrigerators come in all sizes and configurations. General guidelines suggest having 4 to 6 cubic feet per adult in the household, although if you buy food in bulk you may want more space.
Measure Your Space
Measure the depth, width, and height of the open space from a variety of locations to make sure there are no cabinets, chair rails, or baseboards that could impact the fit of the fridge. Determine which direction your fridge door will open and make sure there is at least 2 inches of extra space for the hinge to work properly. You will also need at least 1 extra inch of clearance around the top, back, and sides for airflow, so be sure to factor that in when measuring your space.
Not only does the fridge have to fit into the space, it also has to fit through your door and around islands, counters, and interior doorframes to get to it's spot. Make sure the refrigerator you buy will fit the pathway you'll be taking to the kitchen so you have a painless delivery and install.
TYPES OF REFRIGERATORS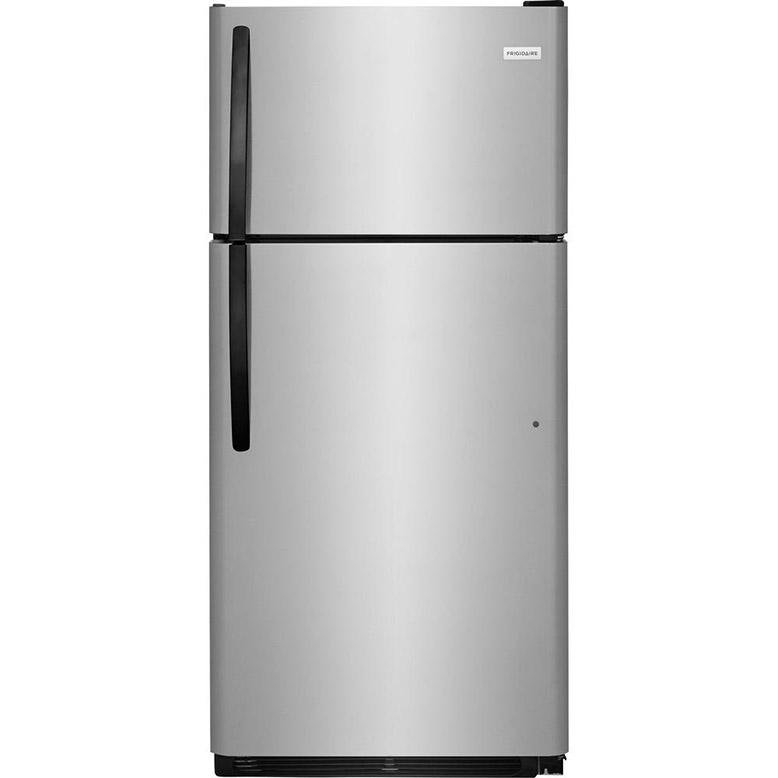 This is one of the least expensive refrigerators with the most space for it's size. As you may have guessed, the freezer is on the top of this fridge with the fresh food storage beneath it. The shelves in this refrigerator are wide and can fit large platters or trays easily. This style of refrigerator is great for people who use a lot of frozen foods, as the freezer storage is easiest to reach and getting things out of the fridge requires bending over or crouching down.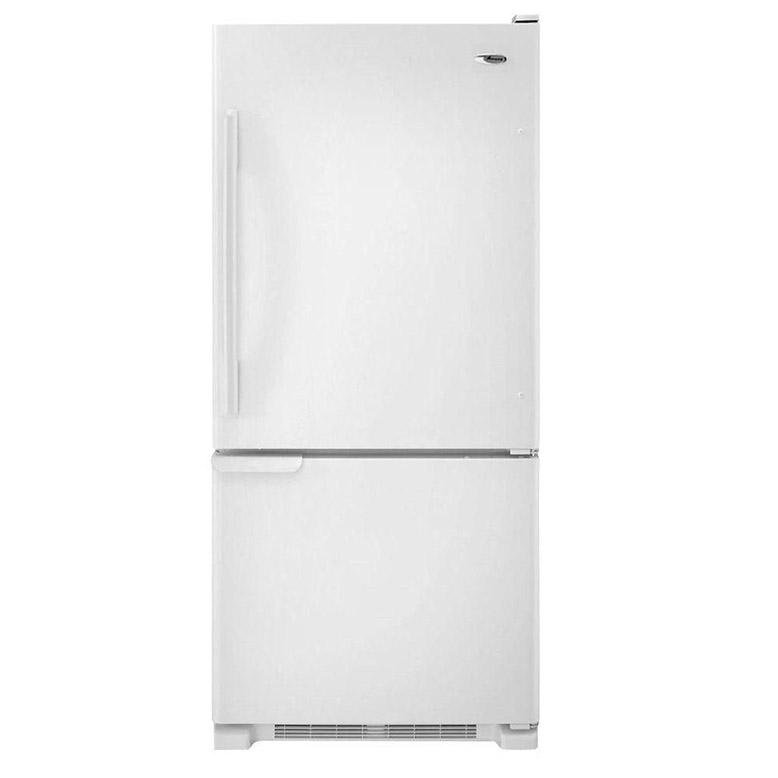 Fresh food storage is at eye level with a freezer on bottom refrigerator, which makes it a great option for people who use fresh foods more than frozen. The shelves of this fridge are wide, easily fitting platters and trays. Look for a freezer that has a drawer with baskets to keep things organized and visible as finding food in the freezer can sometimes be a challenge.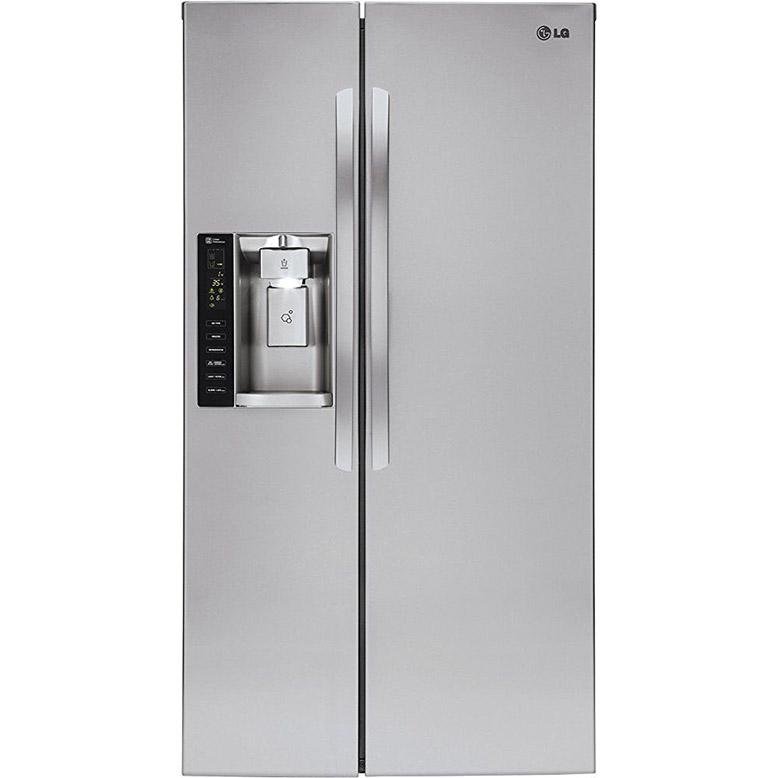 This refrigerator is made up of a freezer on one side and a refrigerator on the other. Because the narrow doors don't open wide, it easily fits into smaller spaces. For a family that uses a fridge and freezer equally, this is a good option as there are equal amounts of space for both the fridge and the freezer. This is also a good option for someone with physical limitations who can't reach or bend for the freezer. The shelves of this fridge are narrow, which makes storing wide or oversized things a challenge. If this style is your choice, make sure you get the largest option you can fit, so you can have the most storage possible.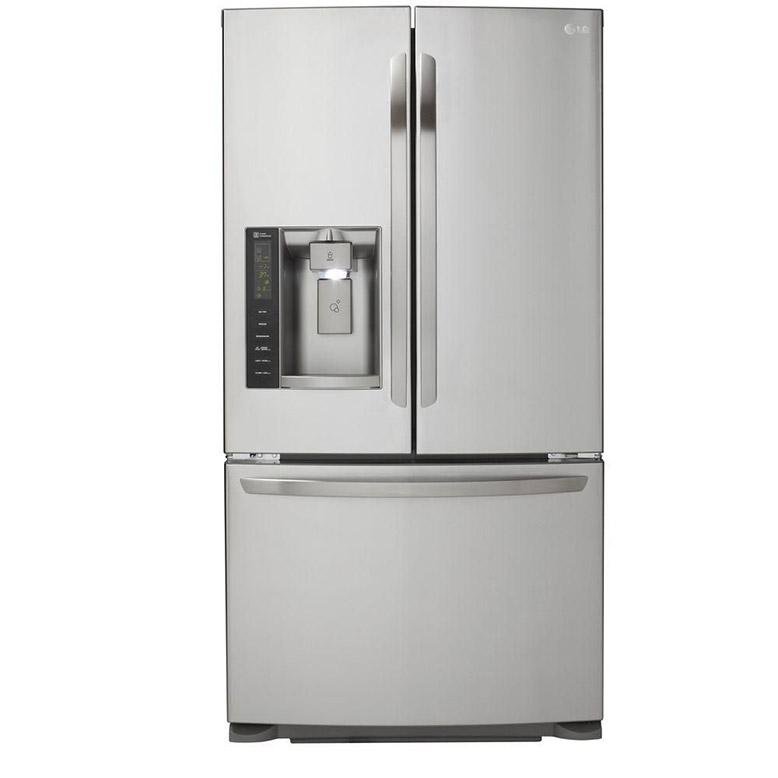 The french door style, two narrow doors on top and the freezer below, is a very popular option right now. The narrow doors need less room to swing open, meaning it can fit in smaller spaces easier. Because you only need to open one side of the fridge when getting what you need, this is an energy-saving refrigerator.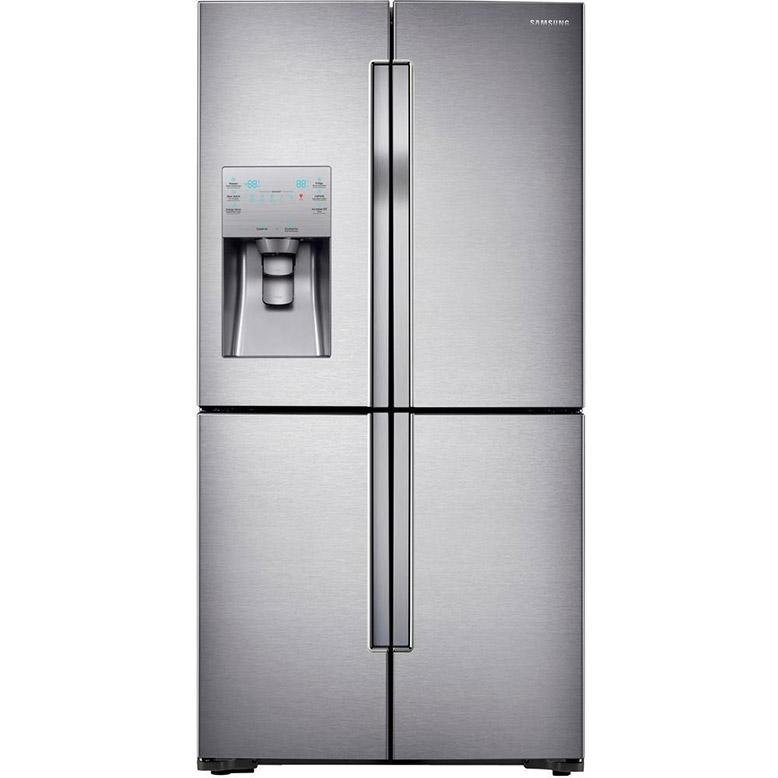 This refrigerator has two doors on top for fresh food storage and two doors below. While one of the doors is a designated freezer space, the other door can be used as a freezer or fridge depending on your needs. When the bottom door is used as a refrigerator, this has the most cubic space for fresh foods.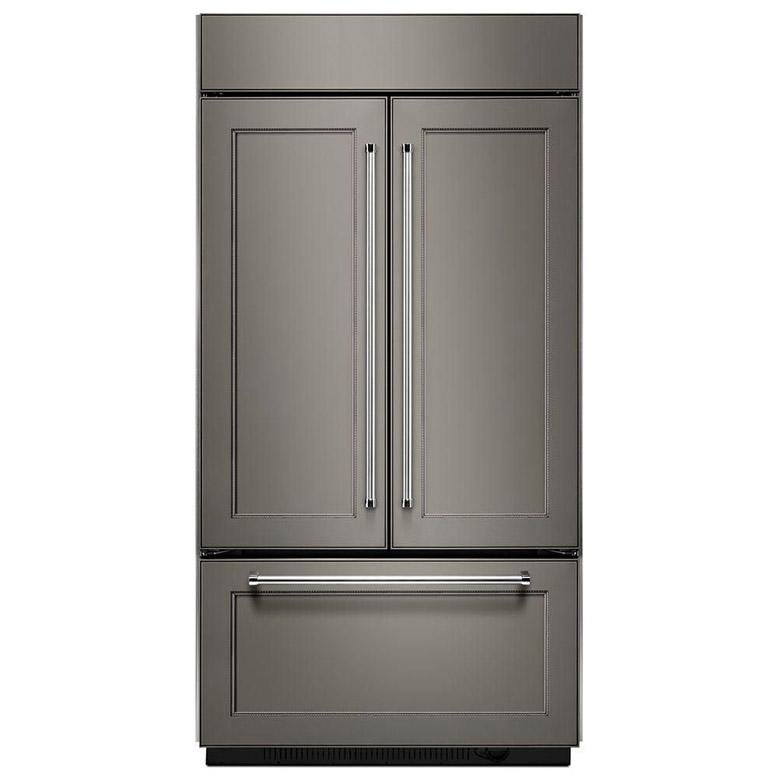 This refrigerator is made to fit flush with cabinets and counters. If you have space requirements, this may be a good fit although these refrigerators are generally the most expensive. This is an appealing option from a design standpoint because panels can be fitted to the front of the refrigerator to match the kitchen cabinets giving it a hidden look.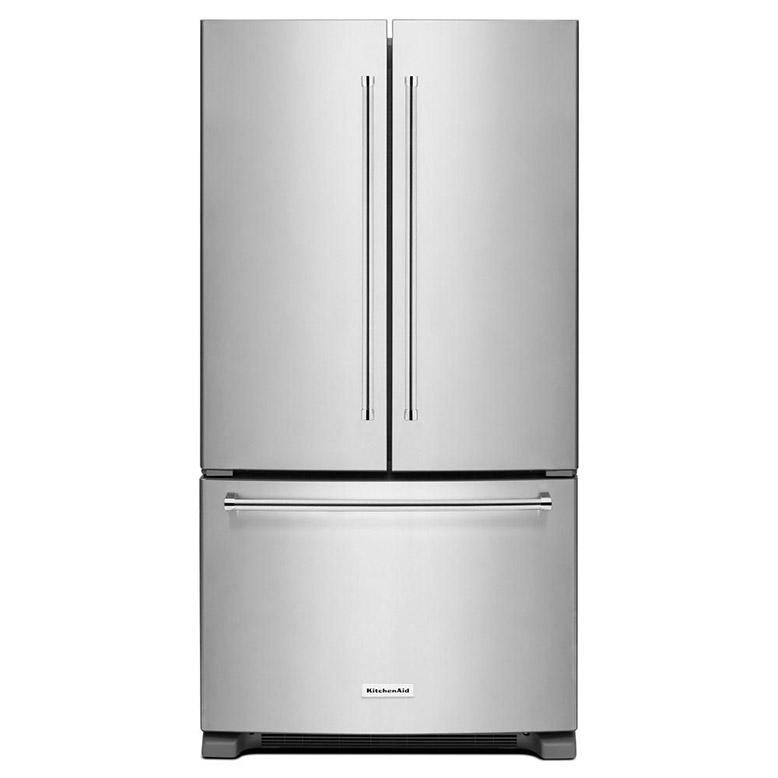 If you want the look of a built-in for a more budget friendly price, you may want a counter depth fridge. This is a shallower fridge that doesn't stick out past the countertops, mimicking the look of a built in. The shelving of this refrigerator is not quite as deep as other options, but it creates a sleek look in your kitchen.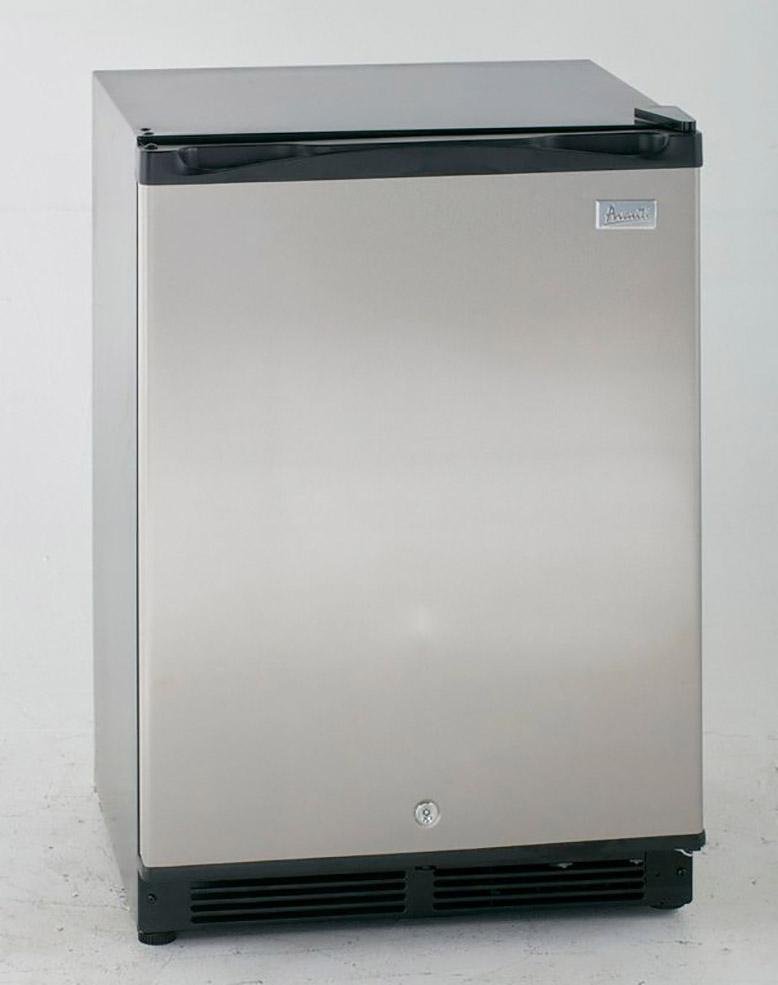 Just as the name would suggest, these are small refrigerators perfect for a kitchenette, dorm room, or office. The temperature performance may vary, so be cautious when storing perishable foods. This fridge is best for drinks, sodas, and snacks.
REFRIGERATOR FEATURES
There are many extra features available in refrigerators, so consider which ones are a priority to make purchasing easier.
InstaView Windows -

These refrigerators have a glass panel on the front door that, once you knock on it, will light up and illuminate the contents inside. This technology helps you to quickly get what you want without leaving the door open longer than necessary.

Exterior Touch Screens -

With an exterior touch screen you can organize your calendar, create a grocery list, listen to music, or look up recipes from your refrigerator. You will be able to connect it to your mobile devices as well.

Interior Cameras -

By connecting your refrigerator with your phone, you'll be able to check and see what is in, or missing from, your refrigerator wherever you are.

Filtered Water and Ice Dispensers -

Having a fridge that dispenses cold or hot water and crushed or cubed ice made from the ice maker in the freezer can be extremely convenient. These dispensers can be found in almost every style of refrigerator now and are very popular.

Door in Door -

An exterior door will open only a small portion of the fridge allowing for easy access to small, often used items. The inner storage portion allows for storage of larger, less often used items.

Temperature Control -

A dial or panel that allows you to control the temperature of the refrigerator.

Note: recommended temperature for refrigerators is between 37°F - 40°F and freezers between 0°F - 5°F

Shelves and Drawers -

Shelves can be moved, adjusted, folded in half, and removed completely to fit your needs. Bins are able to be removed as well. Look for shelving with a spill-proof lip to keep messes contained.

Door Alarms -

An alarm that will beep if fridge door isn't completely closed. This not only helps prevent food waste, but also aids in conserving energy.
Sort By Blog Topic:
Popular Posts
Subscribe to the The RC Willey Blog Blog
Subscribe to the The RC Willey Blog Blog
Unsubscribe from the The RC Willey Blog Blog