Posted by Kerry on April 15, 2016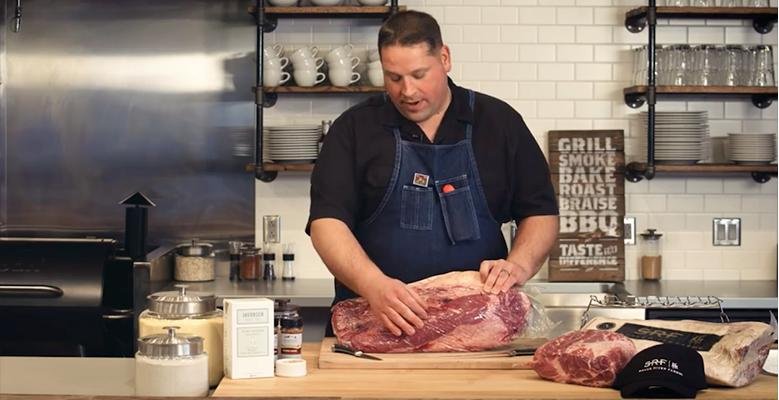 This Traeger brisket recipe will be a standard on your Traeger grill. For those of you who have been dreaming of the best Traeger brisket recipe, look no further, this is it.
TRAEGER BRISKET RECIPE
Prep Time: 10 minutes, 12-24 hour refrigerated rest
Cooking Time: 8 Hours or 90 minutes per pound
Servings: 12
Wood Pellets: Hickory
Rub: Traeger Prime Rib Rub or Traeger Beef Shake Spice Mix
Meat: 6lb-8lb brisket
Tools: Remote probe thermometer
Traeger Brisket Instructions
Coat your brisket liberally with your rub and wrap in plastic wrap. Place wrapped brisket into fridge for 12-24 hours. Start your Traeger grill on the smoke setting with the lid open to establish a fire. This should take the usual 4-5 minutes. Once the fire is established, close the lid for 10-15 minutes. Unwrap the brisket from the plastic and place it fat side up on the grill. Insert thermometer probe and let smoke for 4 hours. After 4 hours, turn grill up to 250F. Once the internal meat temp reaches 180F, remove the brisket from your Traeger grill and wrap in aluminum foil. Make sure you keep the temperature probe in the meat while doing this. Place the foiled meat back on the grill until the temperature probe reads 200F-205F. To ensure your brisket is ready, test the brisket by inserting the temperature probe into different parts of the brisket. The probe should slide into teh meat easily, like butter. Remove the brisket and allow it to rest for 30 minutes. Then it's time to eat!
If you'd like help choosing the right brisketto cook on your Traeger grill, watch this video below.

Sort By Blog Topic:
Popular Posts
Subscribe to the The RC Willey Blog Blog
Subscribe to the The RC Willey Blog Blog
Unsubscribe from the The RC Willey Blog Blog