Posted by
Kerry
on December 27, 2017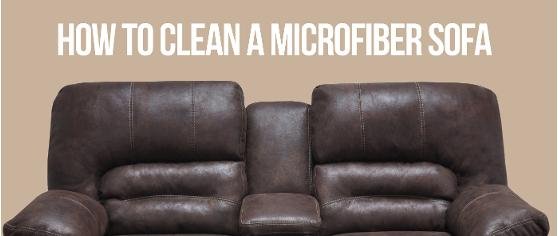 I have heard for a while that microfiber is a great fabric for sofas because of its mix of comfort, durability and the fact that it's easy to clean. I talked to Rick Spehar, who has worked for RC Willey in Salt Lake City since 1995 and he gave me the lowdown on cleaning microfiber.
Kerry: How do you clean a microfiber sofa?
Rick: First you want to find the manufacturer's tag attached to the furniture (usually on the bottom of the sofa) indicating a cleaning code:
"W" is for a water-based cleaning solution
"S" is for a solvent-based solution
"SW" is for either water or solvent based solutions
"X" means vacuum only – no liquids
Most microfiber will be an "S" cleaning code. If one is not available a solvent based cleaning solution is the best guess.
Use rubbing alcohol in a spray bottle. (Do not use a water-based solution. It will leave watermarks.) Spray the soiled area and use a cleaning cloth to gently rub or blot the stain. Naturally colored sponges or white bristle brush may be used for more stubborn stains. Brush or rub to lift the stain from the material.
Once dry it may be necessary to "fluff" the material which may become stiff after cleaning. Use a soft bristle brush or a fresh cleaning cloth to rub the cleaned area. The fiber softness should return.
Kerry: And what exactly is microfiber?
Rick: Microfiber is a synthetic fiber finer than one denier or decitex (thread), having a diameter of fewer than ten micrometers (code for small, soft, closely woven fabric). These fine fibers are affordable, soft to touch and create very comfortable furniture. Most microfiber furniture is made from polyester; however other materials such as nylon or polypropylene may be used. It is an extremely durable and cleanable fabric.
Popular Posts
Subscribe to the The RC Willey Blog Blog
Unsubscribe from the The RC Willey Blog Blog