Posted by Alyssa on December 30, 2017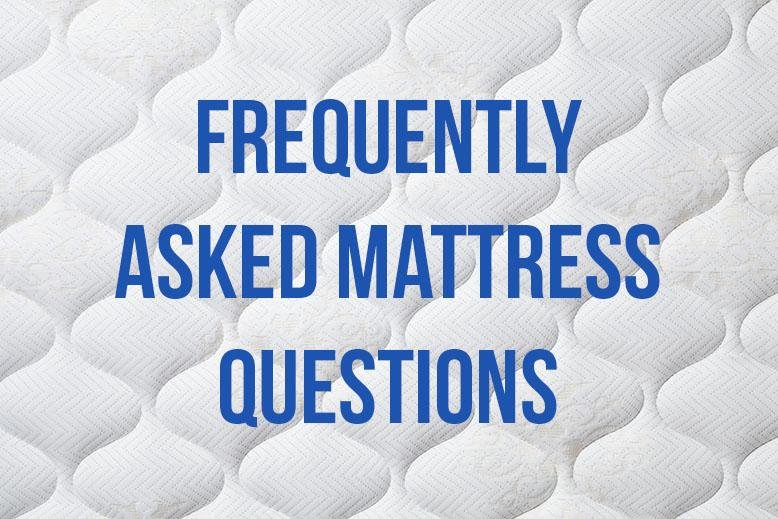 If you've ever gotten overwhelmed at all the information that comes at you when it comes time to purchase a mattress, you're not alone. For the answers to all the mattress questions you've ever had, keep reading! We've listed frequently asked questions about mattresses below.
Frequently Asked Mattress Questions
How long will my mattress last?
It's recommended that you replace your mattress every 7 and 10 years. Rather than focusing on the years of your mattress, you should focus on how you feel while each morning when you wake up. If you're tossing and turning, wake up feeling achy, or have a hard time falling asleep each night you may want to replace your mattress. Check out this guide to see whether or not it's time for you to replace your mattress.
How do I clean my mattress?
Vacuuming is the best way to clean a mattress. If there is a stain or spot you want to remove, the best way to do so is with soap and cold water. Do not soak your mattress! Use as little water as possible if you are cleaning a spot and make sure you let your mattress completely dry and air out before you put sheets back on. Make sure you always use a mattress covering like a mattress pad that is washable to help extend the life of your mattress.
Do I need to flip my mattress?
Most mattresses that are made today are one sided mattresses that do not require flipping. You may want to rotate or spin your mattress to help it break in, but you should not have to flip the mattress.
What are the dimensions of standard mattresses?
For information on different mattress sizes, click here.
What is the best way to protect my mattress?
Putting a washable mattress covering, like a mattress pad, on as soon as you bring your new mattress home is the best way to keep your mattress clean and safe from spills or stains.
Is there an adjustment period for my mattress?
It varies from person to person, but it could take about a month before you feel completely comfortable with your new mattress. Your mattress needs to soften and conform to your body and your body needs to adjust to the new mattress.
If you have more questions, let us know!
Sort By Blog Topic:
Popular Posts
Subscribe to the The RC Willey Blog Blog
Subscribe to the The RC Willey Blog Blog
Unsubscribe from the The RC Willey Blog Blog