Posted by Andie on October 20, 2017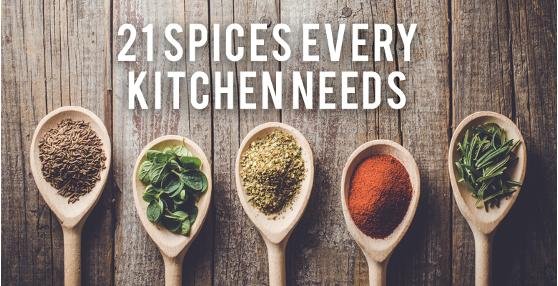 It's that time of year when I actually start cooking again! There's something about the crisp air in the fall that just lures me from a summer of hiding back into the warm kitchen. I just can't help myself. Lounging around in an oversized sweater and slippers while a pot of stew simmers on the stove is pretty unbeatable.
I opened my spice cabinet the other day and decided that it needed a little [read: a LOT] of help. I should probably be embarassed to admit this, but I literally still have several spices that we got as wedding gifts...... ummm yeah. We got married in 2009. For those of you that aren't exactly quick with math, that was a solid 8 years ago! This got me thinking: What spices does a well stocked kitchen really need? Which spices do people buy, and then actually use? I gave it some thought, and am pretty confident that I've nailed the 21 spices every kitchen needs. Without further ado (and in no particular order).....
1. Oregano
2. Thyme
3. Rosemary
4. Garlic Powder
5. Onion Powder
6. Basil
7. Parsley
8. Crushed Red Pepper flakes
9. Smoked Paprika
10. Nutmeg
11. Cumin
12. Ginger
13. Cinnamon
14. Chili Powder
15. Cayenne Pepper
16. Sage
17. Kosher Salt
18. Sesame Seeds
19. Bay Leaves
20. Cilantro
21. Allspice

What do you think? Do you agree with my list? If not, what would you add or take away?

Also, I just learned that spices lose their potency after about 6 months to 1 year. For this reason, it's wise to buy 1-2 oz. at a time. If you're unsure if they are still good, smell them before use. If and when they stop giving off an aroma it's definitely time to replace them.
Spices sold at the grocery store work fine, but thanks to the fact that they start out in a warehouse, and then sit on a shelf for who knows how long, by the time they get to your grocery cart there is a very good chance they are stale. Plus, the FDA doesn't require suppliers to list add-on ingredients found in many spices (flour, salt, rice, etc), and spices are not required to be free of contaminants. Purchasing whole spices and grinding them yourself ensures that you are getting the purest, highest quality spices available. Sure, it's a little more work and a little more money than buying pre-packaged spices from the grocery store, but in the long run it could take your cooking to the next level!
Popular Posts
Subscribe to the The RC Willey Blog Blog
Subscribe to the The RC Willey Blog Blog
Unsubscribe from the The RC Willey Blog Blog