Posted by Alyssa on October 6, 2017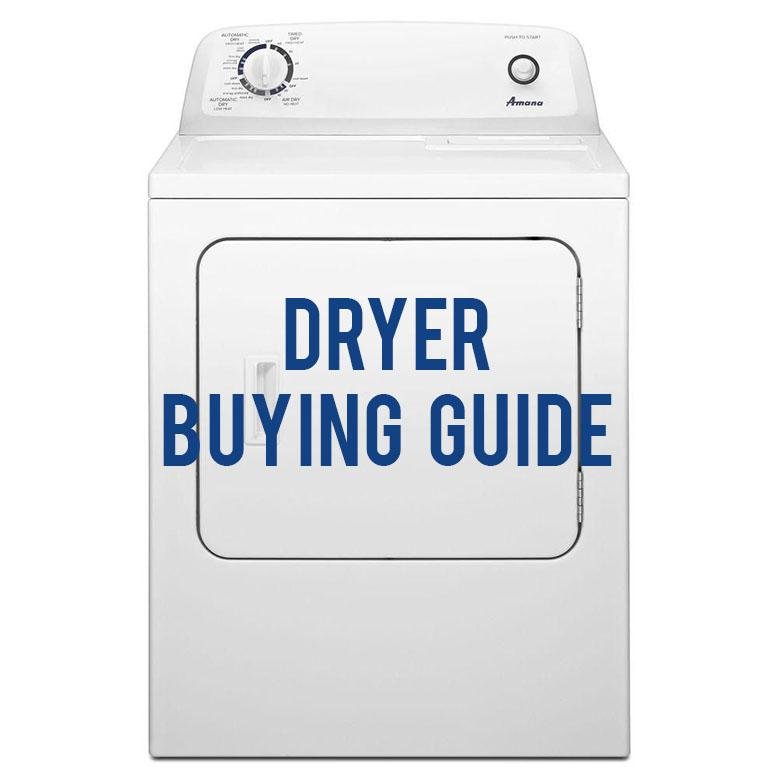 A dryer that fits your laundry needs is one of the most important appliances to have in your home. The last thing you want is a dryer that takes twice as long as your washing machine to get your wet clothes dry! Finding the best dryer for your needs can be simple if you keep a few things in mind before you purchase and install your dryer.
Dryer Buying Guide
BEFORE YOU BUY
Measure Your Space
Don't forget to measure your space before you go to the store to pick out your new dryer. You need at least one inch of space around all sides of the dryer for air circulation, including the side that is next to the washing machine. Decide which way you want the dryer door to open and make sure you have enough room for the door to open without hitting any cabinets or walls. If you can have the dryer door open the opposite direction of the washing machine, you'll be able to transfer clothes from the washing machine to the dryer without having to work around a door.
As much as we all wish we had a giant laundry room with plenty of space, that's not always the case. If you only have a small corner for your laundry, think about purchasing a dryer that is able to stack with a washing machine.
Consider the Size
Dryer drum capacity is measured in cubic feet. You will want a dryer that is twice the tub capacity of your washing machine. For example, if your washing machine is 4 cubic feet, you will want a dryer that is 8 cubic feet so you can get all your clothes dried in one load.
**Note: if you purchase your washer and dryer together as a pair, the capacities of the machines will be a perfect match.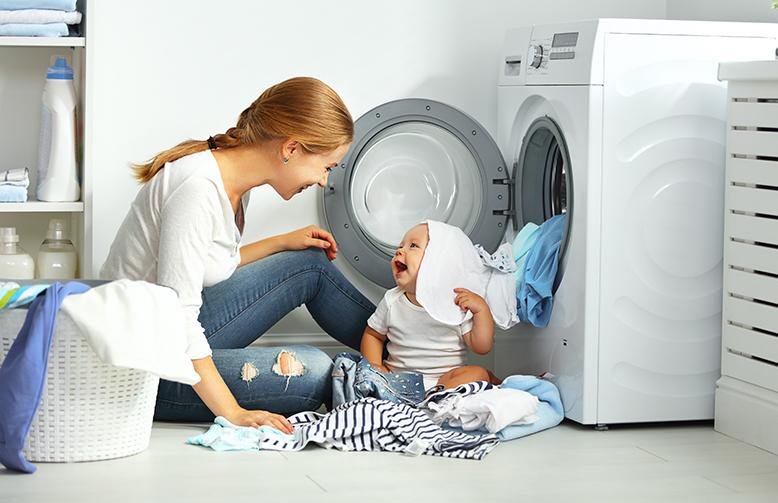 TYPES OF DRYERS
The most common type of dryer is an electric dryer. This machine plugs into the wall and uses electricity to heat and spin the drum of the dryer. You will need a 240-volt outlet to support these dryers and will want to notice if you have a 3 or 4 pronged outlet to make installation easier. If you do not have a laundry room with through-the-wall venting, many models of electric dryers are ventless.
While these dryers are cheaper upfront, depending on the cost of electricity in your area they may cost more to run over the years.
You should only purchase a gas dryer if you have access to a gas hookup or are willing to have a professional install one in your laundry room. A gas dryer uses electricity to spin the drum and keep the clothes tumbling, but uses gas to power the fan and actually dry the clothes. You will still need an electrical outlet to plug in the machine.
The gas can heat up the dryer faster than electricity, which makes a gas dryer more energy efficient than an electric one. While they may cost more upfront, they cost a little less to operate long term.
DRYING CYCLES
Sensor Dry -

Your dryer will be able to sense the moisture level in the clothes and will adjust the drying time depending on whether you want your clothes damp or completely dry.

Steam Cleaning Cycle -

Evaporated air incorporated in the drying cycle helps remove light stains and wrinkles from clothing.

Delicate -

A low-temperature cycle that helps gently dry lightweight materials, embroidered or embellished clothing, or loosely woven garments.

Express Dry -

Large blowers are used to dry clothing faster.
FEATURES
Moisture Sensor -

This senses when your clothing is dry and will automatically stop the dryer. Not only does this save energy but is more gentle on your clothing.

Lit Control Panel -

There is a light that will illuminate the control panel, making it much easier to decide on the setting and start the dryer if it is in a darker room.

Drum Light -

When the door of the dryer is opened, a light will illuminate the interior of the drum, allowing you to see all the way into the dryer.

Delay Start -

With a delay start, you can load the dryer, determine the setting, set a time, and have it turn on later in the day or night depending on your needs.

NSF Rating -

A dryer with a National Sanitary Foundation (NSF) rating has been rated according to its ability to eliminate bacteria and allergens in the fabric

Drying Rack -

This is a detachable rack that rests inside the drum of the dryer, allowing you to dry things in the dryer that shouldn't be tumbled.

Vent Blocking Indication -

If you forget to clean out your lint vent this feature will alert you of when it is time to do so.

Extended Tumble -

This feature will periodically tumble clothing that is sitting in the dryer after the cycle has completed to avoid wrinkles.

Smart Care -

If there is a problem with your dryer, Smart Care will interact with your dryer and send an immediate diagnosis with quick-fix suggestions to your smartphone.
No matter what type of dryer you decide to buy, RC Willey is the place to find what you need!
Sort By Blog Topic:
Popular Posts
Subscribe to the The RC Willey Blog Blog
Subscribe to the The RC Willey Blog Blog
Unsubscribe from the The RC Willey Blog Blog