Posted by Andie on November 4, 2017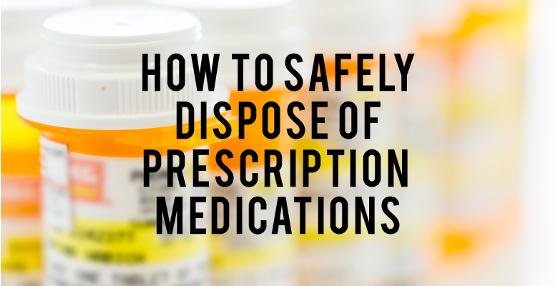 Did you know that America's current opioid epidemic is the deadliest drug overdose crisis in American History? In total, more than 170 people are estimated to die from overdoses every day in the U.S., and most of those deaths are linked to opioids. There isn't just one thing that has caused this crisis, but many of these high rates of overdose deaths seem to be driven by high prescription rates. Though heroin and fentanyl deaths have been on the rise, legal opioids still act as a gateway for many to these drugs, and experts say over prescription often leads to an increased likelihood of addiction.
This opioid epidemic is very dangerous and scary, especially as a parent. You might think you can't do anything about it, but one of the very best ways to keep yourself, your spouse, and your children safe is to take action and know exactly what's in your medicine cabinet! Make sure to go through your medicine cabinet at least every six months. If over-the-counter medication has expired, throw it away in the garbage. If you have painkillers or other prescriptions that someone in your family got after going to the doctor, having surgery, etc, the best thing to do is GET RID OF IT. This will help ensure the safety of your children & pets, and deter misuse by adults or teenagers that come into your home. In order to dispose of prescription medications, some precautions must be taken. Here is a list of the best ways to dispose of prescription medications......
THE BEST WAYS TO DISPOSE OF PRESCRIPTION MEDICATIONS (in order of best to worst):
1. Take unwanted and unused medication to a drug-take-back program in your community. Many communities hold these days several times a year. Contact your county government's trash and recycling service, or call your local nonemergency police number for more information.
2. Go to your local pharmacy, and speak with your pharmacist. Many pharmacies will take back drugs that are unused or unwanted whenever it's convenient for you.
3. If you aren't able to get rid of medications by option 1 or 2, you will need to dispose of the medications yourself. Here are some safe steps to take.......
A. Take prescription drugs out of original containers.
B. Mix the drugs with a very undesirable substance, such as kitty litter, coffee grounds, or poopy diaper. (Don't open capsules).
C. Put the mixture into a disposable container, with a lid.
D. Throw it away in the garbage.


DON'T EVER:
- Give a prescription a doctor gave you to someone else. This can prove to be very harmful, even deadly.
- Flush prescription meds down the toilet (without first speaking to a pharmacist). Medications can enter streams and rivers when flushed down the toilet, or seep into the ground water. This is SCARY.
- Throw prescription bottles away without first concealing personal information, RX name or number, etc.
Another great resource is to call your local poison control with questions. 1-800-222-1222
Stay Safe, and keep those medicine cabinets cleaned out!
Sort By Blog Topic:
Popular Posts
Subscribe to the The RC Willey Blog Blog
Subscribe to the The RC Willey Blog Blog
Unsubscribe from the The RC Willey Blog Blog